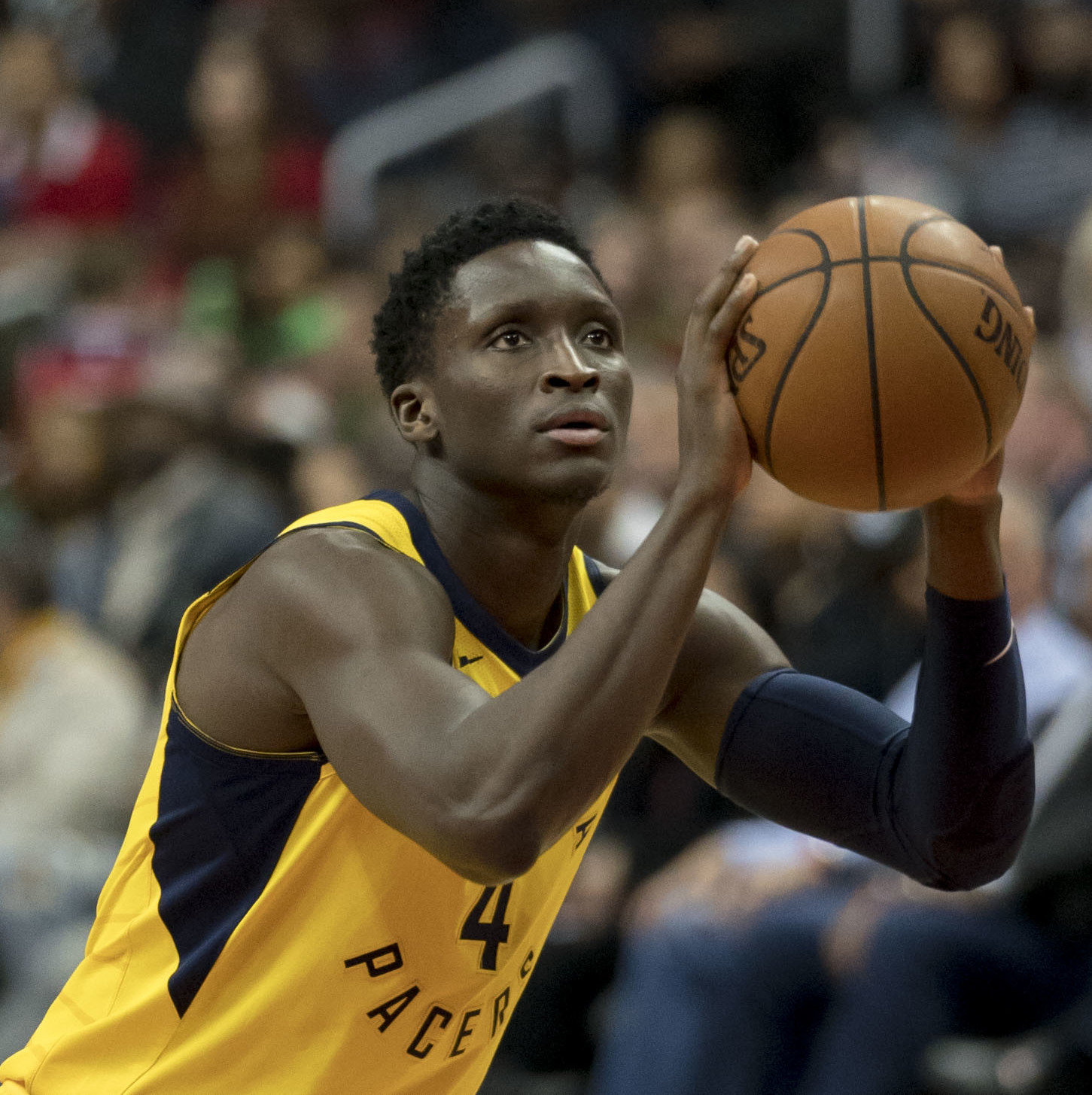 Victor Oladipo seems to be on the trading block for the Indiana Pacers this upcoming offseason. He's a free agent next offseason and the Pacers might look to move the 2-time All Star before he leaves for nothing next year. Oladipo has expressed that he would like to be MAXED next offseason, but it would take another All-Star type year from him to get that kind of money. Oladipo showed flashes of his All-Star level play in the limited time he's played this year, but he's also shown flashes of the pre-All Star inefficient Oladipo as well.
Here's some trade ideas for the Pacers to consider for Oladipo…
Golden State Warriors
Warriors Get: Victor Oladipo & Doug McDermott
Pacers Get: Andrew Wiggins, Marquese Chriss, and #2 overall pick
With this trade, the Warriors get another wing that can play defense and handle the ball for them in Victor Oladipo and another 3 point shooter they can use off the bench for Doug McDermott. Victor Oladipo could be another All-star asset for the Warriors to get back to the NBA Finals. A trio of Curry, Klay, and Oladipo is really enticing and could bring a lot of excitement. The Warriors have no need with the #2 pick and are most likely to trade it, so why not trade it for Oladipo.
Oladipo has mentioned that he would rather win championships as a side player rather than be the #1 star for a mediocre team. He could be that 3rd option for the Warriors and take some pressure off of Curry with ball handling and attack the basket with his athleticism.
This trade works for the Pacers because they get an asset in the #2 pick to draft either LaMelo Ball or Anthony Edwards they can build around. With talents like Domantas Sabonis and T.J. Warren on the team, they could use another ball handler to bring some excitement to the team. Taking in Andrew Wiggins' contract might not be as enticing but the fact that he still has a lot of potential might make up for it.
Denver Nuggets
Denver Nuggets get: Victor Oladipo
Indiana Pacers get: Gary Harris, Monte Morris, and 2021 1st round pick
The Nuggets get a defensive guard to pair with Jamal Murray in Victor Oladipo. They get their 3rd star in this trade without giving up much. Jamal Murray and Oladipo both can handle the ball and Oladipo can take the pressure of Murray when he needs to take a play off. They also get Aaron Holiday who is an up and coming young point guard who can play backup PG minutes for them. Losing Gary Harris might hurt the Nuggets but this allows them to get that star partner for Murray in the backcourt.
This trade works for the Pacers because they get a wing in Gary Harris who they can use to replace Oladipo in the starting lineup and Monte Morris who is extremely underrated. Morris could be that 6th man off the bench for the Pacers.
Brooklyn Nets
Brooklyn Nets get: Victor Oladipo & 1st round pick
Indiana Pacers get: Caris Levert & Dzanan Musa
Brooklyn Nets get their 3rd star to pair with Kyrie Irving and Kevin Durant with Victor Oladipo. Victor Oladipo gives them that 3rd star they can rely on to play defense and handle the ball if needed to. Oladipo is a former All Star talent and if he can give the Nets 80% of his All Star play ability then the Nets could become serious Finals contenders in the Eastern Conference. They also get a first round pick they could use to trade for another asset.
The Pacers get a young up and coming wing in Caris Levert on a very team friendly contract. Levert has a lot of potential and with the Pacers he could get more opportunities to show his ability and become more of a focal point in the offense. They also get a young small forward that can shoot in Dzanan Musa as well.

Must See
I swear I was writing a fun Kyrie to the Laker trade when the...

With the news that Kyrie Irving is being traded to Dallas, fans are already...

No matter what opinion you have of Aaron Rodgers off the field, on the...