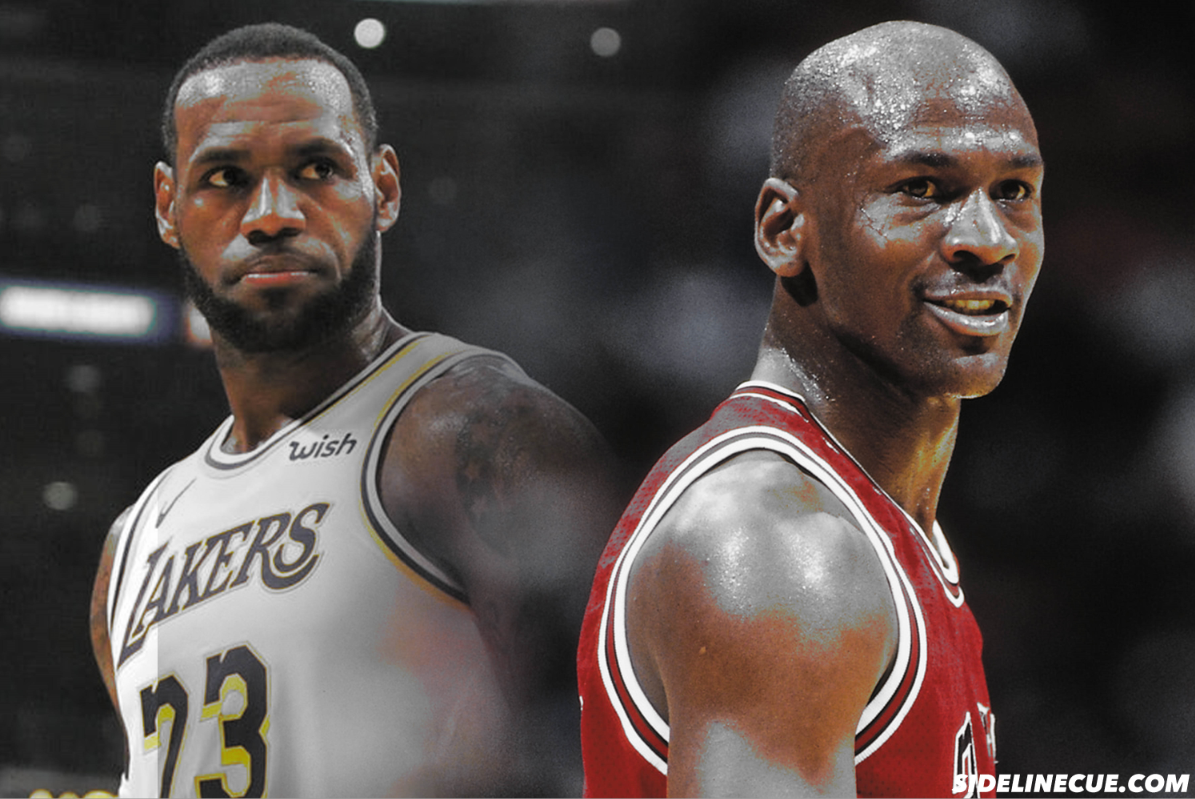 Here we go again.. The infamous question: who is the Greatest of All Time?
The debate between Micheal Jordan and LeBron James has been an ongoing topic in the basketball community for the years and it's definitely intensified as of recent.
With LeBron leading the Los Angeles Lakers to their 17th championship and winning his 4th ring as well as his 4th final MVP, the case for LeBron just keeps on getting stronger. Many of his doubters are starting to turn their head to what LeBron has been able to accomplish throughout his career.
I'm not here to tell you who's the GOAT, but… to present some facts for you.
LeBron James vs Micheal Jordan: Regular Season
Micheal Jordan has the clear advantage in the scoring department. LeBron grabs more rebounds and dishes out more assists than Jordan has throughout the regular season. Micheal is a better defender than LeBron, as he won the Defensive Player of the Year and lead the league in steals 3 times where LeBron has never won DPOY or lead the league in steals or blocks.
With LeBron still playing at an elite level at the age of 35, he still has a couple of years left in the tank to keep playing on an elite level if he doesn't get injured.
Jordan vs LeBron: Playoff Statistics
Jordan is a better scorer as he averaged 33.4 PPG while LeBron averages 28.8 PPG. Although Jordan has LeBron beat with points, LeBron has Jordan beat with more rebounds and assists. He even has a better field goal % than Jordan does. Both have similar 3 point percentages and block statistics, Jordan beating LeBron only one other statistical category: free throws.
Finals Record/ Accolades
As LeBron has made 10 finals appearances. His finals record is not outstanding. His record is 4-6 where Jordan is perfect in the finals 6-0.
Even though LeBron has a 4-6 finals record. He has made the finals 10 times in his 17 seasons in the league. This means that he has a 58.82% of making the Finals in his career. Whereas Jordan has a 40% of making the Finals in 15 seasons.
So Who is the GOAT?
LeBron James is overall the best basketball player statistically and the all-around better player than Michael Jordan. Jordan beats LeBron in scoring and is a better defensive player. Jordan won in the biggest stage and when it counts he was better. Although having an undefeated Finals record, he still has had many playoff losses and wasn't able to beat the Bad Boy Pistons till later or the Celtics dynasty. LeBron had more All-Star teammates and better supporting cast then Micheal.
So back to the question… Who is the GOAT?
There is no right or wrong answer as both players are in a league of their own, but who do you think is better?

Must See
I swear I was writing a fun Kyrie to the Laker trade when the...

With the news that Kyrie Irving is being traded to Dallas, fans are already...

No matter what opinion you have of Aaron Rodgers off the field, on the...