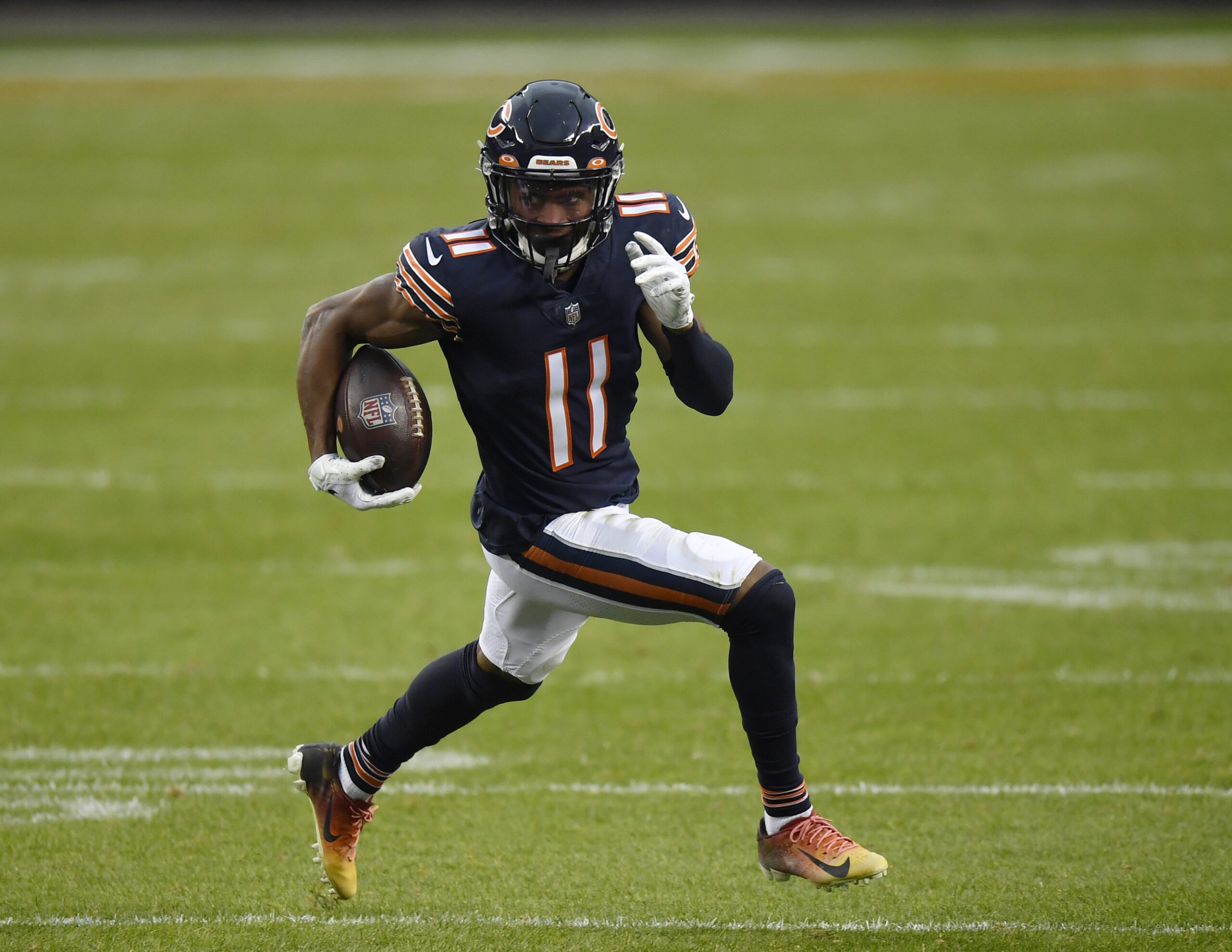 When you think of breakout players, players normally breakout in their 2nd or 3rd season in the NFL. Whether it's cause of more opportunity or improved ability, there's always a set of players that breakout every year and prove they've drastically improved statistically.
Let's get into some players who are on pace to have a breakout season…
Darnell Mooney, WR, Chicago Bears
When talking about rookie wide receivers, Mooney's name for some reason always gets forgotten. Mooney racked in 61 receptions for 631 yards and 4 touchdowns in his rookie season. Sure, they're not crazy numbers, but you have to consider the fact that he was a rookie and also the quarterback inconsistencies that was going in Chicago. Mooney is primed to breakout this season being the #2 receiver behind Allen Robinson in the Bears offense. They have Andy Dalton who is an average at best QB and a rookie QB waiting to take over in Justin Fields. Either way, that's better than Nick Foles and Mitchell Trubisky (sorry Foles & Trubisky homers).
Darnell Mooney has shown the ability to be explosive with the ball in his hands and able to beat defenders with his speed and route-running. I wouldn't be surprised to see Mooney surpass the 1,000-yard receiving mark this season.
D'Andre Swift, RB, Detroit Lions
D'Andre Swift isn't the biggest runningback at 5'9, but boy can he run the ball. He's very "swift" with the ball as he uses block timing to perfection and knows when to make the right cuts. The biggest reason for Swift's breakout this season will be the reliance on him in the Lions offense. The Lions now have Jared Goff and anyone that knows anything about Goff, Goff is at his best when he has a strong running game. When the Rams went to the Super Bowl, Goff had an amazing run game behind Todd Gurley.
I'm not saying Swift is going to provide Todd Gurley prime production, but if he had over 1,000 yards rushing and around 300-400 receiving yards, that would be more than enough. Swift is not only capable of running the ball efficiently, but can also catch the ball out of the backfield. I expect the Lions to fully utilize Swift's ability to not only rush, but also catch the ball.
Antonio Gibson, RB, Washington Football Team
Antonio Gibson had a solid rookie campaign rushing for 795 yards while averaging 4.7 yards per carry. I expect those numbers to rise this season due to the opportunities provided. Gibson will be the lead back for the Washington Football Team and will be expected to handle the majority load. Gibson's size and insane speed from the runningback position made him a hard tackle for defenses.
Gibson will have a breakout season without a doubt this season and will be relied on heavily in the WFT offense for sure. The Washington Football Team doesn't necessarily have the greatest passing offense right now with Ryan Fitzpatrick under the helm and will expect to rely on the running game. Cue (get it, cause we're Sideline Cue) in Antonio Gibson.

Check out our new podcast episode!
Got Hoops Podcast
A new up and coming basketball podcast by 4 dedicated NBA and basketball fans. It's for fans, by the fans.
Got Hoops Podcast (Ep. 19): Summer League? Beverley Trade? Westbrook/LeBron/AD Trio?
In this episode we discussed the summer league, the Clippers and Grizzlies trade, and the fit of Westbrook with LeBron and Anthony Davis, and other topics as well.
Search Results placeholder
Must See
The NBA season is coming up very soon and it's time we start talking...

The NBA season is just about a month away, with the regular season set...

The first week of the NFL regular season has concluded and it's time for...