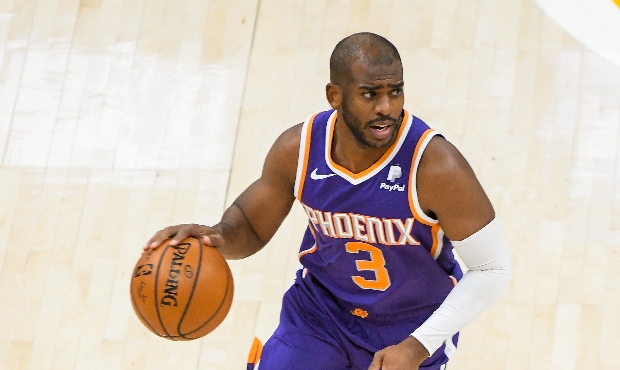 The NBA's lottery consists of the worst teams in the league every single season. Some teams decide to trade away their lottery picks, but I'm talking more of the teams that originally had their pick. Some teams that have been consistent lottery teams in the past couple of years include the Knicks, Suns, and the Bulls.
Let's get into the list of teams that can potentially go from being a lottery team to a playoff team this upcoming season…
3. Atlanta Hawks
The Hawks made a lot of noise this offseason as they spent a good deal of money to upgrade their team. They added veteran forward Danilo Gallinari and also signed an up and comer in Bogdan Bogdanovic. Not to mention, their addition of Rajon Rondo and Kris Dunn to bring defense to the backcourt was a smart move.
The Hawks will have a very complete and deep roster throughout, let's take a look at the potential starters and bench unit…
PG: Trae Young | Rajon Rondo (FA)
SG: Bogdan Bogdanovic (FA) | Kevin Huerter
SF: De'Andre Hunter | Cam Reddish
PF: John Collins | Danilo Gallinari (FA)
C: Clint Capela | Onyeka Okongwu (Rookie)
Looking at the starting lineup and the bench unit, the roster looks really deep with talent on both lineups. The starting lineup has defense with De'Andre Hunter and Capela and scoring abilities coming from Trae/Bogdan/Collins as well. The backup unit has playmaking and defense from Rondo, shooting from Huerter & Gallinari, and solid play from Reddish.
If I had to predict, they're definitely going to make a huge push to be a 7th or 8th seed this upcoming season. They're talented all the way around and it will come down to if they can play well together.
2. Washington Wizards
The Wizards have been a 9th/10th seed consistently the past couple of years. A lot of it had to do with the injury of John Wall, but with the new acquisition of Russell Westbrook… that all will definitely change. The stardom of Westbrook and Beal should be enough to propel the Wizards back into the playoffs.
Will they be competitive in the playoffs? That's a whole different question. They have a solid lineup when you look at their potential starters and bench unit.
PG: Russell Westbrook | Ish Smith
SG: Bradley Beal | Jerome Robinson
SF: Deni Avdija | Troy Brown Jr.
PF: Rui Hachimura| Davis Bertans
C: Thomas Bryant | Robin Lopez
At first glance, the defense from the starting lineup and bench unit looks just… terrible. Avdija does bring some toughness and Beal can play some solid defense every now and then, but other that I don't see many plus defenders in those two units.
I think the offense and star power behind Westbrook & Beal will be key to taking the Wizards back into the playoffs. Although the bench is kind of weak, the starting lineup has tons of offense and playmakers all around. I think the Wizards sneak in as the #7 or 8th seed.
1. Phoenix Suns
The Western Conference is always tough and the Suns knew that. They made a huge splash by trading for CP3 from the OKC Thunder to help bring leadership and a star player in Phoenix alongside Devin Booker. The addition of CP3 was perfect for the Suns.
CP3 brings needed leadership, toughness, playmaking, and wisdom to the young Suns team which will be much needed. Chris Paul will not only be able to create looks for himself, but also make plays for Booker and Ayton as well.
Let's look into the Suns' potential starters and bench unit…
PG: Chris Paul (Trade) | Cameron Payne
SG: Devin Booker | E'Twaun Moore (FA)
SF: Mikal Bridges | Cameron Johnson
PF: Jae Crowder (FA) | Dario Saric
C: Deandre Ayton| Jalen Smith (Rookie)
Looking at that roster, the starting lineup is really good. They have versatility on all ends in the starting lineup with Bridges being able to defend the 1-4 and Crowder being able to play the 3-5. The bench unit is kind of weak as they don't have a consistent scorer, but definitely excited to see how 2nd-year player Cameron Johnson will do for sure.
I think the Phoenix Suns make a push to be around the 6th-8th seed this upcoming season. They will definitely make the playoffs with the key addition of CP3.
Honorable Mention:
Golden State Warriors

Check out our new podcast episode!
Got Hoops Podcast
A new up and coming basketball podcast by 4 dedicated NBA and basketball fans. It's for fans, by the fans.
Got Hoops Podcast (Ep. 15): Nuggets in the Conference Finals? Monty for COTY? CRAZY PLAY-IN GAMES!
This episode talks about the craziness that's about to occur in the playoffs, what a wonderful time to be alive.
Search Results placeholder
Must See
There's been a lot of changes in the coaching departments at some of the...

Don't let Kevin Durant's incredible performance distract you from Mike Budenholzer's terrible coaching display....

The Washington Wizards had an unlikely road to the playoffs. There was a point...