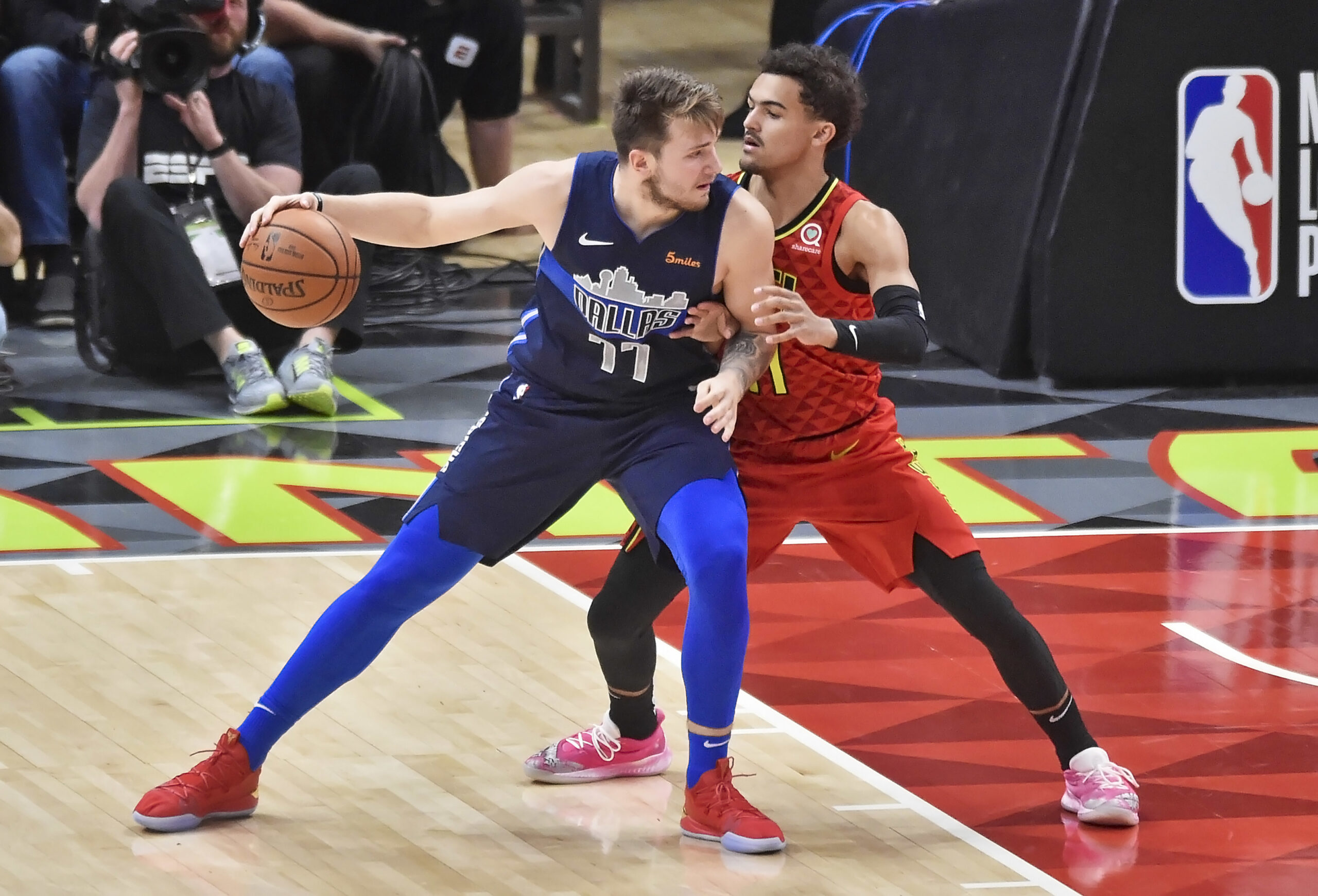 The NBA is a fast-changing league and five years can be a lifetime in the league. Five years ago, DeMarcus Cousins was dominating the paint, Isaiah Thomas was preparing to have an MVP-like season, and players like Luka Doncic and Jayson Tatum had yet to be drafted. Predicting where the league will be in 5 years is nearly impossible… but I am going to try.
Because of how hard it is I assumed most players over 34 would not stay on this list. That is obviously bound to be wrong with players like LeBron James and Chris Paul still thriving at older ages but the task would be impossible if I didn't.
Honorable Mentions
Anthony Edwards, SG, Minnesota Timberwolves
Jalen Green, SG, To Be Drafted
Karl Anthony-Towns, C, Minnesota Timberwolves
Chet Holmgren, C, Gonzaga
De'Aaron Fox, PG, Sacramento Kings
Emoni Bates, SF, Ypsi Prep Academy
Brandon Ingram, SF, New Orleans Pelicans
Ben Simmons, PG, Philadelphia 76ers
25. Patrick Baldwin Jr., SF, Milwaukee University
Age as of 7/1/26: 23
Starting off with a bold prediction. Patrick Baldwin fits the new Tatum-esque prototype for a wing. At 6"10 and 205 pounds, Patrick Baldwin has the size to be an elite-level defender in the NBA. Baldwin's defensive potential is exciting but what is most intriguing about Baldwin is his offensive abilities. At his height, Baldwin will be a disaster to guard in the league as he can score at all three levels. Being a top 25 player at 23 years old is extremely tough but I believe Baldwin will leave his mark on his league early.
24. RJ Barrett, SG, New York Knicks
Age as of 7/1/26: 26
I believe RJ Barrett is already a very good player but he seems to be used in the wrong way in New York. Currently, in New York, Barrett is treated as a spot-up shooter who gets most of his touches on kick-outs but that is not his game. Barrett thrives with the ball in his hands and room to create. If Barrett can find a situation that allows him to do this then I believe he will be a star. Out of college, I compared Barrett to Tracy McGrady and still believe he can get there in the right situation.
23. Damian Lillard, PG, Portland Trail Blazers
Age as of 7/1/26: 35
Mid to late 30's is almost impossible to project for players, especially stars. It is very rare to find a 35 year old in the top 25 but it happens nonetheless. Every season Damian Lillard has been in the league he has gotten better and I believe Lillard's game is built to survive into his 30's. Shooting and ball handling are usually things that age well in the NBA and that is what Lillard predicates his game off of. Lillard's individual stats will go down but his killer instinct and shot-making will stay.
22. Shai Gilgeous-Alexander, SF, Oklahoma City Thunder
Age as of 7/1/26: 27
Analytics might suggest that Shai Gilgeous-Alexander had a top 25 season last year. Now although the eye test can prove that this is simply not true, players that do this usually enter the spotlight when their team finds success. Here's where the problem lies. Oklahoma City is still at a minimum two or three years away from being a playoff basketball team. Although it is still not certain if Shai will be on the Thunder in 2026 his potential is undeniable.
21. James Harden, SG, Brooklyn Nets
Age as of 7/1/26: 36
The only other player on this list older than 33 after Lillard. Everything said about Lillard can go for Harden too. His game will age like a fine wine because of his shot-making and ball-handling abilities, and the thing that Harden has that Lillard does not is elite passing skills. It has been proven over and over throughout NBA history that passing is something that stays with you no matter your age. As long as Harden keeps playing it is not hard to see him putting up 18 and 12 a night at 36.
20. Ja Morant, PG, Memphis Grizzlies
Age as of 7/1/26: 26
Ja Morant advocates will probably claim this is too low but I believe this is just right. I believe Ja Morant is already a little too hyped around the league because he has yet to show he is an above-average scorer, passer, or defender. The reason Morant is still on here is because of his leadership. At 21 years old, Morant is the best player on a good playoff team in the west and that can not be overlooked. Morant's ability to lead and win is undeniable and if he can add elite scoring to that then he will certainly make me look dumb.
19. Jaylen Brown, SF, Boston Celtics
Age as of 7/1/26: 29
Jaylen Brown is an incredible asset. He is a true two-way player that can score and defend at a high level. I do not think that Brown will ever be a superstar but he is without a doubt a star and his two-way ability is rare the way he does it. With Brown as the Robin to Jayson Tatum's batman, the Celtics have a very bright future.
18. Jalen Suggs, PG, To Be Drafted
Age as of 7/1/26: 25
Obviously, you can tell I am a big Jalen Suggs fan. I believe that Suggs is the second-best player in this draft and a future superstar in the NBA. Suggs is an elite defender, elite athlete, elite passer, and a great winner. That combination of abilities and skills is rare and should lead to a star. All of that is impressive and yet I still have not mentioned that Jalen Suggs can also score the ball very well. Suggs is this high on the list because everywhere he goes he wins and winning is the ultimate goal in basketball.
17. Domantas Sabonis, PF, Indiana Pacers
Age as of 7/1/26: 30
This might be the biggest surprise on this list for some people. Sabonis is currently a low-level star but I believe there is still some unlocked potential in him. Every season in the league Sabonis has gotten better and he is a force around the hoop. If his development is anything like his dad's, then his passing will continue to get better as he ages. Sabonis is someone I would watch out for in the next five years. 
16. Michael Porter Jr, SF, Denver Nuggets
Age as of 7/1/26: 28
Michael Porter is a wildcard. If injuries stay away then there is no reason Porter can't be one of the best scorers in the league. Porter will be a great scorer but that is not what is in question. Where Porter needs to improve on is his defense and intangibles. I do not think Porter is lazy but he never seems to make the little plays that stars do. As Porter continues to play his basketball knowledge and IQ will only grow which should help with these things.
15. Jamal Murray, PG, Denver Nuggets
Age as of 7/1/26: 29
Jamal Murray broke out in the 2020 bubble in a way that no one expected. During the bubble, Murray showed his incredible scoring ability along with very good passing skills. I am of the belief that the bubble was not a mistake and that Murray holds the skills to be one of the league's premier offensive players. If Murray and Porter stay in Denver alongside Jokic then championships will be coming to the mile-high city.
14. Bam Adebayo, C, Miami Heat
Age as of 7/1/26: 28
Bam Adebayo is the ultimate swiss army knife. Bam is a ball-handling big, that guards four positions, and runs the floor better than any other center in the league. In today's game, a switchable center is rare and that is what makes Bam so valuable. The game moves more and more towards Bam Adebayo every year and there is a possibility that Bam is known as the best center in the league one day. Adebayo has a chance to be the next generation's super-charged Draymond Green.
13. LaMelo Ball, PG, Charlotte Hornets
Age as of 7/1/26: 24
LaMelo Ball was one of the most exciting young players in the league this year and that is without question. After only his rookie season LaMelo changed the entire culture in Charlotte. Before the season, everyone knew that LaMelo could be an elite-level passer but he surprised this season by showing his ability to score. If LaMelo can continue to develop as a scorer and become at least an average defender then he is certainly a future superstar.
12. Cade Cunningham, PG, To Be Drafted
Age as of 7/1/26: 24
Cade Cunningham is my highest-ranked player who is not yet in the league. Unless something crazy happens Cade will be a member of the Detroit Pistons. There is no one in the NBA like Cade, a 6"8 playmaking, sharpshooting point guard. Cade will be a massive star in this league but it will take longer than five years for him to crack the league's top ten. It also does not help him that the roster Cade is joining is as barren as any team in the league.
11. DeAndre Ayton, C, Phoenix Suns
Age as of 7/1/26: 27
Before the playoffs, this would seem crazy but Ayton has secured his spot as one of the game's brightest bigs. Ayton is such a great asset because he is able to be a dominant force on offense while still being able to switch on defense. Every season Ayton has gotten much better on both sides of the floor. While players like Bam represent the future Ayton represents the centers of the NBA's past while still being able to play in the current league.
10. Joel Embiid, C, Philadelphia 76ers
Age as of 7/1/26: 32
Embiid is extremely hard to judge, 32 can be an older age for a center and Embiid is known for being injury-prone. If Embiid can stay healthy at this age then he should be within the top five of this list but if injuries plague him, he could easily be off this list completely. Embiid has evolved into one of the best centers in the league but the determining factor for him will be what it has always been… health.
9. Anthony Davis, PF, Los Angeles Lakers
Age as of 7/1/26: 33
For how good Anthony Davis has been in the league, his career has still been a little disappointing to where it should be. Last season I listed Anthony Davis as the 2nd best player in the league and I stand by that. In five years Davis will run into similar problems as Embiid with both injuries and age. Even with these problems, I could see a Duncan-like second half of his career. If Davis can stay on the court then his offensive abilities and defensive IQ should allow him to stay among the best in the league.
8. Donovan Mitchell, PG, Utah Jazz
Age as of 7/1/26: 29
Donovan Mitchell is among the league's most deadly offensive players already. The hole in Mitchell's game is that he does not create for others at a great rate. Mitchell could easily become a 30 point scorer on a good team, but his problem is his game does not get his teammates involved. Mitchell will have a hard time winning titles unless he morphs his game to become a great playmaker. Whether he does it or not will be the difference between a top 10 player and a top 5 player.
7. Devin Booker, SG, Phoenix Suns
Age as of 7/1/26: 29
In Devin Booker's first playoffs he has made the NBA finals and has a chance to win a title. Booker is arguably the best player on a potential title team at the age of 24. In NBA history that is rare unless it is all-time greats. With that being said, ranking Devin Booker 7 might be more of a floor than anything else. If Booker's game keeps evolving and a couple of players ahead of him on this list disappoint, then he could be among the very best players in the league.
6. Trae Young, PG, Atlanta Hawks
Age as of 7/1/26: 27
Two months ago I was a Trae Young hater, now I believe in Young's potential as much as almost anyone in the league. Young walked into arguably the two harshest environments in the league (New York and Philadelphia) and won a series as the underdog. The most magical part of Trae Young's game is his playmaking. His offensive game is like Steve Nash if he had decided to shoot the ball more. The killer instinct is there and as Young makes his shot more consistent he will only become a better player.
5. Zion Williamson, PF, New Orleans Pelicans
Age as of 7/1/26: 25
Zion is the most unstoppable player in the league moving downhill even at 20 years old. Zion's potential is incredible on both sides of the floor. The comparison of Charles Barkley with a massive vertical may seem funny but it is not far off. The point Zion situation is not only an unstoppable force but it creates an amazing playmaker. Zion's motor and energy can not be compared to anyone else in the league and especially no one of his size. Although it may not be in New Orleans, Zion will become an absolute superstar.
4. Jayson Tatum, SF, Boston Celtics
Age as of 7/1/26: 28
Tatum's potential begins to sound ridiculous the more you think about it. On offense, Tatum can score almost at will, at 6"10 Tatum can rebound, his defense is very good, and his playmaking has gotten better every season. If Tatum pushes all of these skills to an elite level then we could be talking about a complete player we have never seen before. In five years there is no reason Jayson Tatum should not be the best two-way player in the league.
3. Nikola Jokic, C, Denver Nuggets
Age as of 7/1/26: 31
The greatest passing big man of all time. If you had to think about that too much then you do not watch Nikola Jokic enough. The scariest part about Nikola Jokic is the potential for him to expand his offensive game. Jokic is nearly unstoppable in the paint and he's expanded his game to have a deadly mid-range shot. After expanding his game so much already it is not hard to imagine that Jokic will only continue to get much better. As stated earlier if Murray and Porter stay in Denver alongside Jokic then the Nuggets will finally bring in titles.
2. Giannis Antetokounmpo, PF, Milwaukee Bucks
Age as of 7/1/26: 31
After a couple years of falling short, Giannis has finally made the Finals and he is just getting started. Giannis still has glaring flaws with his free throw shooting and perimeter game but even with those flaws he is dominant. Giannis can run the floor like no big we have seen since Chamberlain and is also able to guard nearly anyone in the league. We will surely learn a lot about Giannis in these finals but he is surely a future HOFer and top-five player in the league.
1. Luka Doncic, PG, Dallas Mavericks
Age as of 7/1/26: 27
If in five years Luka is not the best player in the world then I will view it as disappointing. Luka is the greatest 22-year-old basketball player of all time and he will only continue to get better. Even at his young age, he is already a top-five player in the world. Luka will certainly be remembered as one of the best players of this generation and if he does what I believe he can, he will be remembered as one of the best of all time.

Check out our new podcast episode!
Got Hoops Podcast
A new up and coming basketball podcast by 4 dedicated NBA and basketball fans. It's for fans, by the fans.
Got Hoops Podcast (Ep. 18) : Lakers Retirement Home? Bulls new Big 3? Best moves of FA!
In our newest episode we talk about the Lakers potentially being a retirement home, the Bulls new Big 3, and the best moves of FA so far!
Search Results placeholder
Must See
With days 1 and 2 of Free Agency in the books, it is common...

Time to give out some report card grades for each selection in the draft...

In the offseason, especially the last segment, there are often victims of the hype...