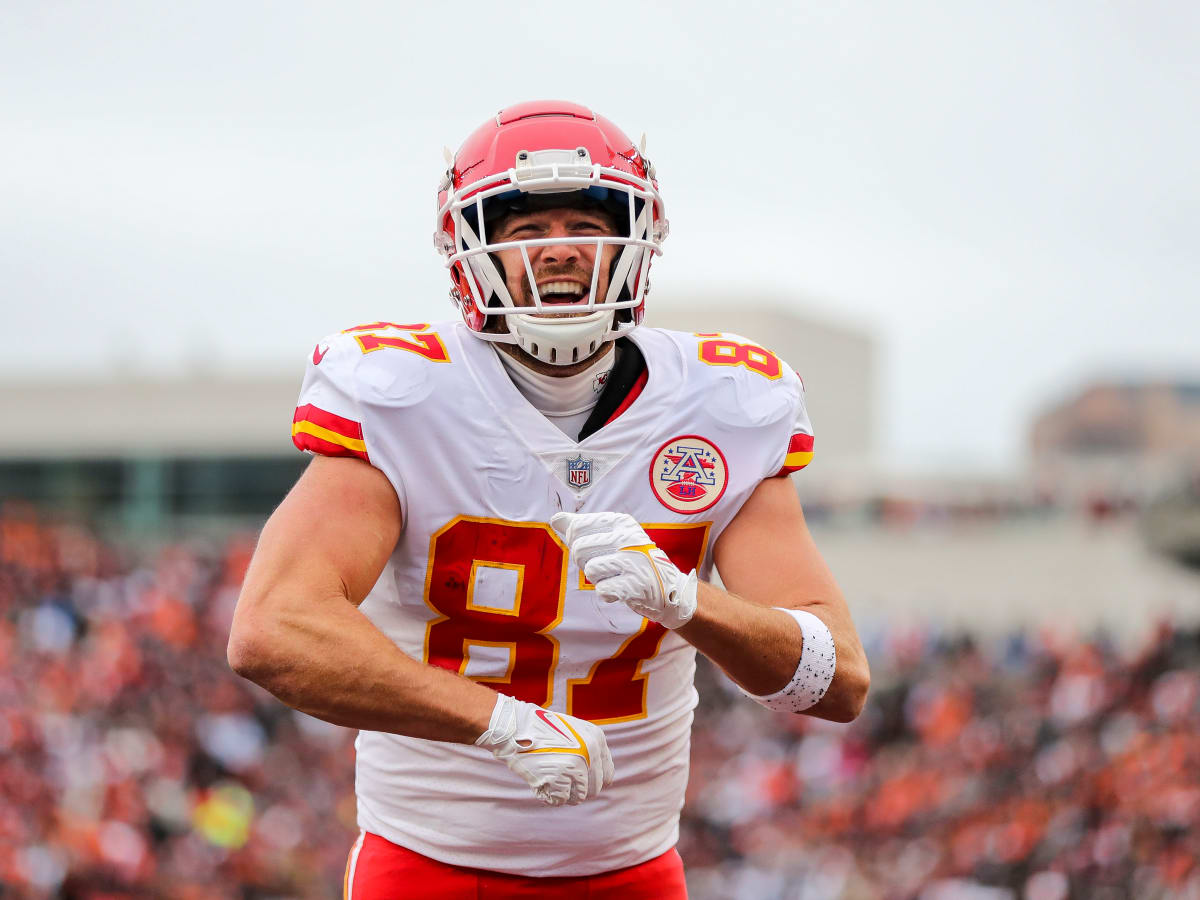 We're at the point of the NFL offseason where it's no mans land. The NFL draft and free agency has basically passed. Teams have started offseason workouts, but nothing super exciting going on in the NFL world. When looking at the most talented tight ends in the league, we look at two things. The ability to make plays and also their ability to make plays for others (causing double teams or being an elite run blocker).
What better way to figure the most talented than ranking them. Welcome… the rankings of the top 10 tight ends heading into the 2023-24 NFL season.
10. Gerald Everett, LA Chargers
Gerald Everett has all the physical traits to be a monster tight end and showcased some of that with his first year with QB Justin Herbert. One thing that hurt Everett though was his 9 drops on the year, tied for most in the league.
If Everett can prove to be more consistent, he could definitely move up this list. It also helps to play with a talented QB like Herbert who can get you the ball.
9. Cole Kmet, Chicago Bears
Cole Kmet has been a solid security blanket for young QB Justin Fields to go to throughout both of their careers. When Kmet was targeted, Fields had a 105.0 QB rating, good things happen when Kmet gets the ball. He was consistently one of the biggest bright spots on the Bears abysmal passing offense over the past two years.
If Fields continues to grow, I expect Kmet's production to grow as well. Watch out for Kmet to go up these rankings quick.
8. Dalton Schultz, Houston Texans
After catching for over 800 yards and 8 touchdowns, Schultz seemed to have an off year in the Cowboys offense. He dealt with a knee PCL injury throughout the year which hurt him, but didn't seem to be the same weapon last season. Nonetheless, Schultz when he's healthy, has shown more than capable of being a top 5 tight end in the league.
A knock on him for some time was his blocking, but he proved to become a better run-blocker this past year, ranking 4th in the league among tight ends. Getting a reliable tight end for your rookie QB will be helpful, Schultz is the man for the job.
7. Evan Engram, Jacksonville Jaguars
Evan Engram has had a redemption year big time with the Jaguars. He posted career high in yards receiving with 766 and the most receptions (73) in a season. Although Engram still can improve his overall route-running and catching, there's no question about his talent and athleticism. He proved that while being the 3rd leading receiver on the Jaguars and arguably the 2nd most important weapon in the receiving offense.
He proved to be super impressive after the catch, leading the team and being 2nd in the league among tight ends (465).
6. Pat Freiermuth, Pittsburgh Steelers
Pat Freiermuth showed this past season why the Steelers drafted him in the 2nd round the year prior. He posted over 700 yards receiving while consistently being a safety valve for Kenny Pickett to go to. His ability to find the ball and use his basketball experience to box out and make catches has proven to be useful for the Steelers.
Not only can he make tough catches, but he's proved to be a tough tackler. He ranked 5th among tight ends with 11 forced miss tackles. I expect him to continue to grow and don't be surprised if he pushes for a 1,000 yard campaign with another year with Pickett.
5. T.J. Hockenson, Minnesota Vikings
Hockenson started showing flashes why he was drafted with the 8th pick in 2019. He's extremely fluid for his size and can make cuts in and out of breaks like a receiver. He combined for over 900 yards receiving while playing for the Lions and Vikings this past season.
He proved to be the second most important receiving option for the Vikings while averaging 6 receptions a game. He ranked 2nd in the league in receptions while being a consistent go-to weapon for Kirk Cousins when Justin Jefferson was double or triple covered.
4. Dallas Goedert, Philadelphia Eagles
One of the more important players for his team on offense. Although the Eagles have a great WR duo in Smith/Brown, Goedert has proven to be as valuable. When throwing to Goedert, Hurts has a 121.7 passer rating. Goedert proved throughout the playoffs and the year his importance.
He essentially tied with A.J. Brown for 2nd most receiving yards (141) on the team in the playoffs and led the team in receptions in the playoffs. His ability to catch the ball in tight windows and make contested catches was proven over and over throughout the year.
3. George Kittle, San Francisco 49ers
Although Kittle hasn't proven to be as dominant as receiving as he was earlier on his career, he's still consistently one of the better receiving tight ends in the league. He led all tight ends in passer rating when targeted (137.1) and has consistently been one of the best run blockers from the tight end position.
The combination of receiving ability and run blocking makes Kittle one of the most valuable tight ends in the league. If he's not catching a touchdown or getting a first down, you can bet he's making a hell of a block to make plays for McCaffrey or whoever.
2. Mark Andrews, Baltimore Ravens
Mark Andrews is so high on my list due to him being elite consistently. The Ravens receiving talent has been underwhelming the past few years, but Andrews has been the bright spot. He's always been the safety blanket for Lamar Jackson or Tyler Huntley to go to.
Not to mention, he's also arguably the best run blocker from the tight end position. Out of 39 tight ends (250+ snaps), he ranked 1st with just a 6.3% negative play rate. Andrews is more important to the Ravens offense than many might think, but he's flourished as the #1 option of the Ravens offense.
1. Travis Kelce, Kansas City Chiefs
I mean… do I need to explain? Travis Kelce isn't just the best tight end in the league, he's arguably the greatest tight end of all time. Not only that, one of the greatest weapons in the league right now. Many thought the Chiefs offense would falter without Tyreek Hill, but they forgot the Chiefs still had the dominant presence of Kelce still.
Everyone knew Kelce would get the ball and what did he do? Catch for over 1,300 yards, break 13 tackles and catch for 12 touchdowns. Kelce has proven over and over and over why he's the greatest tight end we've seen. He proved to show his importance in the postseason again, leading the league in receiving yards in the postseason.