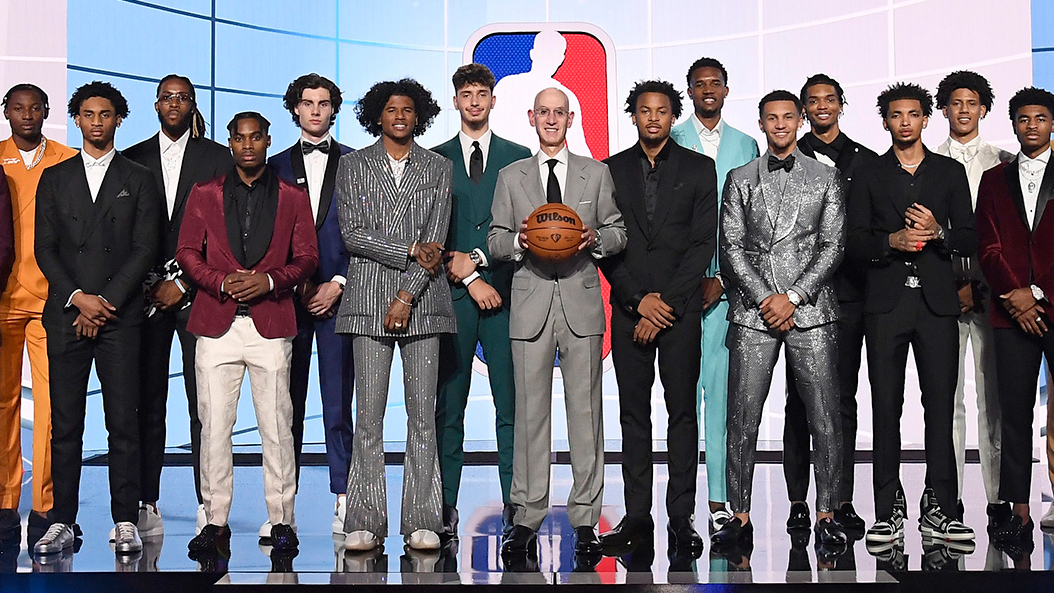 This year's draft was filled with some amazing talent. The rookies have had a lot of hype around them coming into the season and have not disappointed. The race for rookie of the year is tight, with Evan Mobley and Josh Giddey making their cases to take home the award.
No. 1: Cade Cunningham
Coming into the draft, it was a known fact that Cade Cunningham would be picked first by the Detroit Pistons. Cunningham had a solid stretch in the Summer League, putting up 18.7 points per game with around two assists and five rebounds per game. He then suffered an ankle injury during practice in early October and missed all of pre-season and the first five games of the regular season. Once he made his debut, Cunningham has been a little underwhelming. While being in and out of injury, Cunningham has averaged around 16 points per game with five assists and five rebounds. With the Pistons in full-on rebuild mode, Cade Cunningham has a chance to show why he was picked first and lead this young team out of the shadows.
Notable Games:
Jan 30 – 19 pts, 10 reb, 10 ast
Jan 25 – 34 pts, 4 blk, 6 3pm
Nov 21 – 13 pts, 12 reb, 10 ast
No. 2: Jalen Green
Jalen Green has quickly become one of the most entertaining players to watch this season. Green's basketball skills are already high-level and his dunking ability is superhuman (we won't count this year's dunk contest performance). Green's path to the league is slightly different than most. He decided to skip college and sign a contract with the G-League Ignite of the NBA G-League. After that season Green was selected second overall by the Houston Rockets. Despite the Rockets being one of the worst teams in the league, they are certainly entertaining. Green is currently putting up around 15 points per game with three rebounds and two assists. Like the Pistons, the Rockets are in rebuild mode and hope to build around a young player with loads of potential. Jalen Green is that player for Houston.
Notable Games:
Mar 9 – 32 pts, 3 reb, 3 ast
Mar 6 – 24 pts, 8 reb, 4 ast
Oct 24 – 30 pts, 4 reb, 8 3pm
No. 3: Evan Mobley
Evan Mobley was drafted third by the Cleveland Cavaliers. At first, people thought this was an interesting choice given that the Cavaliers already had their big-man in Jarret Allen. Mobley quickly showed everyone that this was a great move by Cleveland. Allen and Mobley have become one of the most entertaining duos on a team that is surpassing everyone's expectations. Rarely has a rookie had this much of an impact this early in their career. Mobley has been the clear favorite for Rookie of the Year for a majority of the season and has been a vital piece for Cleveland, averaging just under 15 points with eight rebounds and two assists per game. Mobley has also been having a significant impact on defense, leading all rookies in blocks with 1.7 per game.
Notable Games:
Feb 1 – 29 pts, 12 reb, 2 ast
Dec 10 – 15 pts, 15 reb, 2 ast, 1 blk
Nov 27 – 13 pts, 9 reb, 4 blk
No. 4: Scottie Barnes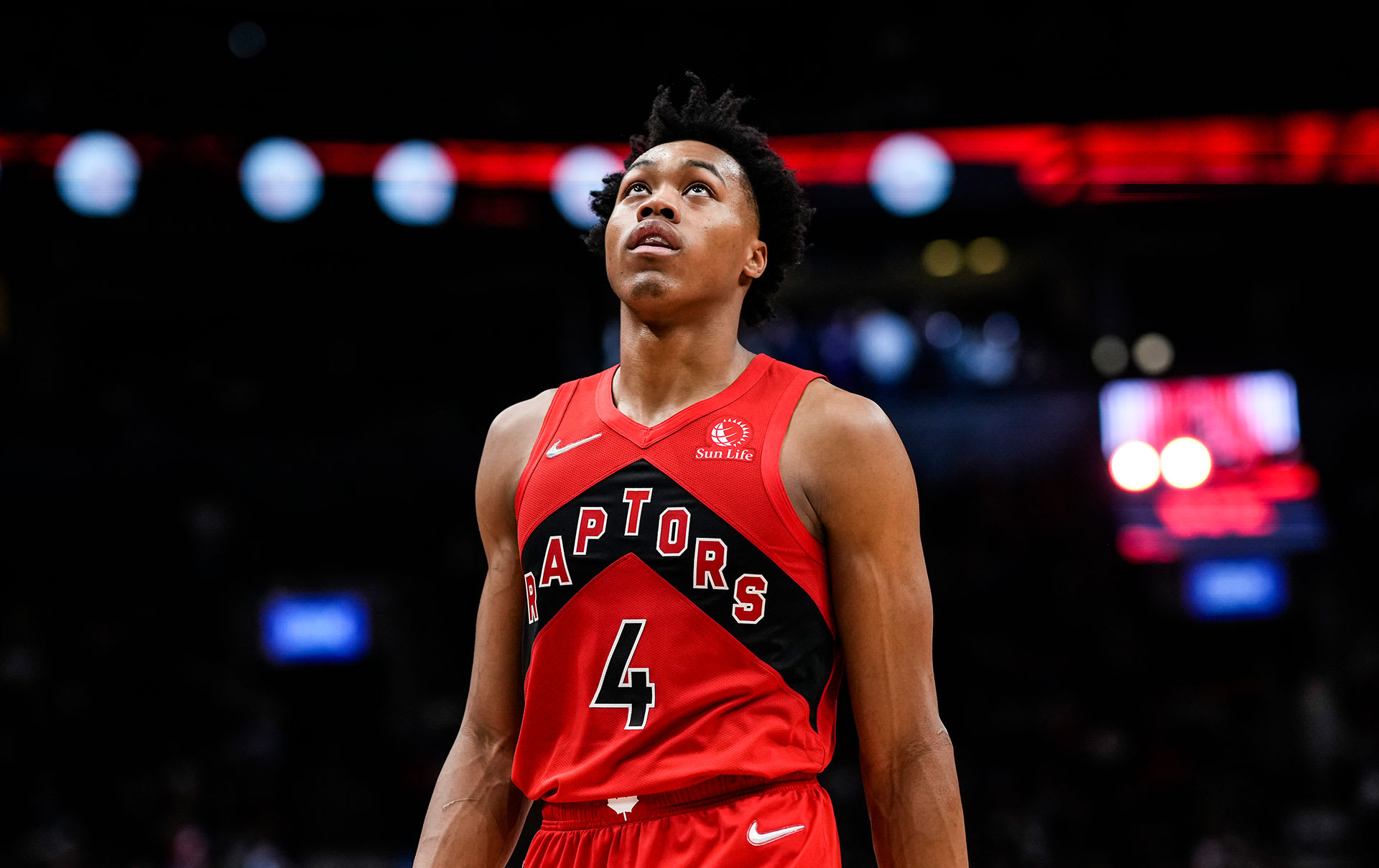 Scottie Barnes was drafted fourth overall by the Toronto Raptors. Barnes immediately had an impact for the Raptors. Barnes has also been making his case for Rookie of the Year. Like Mobley, Scottie Barnes is surrounded with a talented team in Toronto. Raptors guard, Fred VanVleet and forward, Pascal Siakam compliment Barnes very well. Barnes is scoring around 15 points per game with seven rebounds and three assists. The Raptors were not expected to be a good team this season however Barnes and his co-stars have changed that. The team is now in the lower half of the Eastern Conference play-off picture.
Notable Games:
Feb 26 – 28 pts, 16 reb, 5 stl, 86% fg
Feb 24 – 28 pts, 5 reb, 72% fg
Dec 14 – 23 pts, 12 reb, 5 ast
No. 5: Jalen Suggs
When Jalen Suggs announced he would enter the NBA draft fans immediately started comparing his shooting ability to Stephen Curry. That ended up being a big stretch. Suggs has ended up being a mediocre player with some flashes of greatness. Suggs is averaging 12.3 points per game on 36% shooting. There are some games where we see a glimpse of Stephen Curry level basketball but, those are not as common as fans expected. The Orlando Magic have a talented young core with Cole Anthony, Franz Wagner, Wendell Carter Jr., and others. If Jalen Suggs can improve and become the player he was expected to be, the Magic's future could look pretty bright.
Notable Games:
Mar 4 – 15 pts, 6 reb, 7 ast
Feb 28 – 14 pts, 10 ast, 2 stl
Feb 12 – 20 pts, 6 reb, 10 ast
No. 6: Josh Giddey
Perhaps the biggest surprise of the 2021 draft, Josh Giddey came into the NBA with professional league experience. Giddey comes from Australia where he played professionally for one season. He was then picked sixth by the Oklahoma City Thunder. Giddey was said to not be ready for the NBA by many people. A post started circulating the internet basically saying Giddey's weakness was basketball.
Fast forward to now and Josh Giddey is one of the front runners for Rookie of the Year. On January 2nd Giddey became the youngest player in history to record a triple-double at 19 years old and 84 days. Currently, Giddey has been drawing comparisons to Luka Doncic and even LeBron James. If Giddey can stay on this path, the Thunder have themselves a franchise star. But if this season ends up being a fluke at least he has his TikTok career to fall back on.
Notable Games:
Feb 16 – 17 pts, 10 reb, 10 ast
Feb 13 – 28 pts, 11 reb, 12 ast
Jan 2 – 17 pts, 13 reb, 14 ast

No. 7: Jonathan Kuminga
Jonathan Kuminga is another player who skipped college to play for the G-Leauge Ignite in the NBA G-League. Golden State's dynasty was thought to be over when Kevin Durant left for Brooklyn. On top of Durant's departure injuries took over the Warriors' roster. Coming into this season Warriors fans were excited. Stephen Curry and Andrew Wiggins were healthy with Klay Thompson (who is now healthy and playing) and James Wiseman set to return this season. With a healthy roster the Warriors had the chance to pick a highly talented player with the seventh pick. They used their pick to add Jonathan Kuminga to their already extremely talented roster. Kuminga has been having a solid season averaging nine points per game with three rebounds. With the recent injury to Draymond Green, Kuminga has been taking advantage of more minutes and showing off his talent. Jonathan Kuminga is a talented player surrounded by an extremely talented roster and he seems to be taking advantage of every minute he can on the court while the Warriors try to bring back a championship to the bay.
Notable Games:
Mar 8 – 21 pts, 6 reb, 6 ast
Feb 11 – 18 pts, 9 reb, 1 blk
Jan 14 – 25 pts, 3 reb, 3 ast, 83% fg
No. 8: Franz Wagner
Franz Wagner was selected by the Orlando Magic with their eighth overall pick. Wagner is an impressive player who has been balling out recently. Wagner is joined with other young stars like Cole Anthony and Jalen Suggs. Franz Wagner's older brother Moe Wagner also joined the Magic recently. Wagner is a key piece for the Magic's young core. Averaging 15 points, just under four five rebounds, and three assists, Wagner has a bright future in the NBA.
Notable Games:
Dec 28 – 38 pts, 7 reb, 3 ast
Dec 18 – 14 pts, 11 reb, 6 ast
Nov 29 – 27 pts, 6 reb, 5 ast
No. 9: Davion Mitchell
Picked ninth overall, Davion Mitchell came into the league as a highly appraised defensive player. Mitchell has been inconsistent but solid so far this season for the Sacramento Kings. He has had flashes of great basketball but he hasn't been able to put together a string of good games. Mitchell's minutes have fluctuated through out the season but he has made the most of it. Mitchell is scoring around 10 points per game with two rebounds and three assists. Once Mitchell can get more consistent,he can solidify himself on this Kings team.
Notable Games:
Feb 9 – 18 pts, 7 reb, 7 ast
Feb 2 – 26 pts, 8 ast, 1 stl
Jan 30 – 18 pts, 6 ast, 2 blk
No. 10: Ziaire Williams
The Memphis Grizzlies selected Ziaire Williams tenth overall. Williams is having an decent season scoring around seven points per game with two rebounds. Williams is a small forward on a team with very talented forwards like Desmond Bane, Brandon Clarke, and Dillon Brooks. That being said it is hard to get minutes when you have multiple guys that are better than you in your position. Williams has a chance to be great, he just needs the minutes to prove it.
Notable Games:
Feb 23 – 21 pts, 4 reb, 1 ast, 1 stl
Jan 20 – 17 pts, 5 reb, 2 stl
Oct 12 – 19 pts, 5 reb, 1stl

Must See
I swear I was writing a fun Kyrie to the Laker trade when the...

With the news that Kyrie Irving is being traded to Dallas, fans are already...

No matter what opinion you have of Aaron Rodgers off the field, on the...