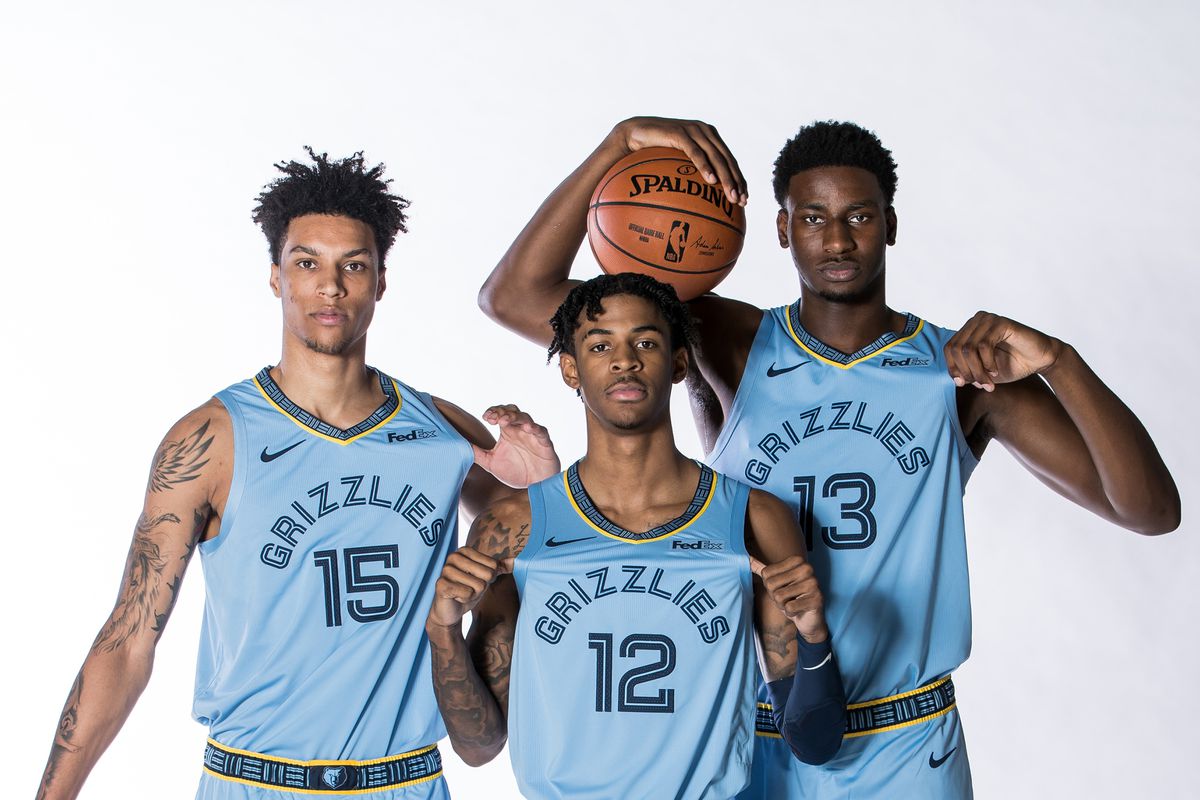 Recently, Bleacher Report released their list of the top young cores in the league. The teams featured, excluding a few, I believe are the only teams with young promising cores in the NBA, but the order in which they placed the teams just doesn't sit well with me. Although teams like the Mavs, 76ers, and Heat have some very young promising talents, I believe that in terms of core… they don't match up with the other teams on the list.
Part of me wanted to include the Mavs, Hornets, and Hawks because of the generational talents they have in Luka, Trae, and LaMelo, but I have them outside my top 5. Also, it was hard to not include the Thunder based on their future draft assets alone. With that being said, here's my revised top 5:
#5 Cleveland Cavaliers
Core: Collin Sexton, Darius Garland, Jarret Allen, and Isaac Okoro
Bright spots: Collin Sexton has made a huge leap to a near All-Star this season and he's shown the potential to be an at-will scorer and I believe his ceiling is higher than some of the better young players in the league, like Jamal Murray for example. At his side, is another exceptional young scorer in Darius Garland, creating one of the more tantalizing young backcourts in the NBA. They both possess the ability to be over 20 points per game players.
At the wing is promising Isaac Okoro, who's shown the makings of an efficient defensive-minded player with promising athleticism and intangibles. Okoro just needs to put it together more on offense which I believe he will be more than capable of. Manning the paint is the tenacious fro' donning Jarrett Allen who's already marked himself as one of the best interior big men in the league in my eyes.
Problems at the moment: Offensive playmaking and initiating as well as three point shooting and defense. Sexton and Garland to make an effort to step up as playmakers and defenders and for Okoro to unlock his offensive potential.
#4 Phoenix Suns
Devin Booker, DeAndre Ayton, Mikal Bridges, Cam Johnson
Bright spots: Booker has the potential to be the best scoring guard in the league at one point in his career, with the ability to score at all three levels. His running mate will be the big man DeAndre Ayton, who has the potential to be the most dominant big in the league. A big flaw with Ayton is lack of defensive effort and hustle, so if he can do that as well as improve his jump shot we could see another level of dominance from him. With the addition of CP3, Ayton has been forced to step up as a defender now that the team has expectations. Alongside them are the perfect 3 and D wings in Mikal Bridges and Cam Johnson, two young talented players surely to help the team with their shooting and defense for years to come. Having CP3 on the team at the moment should do wonders for the development of all of them.
Problems at the moment: Not getting enough turnovers despite good team defense, leading to not enough fast-break opportunities and also causing them to be a slow-paced 3 point heavy offensive team. They need to get more shots up and cause more turnovers.
#3 New Orleans Pelicans
Core: Zion Williamson, Brandon Ingram, Nickiel Alexander-Walker, Jaxon Hayes, Kira Lewis Jr., Lonzo Ball
Bright spots: If coached properly, this team could be a contender year in and year out. But because they're currently being misused and we're able to see the effect it has on the team, they're sitting one spot behind the Memphis Grizzlies in my book. Zion and BI can be a 1-2 punch for years to come, with the potential to be the best young tandem in the league. If surrounded with players like NAW and what they were expecting Lonzo to be, good transition players who can shoot and defend, the offense is opened greatly. NAW and Kira Lewis' development will play a critical role in the teams future, as their development as scorers and playmakers will be critical. Not to mention, their ability to help guard the perimeter, since we've seen that Zion may not be the defensive prospect we were expecting. Jaxon Hayes also fits the team perfectly in my eyes. He's a young rim runner who can protect the paint, and although he could do more in terms of his rebounding and perimeter game, he still has plenty of time to fill out his frame better and touch up some flaws, just like every player on this list.
Problems at the moment: They're not coached well right now and the inability to put it together to contribute to wins.
#2 Memphis Grizzlies
Core: Ja Morant, Jaren Jackson Jr., Brandon Clarke, Xavier Tillman, DeAnthony Melton, Desmond Bane
Bright spots: This team is lengthy and they emulate the gritty attitude the Grizzlies made their brand off of in the 2000s, as well as being a menace in transition. Ja and JJJ have the potential to be the best guard big man combo of the future and the players around them compliment them perfectly and are young enough to grow with them.
Desmond Bane and DeAnthony Melton are both knockdown shooters who can guard the perimeter, Xavier Tillman is the perfect Draymond styled swiss army knife undersized big man to complement those shooters and also help take the load off of the stars, while Brandon Clarke is a bouncy young big man who can run the court and defend the paint and has shown the ability to extend to the perimeter without giving up too much interior defense.
Problems at the moment: 3pt shooting, free throws, defensive rebounding, guarding the perimeter
#1 Boston Celtics
Core: Jayson Tatum, Jaylen Brown, Payton Pritchard, Grant Williams, Robert Williams
Bright spots: Jaylen Brown and Jayson Tatum are the best young duo in the NBA at the moment and it really isn't close. This year, both are scoring over 25 ppg in their fifth and fourth seasons respectively, and with each season, each player has looked more and more like a future two-way superstar.
With Robert Williams proving himself to be a worthy glass cleaning paint protector, and Pritchard and Grant Williams holding their own off the bench, the star power of Brown and Tatum alone can lead this team to a promising future, should Danny Ainge supply them with the right pieces around them.
Problems at the moment: They need a reliable prototypical point guard as well as bench depth and an adequate paint protector, more defense, and three-point shooting.