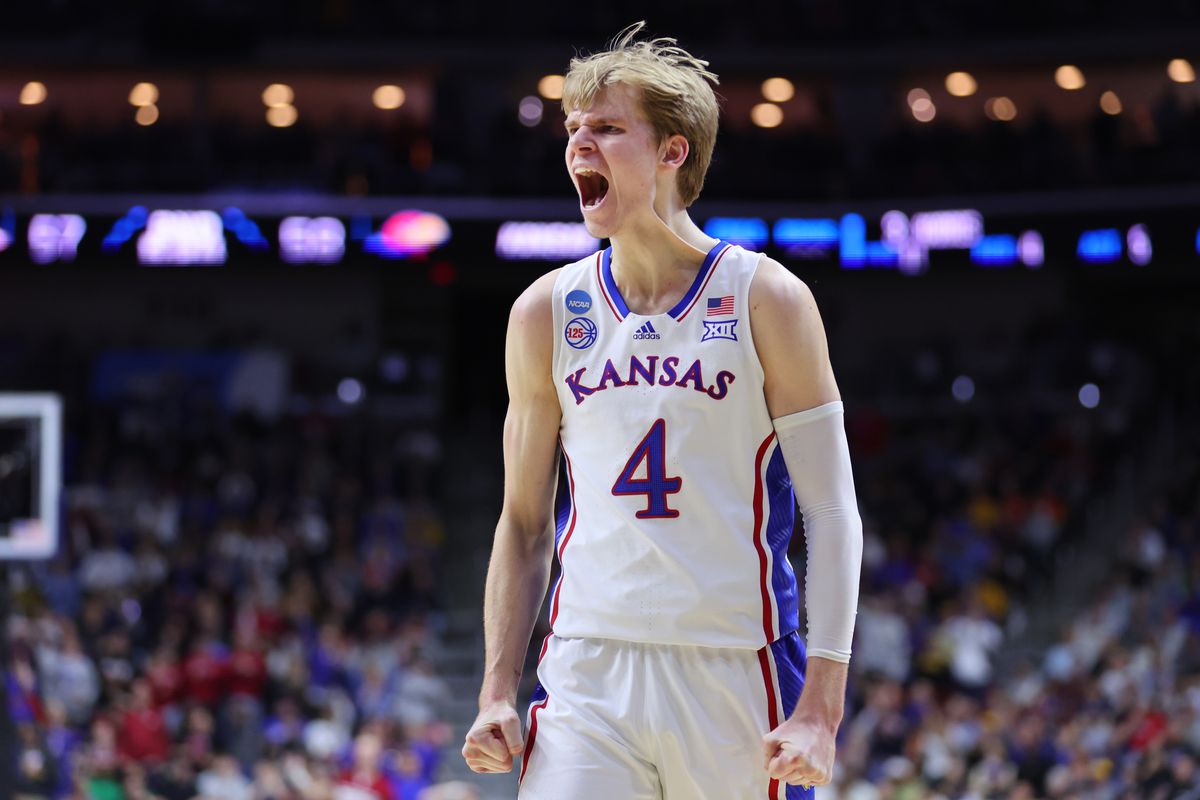 The G-League combine is underway and the draft lottery and NBA combine are in a couple of weeks. This time of year everyone has an opinion and everyone has their takes. I am no different although I like to believe I have watched and studied enough to back up my opinions I will leave that up to the audience.
In this article I give ten "hot" takes about the 2023 NBA Draft with them getting hotter with each take. These are intended to be hot takes so I would be disappointed if you did not disagree with at least a couple of takes in this article.
10%- Taylor Hendricks is Not a Top 10 Prospect
This might not be a hot take at all, but it is becoming increasingly common to see people have Taylor Hendricks in the top 10 of their big boards. It isn't that I am totally against that (I have Hendricks 12), but I do not see the upside that normally top 10 picks have. I think Hendricks is a star defender but right now the offensive game isn't much more than just a shooter. The floor is really high for Hendricks but I don't believe in his ball handling or creativity enough to think his ceiling is all that high.
20%- Bilal Coulibaly is the 2nd Best International Prospect
This would have been WILD about two-three months ago but now this is accepted by half the draft community. Bilal is a fantastic defender, a good athlete, and has become more consistent as a shooter as of late. Rupert and Nnaji are good prospects but Coulibaly has clearly passed them as a prospect and has made a real case to go in the lottery this year. For much of this year Coulibaly has been viewed as a rising 2024 prospect but his play as of recently has solidified that he will go in the first round in this years draft.
30%- Kobe Bufkin is the Best Michigan Prospect
The Jett Howard fan club view this as scorching hot but I put it at 30% because I don't think there is a big gap between the two. Currently, I have both players between 15-20 but slightly prefer Kobe Bufkin. Bufkin has few flaws, is a good playmaker, a pesky defender, and a capable shooter. Last season he shot a mind-boggling 71% at the rim despite his skinny frame. I like Jett Howard and think he could be a good shooter at the next level but between the defense and his poor finishing at the rim, I prefer Bufkin.
40%- Amen Thompson is the Best Athlete and Playmaker in the Draft
Amen Thompson is clearly the best athlete in this draft despite Scoot, Whitmore, and his twin's best efforts. But not only is he the best athlete but Amen is also the most gifted playmaker in this year's class. I will say Scoot Henderson is a close second in this category but think the best of Amen's reads flash special playmaking skills. It is very rare for someone in a draft to be both of these things and on top of that Amen is 6'7 and great around the rim. I still comfortably have Amen 3rd on my board and can't wait to see him prove people wrong at the next level.
50%- Leonard Miller is a Top 20 Prospect
Last draft cycle I was as low as I could be on Leonard Miller. I thought Miller played 0 competition and didn't look all that good in doing so. Joining the G-League was the best decision Miller could have made. This year Miller has shown his defensive skills along with his seemingly endless motor. Early in his career, Miller will be a minute-eating effort player but he shows flashes of creation, playmaking, and shooting that indicate there may be some upside. In the late teens without a glaring need to fill, I would swing for the fences with Miller.
60%- Gradey Dick Has a Much Higher Upside Than "Just a Shooter"
Gradey Dick is underrated by many that think he will just be a shooter like a Redick or Korver. Dick is a very smart player that consistently makes the right reads on and off the ball. Right now Dick is a fantastic cutter and mostly only made quick simple reads. With that being said, Dick was in the 97th percentile as a pick-and-roll ball handler including passes, and the 98th percentile as the pick-and-roll handler when the defense commits. These numbers suggest there may be more than what meets the eye for Dick as a playmaker. Too often we put prospects in boxes and say what they can and can't be, I am not ready to put a ceiling on Gradey Dick.
70%- Dereck Lively is a Better Prospect Than GG Jackson
Dereck Lively had a roller coaster of a season with Duke. Although he failed to meet what people thought of him before the season he opened another avenue as a defensive specialist that is still super raw offensively. GG Jackson is a pure mystery, he did nearly nothing on the court efficiently but that was covered by the notion he is the youngest prospect in this draft. Jackson has attitude problems and although his "potential" is high I would argue that is a pipe dream as he would to make enormous strides as a shooter, playmaker, defender, and personality-wise. For this reason, I will take the certainty and plausible upside that is Dereck Lively.
80%- Maxwell Lewis Will Struggle in the NBA
This seems harsh and I really hope I am proven wrong but I don't see the case for Maxwell Lewis. Lewis did not rank above the 56th percentile in any scoring category (minimum 40 possessions) besides post-ups (which isn't his future). Lewis's production dropped when he played better teams and most of his numbers are the result of playing against poor teams. Lewis is a smooth player that still has a plausible path to a good career but there are people I would rather bet on in the top 25 of the draft.
90%- Kobe Brown Will Have a Longer/More Succesful Career than Nick Smith
I have Nick Smith higher on my board because of the higher potential and his pedigree as a former 5-star but think it is likely Kobe has a better and longer career. Kobe Brown is an offensive weapon at 6'8 but he moves and plays like a guard. He checks every offensive box and his only real downsides are his ceiling and his defensive position. Nick Smith showed flashes of being a good scorer but I am sold on nearly none of the categories he was advertised as coming out of high school. Nick Smith was just an average playmaker and was nowhere near the sharpshooter label he was given. Smith could prove that this year was a fluke but if I was a betting man I would bet Kobe Brown will be better in the long term.
100%- Victor Wembanyama Will Retire a Top 20 Player of All Time
The reason I put this at 100% is because not only is it hot but I wholeheartedly believe this. There are 13 players in NBA history that to me stand above the rest and I will predict that by the time Victor retires 3-4, more guys will enter that category (my guess is Giannis, Luka, and Jokic). In 20 years we will acknowledge Victor in that same group. The only concern I have that will stop Victor from being an all-time great is injuries but Victor played 40 games this year without a major injury. Victor is the prize of this draft for a reason and will define this generation.