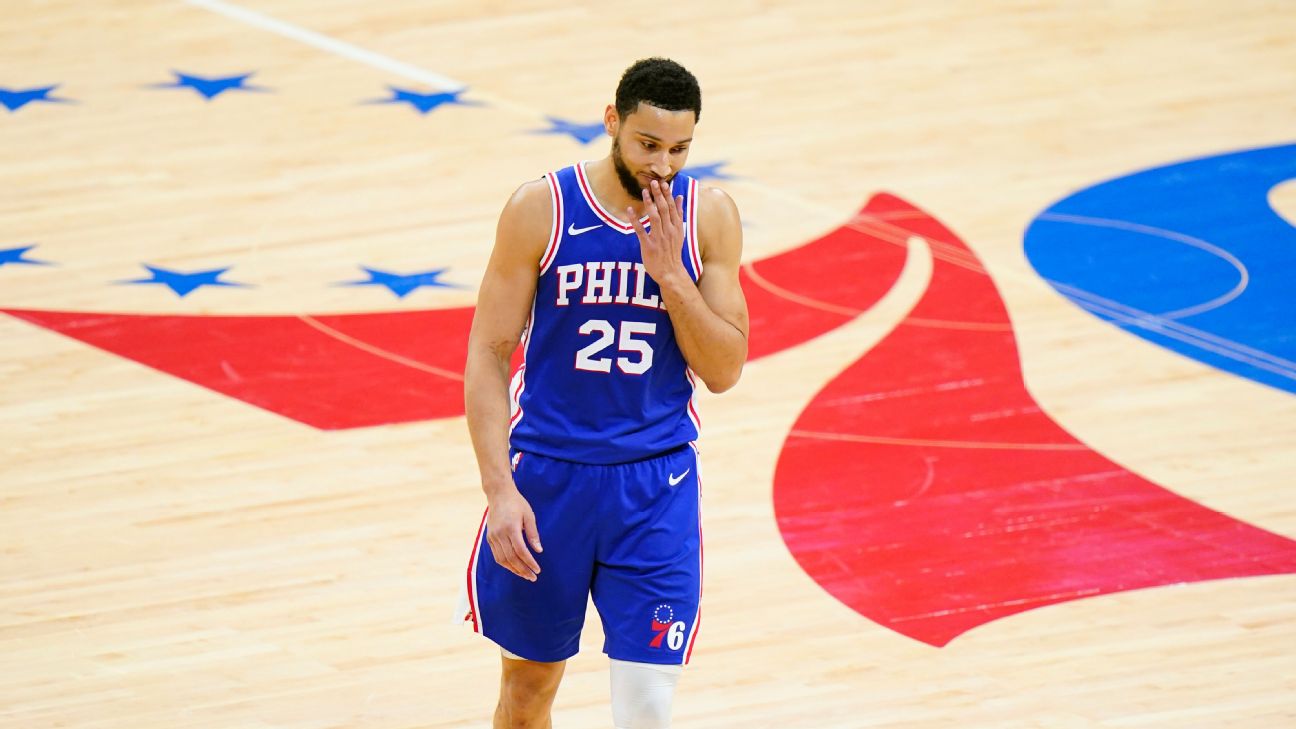 With the NBA trade deadline only about a week and a half away (February 10th), team executives have to seriously gauge the league landscape and how they view their respective teams. Some contending teams may look to be buyers in the next week, hoping to further their efforts to acquire an NBA championship, fringe teams may look to move the needle and propel themselves into title contention, and "tanking" teams will turn into sellers, moving their veteran pieces for young players and draft compensation. Let's take a look at one move each team should make:
Atlanta Hawks: Find a True Co-Star
The Atlanta Hawks have underperformed, considering the expectations that most people had following their trip to the Eastern Conference Finals last season. Trae Young is averaging near or above his career high in virtually every relevant statistic, and yet the Hawks are sitting at 10th place in the Eastern Conference with a record of 24-26. It seems they are missing a true co-star alongside Trae Young. Clint Capela is vital to their success due to his rebounding and defense that would be basically non-existent without him, but some combination of John Collins, Danilo Gallinari, DeAndre Hunter, and/or draft picks could finally pair Young with an All-Star level talent.
Boston Celtics: Split Up Dynamic Duo
Hear me out before you crucify me Boston fans. The Celtics would be lying if they said their expectations have been met this season. 9th place in the Conference isn't good enough for one of the NBA's premier markets and most successful franchises in history. I think it may be time to admit that the "experiment" of Jayson Tatum and Jaylen Brown isn't working how we all thought it would. I won't be bold enough to suggest what this trade might look like, but I think the time to make something happen is now.
Bonus move: This is all but guaranteed, Boston moves Dennis Schroder to avoid the luxury tax.
Brooklyn Nets: Stand Pat
Unfortunately for the Nets, they have basically already exhausted all their assets to form the team they have now. Fortunately for the Nets, that team is good. Very good when their Big 3 can all play together. Kevin Durant, James Harden, and Kyrie Irving have only logged about 400 minutes together in total over two seasons. In the first 16 games they played together Brooklyn had a record of 13-3, which translates to 66 wins over an entire 82 game season. You can't complain about that. The Nets don't have the assets to make any deadline moves, but will likely attempt to sweep up the buyout market again.
Charlotte Hornets: Big Upgrade
It is no secret that the Hornets could use an upgrade at center. Is Mason Plumlee servicable? Yes. Is he elite? By no means. He brings rebounding and defense that could be improved without breaking the bank.
Chicago Bulls: Wing Depth
The Chicago Bulls are one of the NBA's most fun teams to watch. They are high-paced, high-flying, and dangerous on both ends of the floor. Their biggest issue this season has been remaining healthy. They have lost Patrick Williams for the season, Derrick Jones Jr. for several weeks, and almost all of their stars have missed significant time. This team is extremely depleted on the wing and this trade deadline should be the time for them to get some depth there, even if it is temporary. And no, Jerami Grant is not the answer. He is too expensive and up for a large extension.
Cleveland Cavaliers: Stay the Course
If you would have told me 5 months ago that the Cavs would be in 4th place in the Eastern Conference, only 1.5 games back of 1st place, I would've asked why you were still living in 2017. Cleveland's young core is one of the best in the league, Darius Garland and Evan Mobley look like a duo of the future (they are both younger than 22 by the way), and they still have Collin Sexton sitting on the bench due to injury. This is what a successful rebuild is supposed to look like. Barring any minor moves, I think the Cavs should stay put.
Dallas Mavericks: Backcourt Improvement
The Mavericks have weathered the storm of injuries and health and safety protocols fairly well, all things considered. They currently hold a 29-22 record, good enough for 5th place in the Western Conference. Luka Dončić is exceptional, Kristaps Porziņģis is looking like what Dallas hoped he would be, and their supporting cast is playing very well. Their largest hole is some backcourt depth to help Luka, and there are plenty of cheap candidates to fill the role.
Denver Nuggets: Follow the Joker
Nikola Jokić is averaging 26.0 points, 13.7 rebounds, and 7.8 assists. No, you didn't read that wrong. The Serbian is almost single-handedly leading the Nuggets to 6th place in the Western Conference, as Denver currently had a 5 game win streak and an 7-3 record over their past 10 games. They are hopeful that Jamal Murray and Michael Porter Jr. return towards the end of this season, but for now they just need to lean on Jokić and press on.
Detroit Pistons: Get As Much As Possible for Grant
Detroit is making all the right moves at this stage in their rebuild. Cade Cunningham and Killian Hayes are a stellar young backcourt and they have several front-court players with potential. One of the most important steps of a rebuild is obtaining draft stock for valuable veteran players. I can't say what the true price of Grant is, but I don't think that multiple 1st-round draft picks is out of the picture.
Golden State Warriors: Cheap Size
The Warriors are back. Sitting at 2nd place in the Western Conference, Klay Thompson is back and Steph is having an excellent season. The only place where this team could use some true improvement is at the center position. They don't need to break the bank to acquire a huge name, but a cheap big that can matchup against elite bigs would be beneficial.
Houston Rockets: Trade Eric Gordon
The Rockets are in a rebuild and Eric Gordon doesn't fit the timeline of that rebuild in any way, shape, or form. Gordon could be a valuable piece to a contending team willing to give up some draft stock or a young player to obtain him, exactly what the Rockets need.
Indiana Pacers: Get Better?
This is the only team that I have no ideas for. What does the future look like for Indiana? Do they trade Myles Turner? Do they trade Caris Levert? I honestly couldn't tell you. This team doesn't want a rebuild, evidenced by these comments from team governor Herb Simon (Kravitz, The Athletic). I'm not sure what that will end up looking like for the Pacers, but they will likely be an active team this trade deadline.
Los Angeles Clippers: Wait Until Next Season
With the strong possibility that both Kawhi Leonard and Paul George don't return until next season, the Clippers don't have many options. They may contend for a playoff spot with the current roster, but without these two superstars, there is little chance they contend for a title. My advice: wait until next season when the roster is fully healthy and go from there.
Los Angeles Lakers: Defense Wins Championships
The Lakers have been a disappointment for a brutal Los Angeles fanbase. They show flashes of success, but are unable to maintain a level of consistency characteristic of a championship team. They are middle of the pack in both offensive and defensive rating, but have more notable lapses of defensive effort. Simple moves to improve the team on the defensive end will go a long way.
Memphis Grizzlies: Search and Sit It Out
Teams are always looking to improve, and the Memphis Grizzlies are no different. I believe they will search the trade market for any type of move to make the team better. I doubt they find anything they will bite on, but it is worth a look.
Miami Heat: Don't Stir the Pot
The Miami Heat are good. Very good. Pat Riley has again masterfully created a roster for Head Coach Erik Spoelstra to work with. They give an incredible amount of effort on the defensive end and are almost surgical on the offensive end. I don't think they need to make any moves, especially considering the chemistry they are building. If it ain't broke, why fix it?
Milwaukee Bucks: Keep Winning
The Milwaukee Bucks are built to win. Exhibit A, see 2021 NBA Finals. Obviously they will search the league for any potential moves, but I don't think they need to do anything.
Minnesota Timberwolves: Shop Russell
The Timberwolves have a young core that is very good. Karl Anthony-Towns is continuing to develop into one of the best big men in the league, Anthony Edwards is growing into his immense confidence, and they have young players that show potential. I think they only thing they may end up doing is shopping D'Angelo Russell. Whether they end up trading him or not is another story but I think it would be foolish to not check what teams are willing to give for the young point guard.
New Orleans Pelicans: Get Zion Back
The Pelicans simply need their best player back on the floor. They will obviously not reach their full potential until Zion Williamson is on the court. They could make some minor moves to improve their bench and backcourt, but truly nothing could compare to Williamson's return.
New York Knicks: Grade "Star" Players
The Knicks are again a middle of the pack team. Their plethora of offseason moves have proven relatively unsuccessful in relation to their preseason expectations. I believe the best thing they can do this deadline is grade each of their stars and determine whether they want to keep them or move on. Following reports that they may be ready to move on from Kemba Walker and/or Julius Randle, New York has some important decisions to make about their future.
Oklahoma City Thunder: More! Give Me More!
Sam Presti seems to be a pick-hoarder, and there is no reason for that to stop now. The Thunder have 32 draft picks over the next 4 years, yes that's right, 32 draft picks. They have the capital to obtain even more at the deadline, with Kenrich Williams and Derrick Favors as potential players that can be swapped for draft picks.
Orlando Magic: 1st-Round Picks Please
The Orlando Magic need 1st-round draft picks for their rebuild. They have done well drafting Jalen Suggs, and lucky for them, they have the players to swap for those. Mo Bamba, Terrence Ross, and Gary Harris are all potential targets for contenders they may want to give up draft stock for.
Philadelphia 76ers: End the Ben Simmons Saga
The Philadelphia 76ers need to move on from Ben Simmons, he is very obviously not going to budge, as he has already lost over $19 million in fines. Daryl Morey is rumored to be fine with waiting until the offseason to trade Simmons, but that is a mistake in my opinion. They have their point guard of the future in Tyrese Maxey. They may need to lower their expectations a little bit of what they will get for Ben, but they need to trade him now. His presence (or lack thereof) is continuously toxic to the team, and sitting at his house isn't helping the team win any games.
Phoenix Suns: Redemption
The Suns have the best record in the league and are currently riding a league-leading 11 game win-streak. They are poised for a return to the NBA Finals. I don't think there are any moves they need to make as they are dominating in all facets of the game.
Portland Trailblazers: Trade CJ
In theory, the Trailblazer's backcourt of Damian Lillard and C.J. McCollum is among the best in the league. While that may be true statistically, their success would say otherwise. They have only been to the Conference Finals once, and were swept by the Warriors. I think it is time for Portland to move on from McCollum, even though they may not receive as much as they could have in the past.
Sacramento Kings: Trade Veterans
The Kings are in sort of an awkward stage of progress. It seems like they have been "rebuilding" for years, with little to no improvement. They have important decisions to make about the future of their backcourt, i.e. what they do with De'Aaron Fox and Tyrese Haliburton. I believe that they should keep both of those players, but there are some players it is time to move. Harrison Barnes, Buddy Hield, Tristan Thompson, and not-so-veteran Marvin Bagley are all candidates to change teams at the deadline.
San Antonio Spurs: Trade Thad
The Spurs are in basically the same spot as Sacramento. They have some young talent, most namely Dejounte Murray, but aren't in a position to contend for anything. We all know the process, but the absolute-must move for San Antonio is to trade Thaddeus Young, who is an unrestricted free agent this offseason and, at minimum, can bring the Spurs some draft stock in return.
Toronto Raptors: Hold Back
The Raptors are a fringe playoff team as their roster currently stands. They won't propel themselves into title contention with any moves that can be made at the deadline, so there is no reason to. They drafted an absolute gem in Scottie Barnes, Fred VanVleet continues to play at a high level, and Gary Trent Jr and OG Anunoby are excellent wings. Pascal Siakam may not be a vital piece to the puzzle, but I don't think it is time to move him yet as he isn't a free agent until 2024.
Utah Jazz: Get Healthy and Add a Wing
The Jazz finished the month of January with a 4-12 record, and closed the first month of the year with a 5 game losing streak. They have been decimated with injuries, having played games without any of their starters and recently losing Joe Ingles for the season due to a torn left ACL. The biggest thing the Jazz can do it get healthy, but adding a decent defensive wing or two wouldn't hurt.
Washington Wizards: Blow It Up
I think it is time for the Wizards to clean house. After Spencer Dinwiddie's comments that he wasn't welcomed as a leader in the locker room and rumors that Washington may not believe that Bradley Beal is the piece they want to build around, I think it is time to move on from them both. Unfortunately I don't see this as something that will happen, but I wouldn't be surprised if it did.
All stats taken from ESPN.com, NBA.com, or Basketball Reference unless otherwise noted. All stats and records are accurate as of the morning of February 2nd, 2022.