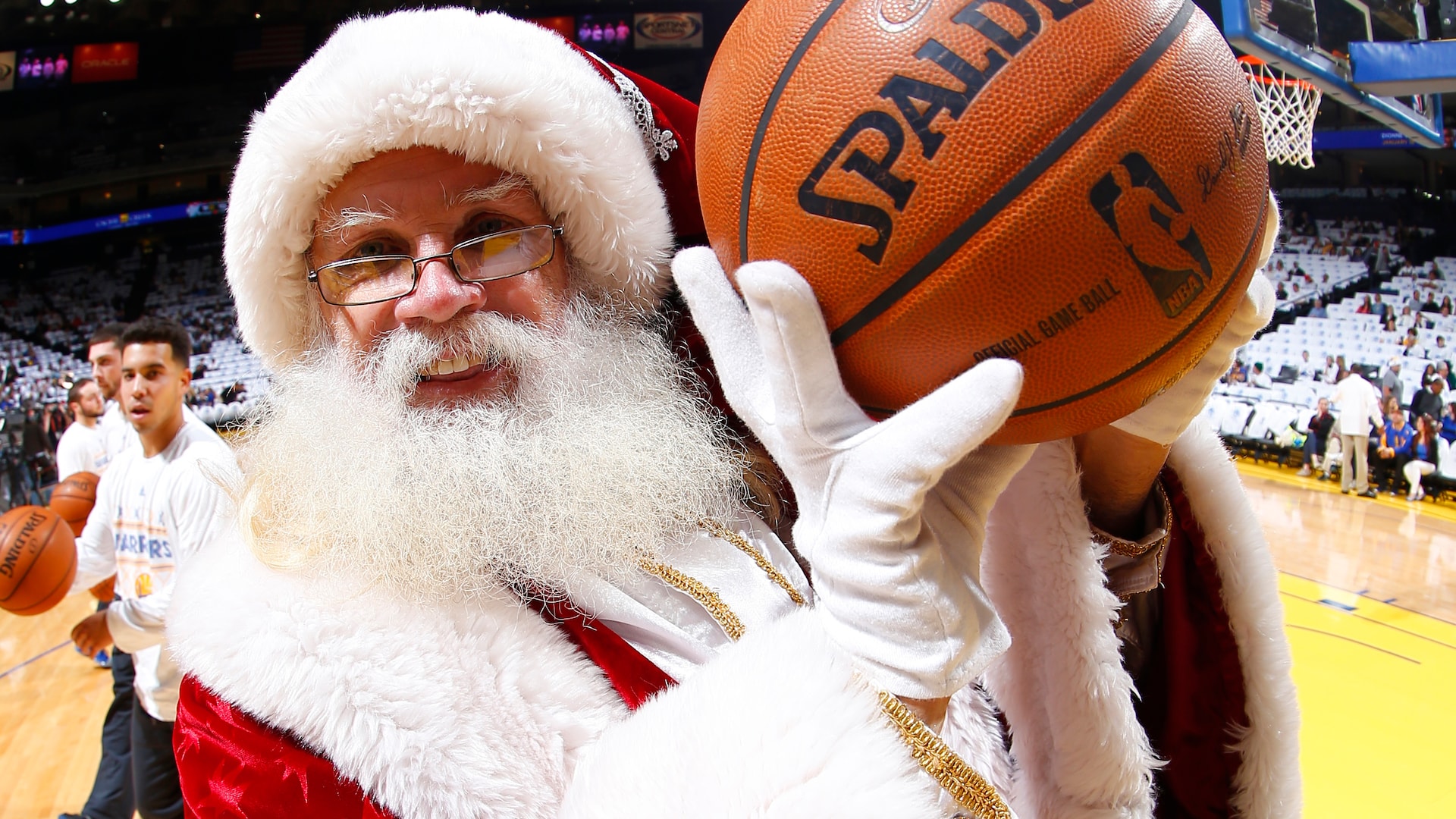 This years' Christmas day schedule looks to be a fun one. Rivals clash against rivals, and some of the most exciting teams this season will get a chance to shine. Five games. One day. These match-ups look to be exciting and intense.
Atlanta Hawks

@

New York Knicks

The first Christmas day game is at noon EST. The Atlanta Hawks will be visiting the New York Knicks in a possible Eastern Conference Playoff preview. Hawks guard Trae Young has been balling out this season. Currently sitting at 5th in points per game and 3rd in assists per game, this Hawks team is sitting lower than expected at 10th in the east. With a solid mix of veterans like big men Clint Capela and Danilo Gallinari and young stars like Trae Young and John Collins, this team was expected to be higher in the standings.

The New York Knicks added some firepower this off-season. At least that is what Knicks fans thought. Fans were expecting the Knicks to pick up where they left off after last seasons' playoff birth, the first in a long time for New York. With guards Kemba Walker and Evan Fournier joining the squad, hopes were high, but Walker and Fournier have not performed as well as expected. Just the other day, the Knicks removed Walker from the line-up entirely. With no reason given by anyone, no one knows when or if he will suit up for the team again.

With the Knicks' uncertainty regarding Kemba Walker and the underperformance of some players, the Hawks should take this game easily. While the Hawks have some players that are not playing to the best of their abilities, Trae Young and John Collins are sure to put on a show.

WINNER: HAWKS
Boston Celtics

@

Milwaukee Bucks

At 2:30 PM EST, the Milwaukee Bucks will host the Boston Celtics. This game is another playoff preview in the east. The Celtics, once again, are not where fans expected them to be, currently sitting in 11th place in the Eastern Conference. Jayson Tatum is playing at a reasonable level averaging 24.3 points per game with around nine rebounds. Jaylen Brown came out hot at the start of the season but has had some injury issues. With a good cast of role players like Marcus Smart and newly acquired guard Dennis Schroder, the Celtics should be higher in the standings. With a lot of basketball left in the season, the team will hopefully build more chemistry and climb in the standings.

The reigning NBA Champions, Milwaukee Bucks, have continued to play at a contending level. Led by Finals MVP Giannis Antetokounmpo, the bucks are sitting at 5th in the east. With no real changes to the line-up besides P.J. Tucker signing with the Miami Heat, the Bucks look as good as ever. Giannis has been playing at an MVP level with his partner in crime, Khris Middleton playing solid basketball. Middleton is not where he was last year but is still contributing solid numbers.

This will be a fun match-up to watch with both teams having star forwards in Tatum and Giannis. On top of that, both teams have role players that have not played as well as they hoped. This game should go down to the wire but, with an MVP caliber player like Giannis Antetokounmpo, the Bucks win this game.

WINNER: BUCKS
Golden State Warriors

@

Phoenix Suns

The third Christmas game is at 5:00 PM and features the two best teams in the west and two of the best point guards in the league, the Golden State Warriors and the Phoenix Suns. The Stephen Curry lead Golden State Warriors have surprised many this year. Curry has been playing at an insane level and is the front runner for MVP. He is first in points per game with an average of almost 30 points, 5.8 rebounds, and 6.8 assists. The craziness doesn't stop at Curry either. Jordan Poole has been playing great as well, averaging 18.1 points per game with around three assists and three rebounds. One of the season's biggest surprises is Gary Payton II, the son of the all-time great Gary Payton. Payton II entered the league back in 2016 and has bounced around the NBA and the NBA G League but has recently been playing fantastic basketball for the Warriors. Just like his dad, Payton II's defense has been outstanding, averaging 1.5 steals per game. This team is scary and will only get better when shooting guard Klay Thompson makes his return to the court later this season.

The Phoenix Suns are continuing their reign of terror through the league. So far this season, they have proved that their NBA finals appearance last season was not a hoax. The Suns are currently right behind the Warriors at 2nd in the west with an insane 16 game winning streak. They have not lost a game since late October. Their roster has stayed the same, except for JaVale McGee, who they added during the off-season. Chris Paul and Devin Booker continue to do what they do, scoring and dishing to their teammates. Deandre Ayton is also on a quest to prove he deserves the extension that was taken away from him by the Suns' front office.

Both of these teams are explosive and fast-paced. With Curry and Booker's ability to shoot the lights out, there is no doubt this will be a high-scoring and entertaining game. With the crazy season Curry has been having, and the support Poole and Payton II give, the Warriors will most likely take the win this time.

WINNER: WARRIORS
Brooklyn Nets @
Los Angeles Lakers
The match-up between the Brooklyn Nets and the Los Angeles Lakers is undoubtedly the night's biggest game. Both teams are power-houses with multiple all-stars and many young and talented players. The Lakers have LeBron James, Anthony Davis, Carmelo Anthony, and Russell Westbrook. Just with those four guys, you'd expect this team to win almost every game they play. That is not the case. This Lakers team has struggled, sitting in 7th place. Many think there are some chemistry issues, but a lot of the blame looks to be getting put onto Russell Westbrook. Westbrook has been playing how he usually plays—putting up crazy numbers and triple-doubles. But he does this with the second-most turnovers in the league and some awful shooting. Westbrook is currently shooting 44% from the field and 31% from beyond the arc.
The Nets, on the other hand, are playing at a very high level. They are first in the east, just as everyone expected them to be. This Nets team includes Kevin Durant, James Harden, Patty Mills, LaMarcus Aldridge, and Paul Millsap. Even without point guard Kyrie Irving the Nets seem to be doing just fine. But just last week, the news that Joe Harris was out for the rest of the season dropped. Harris is getting reconstructive surgery on his ankle. This is not as much of a loss for this team as it would've been a few seasons ago. Harris had not been shooting as well as in previous years, but he was still a solid contributor. Just recently, it was reported that Blake Griffin had been demoted in the line-up. He and many fans were surprised by this because Griffin has been putting up good numbers. None of the Nets' coaches have given any reasoning for the change.
With both teams having so many superstars on their rosters, this game is sure to be a close, action-packed game. However, with the Nets' success and the Lakers' possible chemistry problems, the Nets are most likely to win in a close match.
WINNER: NETS
Dallas Mavericks

@

Utah Jazz

The last game of the night will feature the Dallas Mavericks taking on the Utah Jazz. This match-up is a random one, but it will still be a fun game to watch. The Jazz have silently been playing at a contending level this season, sitting at 3rd place in the west. As usual, Donovan Mitchell has been playing at a high level along with Jordan Clarkson and Mike Conley. Rudy Gobert is making his case for another defensive player of the year award. Gobert sits in 1st place for rebounds this season with 14.5 per game. He also averages 15.1 points and two blocks per game.

The Mavericks have been playing well too. Luka Doncic is still playing like a seasoned veteran while he is only in his 4th year. Two surprises for the Mavs are Jalen Brunson and Kristaps Porzingis. Porzingis is almost back to the level he was at when he was in New York. He is averaging just under 20 points per game with 7.9 rebounds. Jalen Brunson is making his case for the most improved player. Brunson has always been a solid player for the Mavericks, but he has stepped it up this year.

With the two of the best young superstars in the league on both of these teams, fans can expect a fun game from start to finish. This game could go either way, with both teams having fantastic duos. Thus, the winner is unclear.

WINNER: TOO CLOSE TO TELL