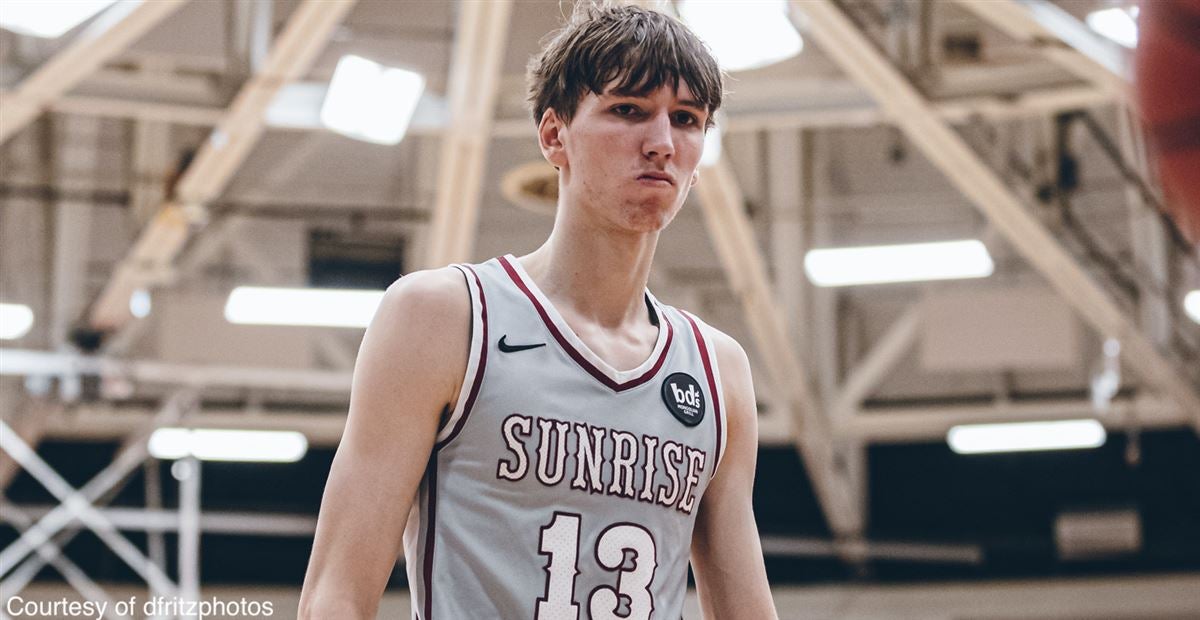 It is EARLYYYYY, but why not have some fun and try to identify who has a chance at going #1 in the 2024 NBA Draft?
I think it is worth noting that when I talk to scouts around the league about who they prefer almost all of them start with "This is a very weak draft" before telling me their answer. For that reason whoever goes #1 a year from now may have you saying "Is that really a #1 pick" but that is because of the quality of the draft.
With that being said, people have done the "it is not a great draft" dance before and the drafts have ended up just fine. I myself am going to hold off too much judgment until I see these guys play at a higher level this year.
Even if this draft is weak the 2026 draft looks to spoil us with Cam Boozer, AJ Dybantsa, and Cooper Flagg (could reclassify and be in the 2025 draft).
Finally, because I am writing this in July of 2023 I am bound to look stupid and there is a very real chance someone not on this list makes a case for #1. As of right now, these are the players that are being ranked #1 the most so I am sticking with just these six guys that have a chance to go #1 in the 2024 NBA Draft.
Matas Buzelis, Wing, G-League Ignite
Matas is an interesting scout, to say the least. Buzelis is a 6'10 wing that shoots the ball well and moves as a shooting guard. Buzelis has a very skinny frame and will have trouble defending early in his career but his offense is what would make him be the #1 pick.
Matas is efficient in nearly every aspect of scoring and is a competent ball handler, especially at 6'10. I would not be surprised if Matas struggles against professional players next season because of his size and lack of physicality. With that being said, if Matas can maintain his same efficiency and gain weight, he has a real chance to be the #1 pick.
Isaiah Collier, Guard, USC
A true point guard, Isaiah Collier has terrific size for the position at 6'4, 205 lbs. Collier is a good passer boasting a 25.5 assist rate during the 2022 EYBL circuit and averaging 6.25 assists a game. On the ball, Collier is a strong ball handler that uses his speed and strength to get by defenders effortlessly.
The shot is good as Collier shot 37.5% off the catch and 41.25 off the dribble during EYBL. Collier will get the spotlight next season at USC playing in a backcourt with Boogie Ellis and Bronny James.
Collier is a very good player but as he is presently he lacks an elite NBA skill (outside of maybe playmaking). His odds to be the #1 pick rely almost solely on if he can make a jump in a category that right now he is just above average at. My best guess would be that this category be shooting and if he gets his clip up to 39/40% from 3, then he could be viewed as top-pick-worthy,
Justin Edwards, Wing, Kentucky
I am a Justin Edwards fan and I would like to say that now. Let me throw out some stats that intrigue me all from his senior season at Imhotep.
72.9% at the rim
90th Percentile in Transition
1.24 AST/TO
78th Percentile on Dribble Jumpers
Those stats listed above scream to me "complete player" and the eye test backs that up. Edwards is going to have become more published this year at Kentucky in order to fully warrant a selection near the top of the draft but the physical tools and skills are there.
I do not believe Kentucky will be a college basketball powerhouse this year so Edwards will be given an opportunity to show the talent he is and make a run at the #1 pick.
Ron Holland, Forward, G-League Ignite
The general favorite (or one of two) to be selected with the #1 pick, Ron Holland can be summed up as versatile. Holland does a little bit of everything including scoring, finishing, and playmaking at 6'8. Defensively, Holland moves his feet well and has quick hands but doesn't quite have the size or strength yet to guard forwards or bigs. Shooting, handle, and frame are going to be aspects to moniter for Holland and his odds to go #1. I do not yet see Holland as a #1 pick but the scouts that I have talked to do, so I have to include him.
Aday Mara, Big, Basket Zaragoza (Spain) (Maybe UCLA)
The 7'3 center from Spain is about as enticing as it gets. Mara has amazing touch finishing 72.1% at the rim and is a natural help side shot blocker at his towering size. At a young age in a good league, Mara has brought value to his team and also shown the ability to play make for others.
In the age of jumbo playmakers (Jokic, Sabonis, Sengun), Mara hopes to fill that role as arguably a more impactful defender than those listed.
Mara's shooting will be a big swing skill because the form and touch are promising but free throw percentage and volume indicate there is still a lot of work to be done on that end. The biggest swing small for Mara will be his fluidity and lateral quickness.
At his height guarding the post of being a shot blocker is natural but Mara struggles to guard out on the perimeter or in a switching scheme. For Mara to be the #1 pick he will have to show some promise on the perimeter as a defender.
DJ Wagner, Guard, Kentucky
For multiple seasons DJ Wagner was the #1 player in his high school class before slightly falling in the rankings. Across all teams on synergy, Wagner shot 28% from 3 but that is not an accurate representation of his shooting potential and ability. Wagner is a confident scorer and playmaker with the ball in his hands.
As stated earlier, Kentucky will be relying on their freshman greatly this season and that gives Wagner a chance to shine as a lead guard for a prestigious program. Wagner is a big watch-and-see prospect but the tools and skills are there for him to be near the top of the 2024 NBA Draft.