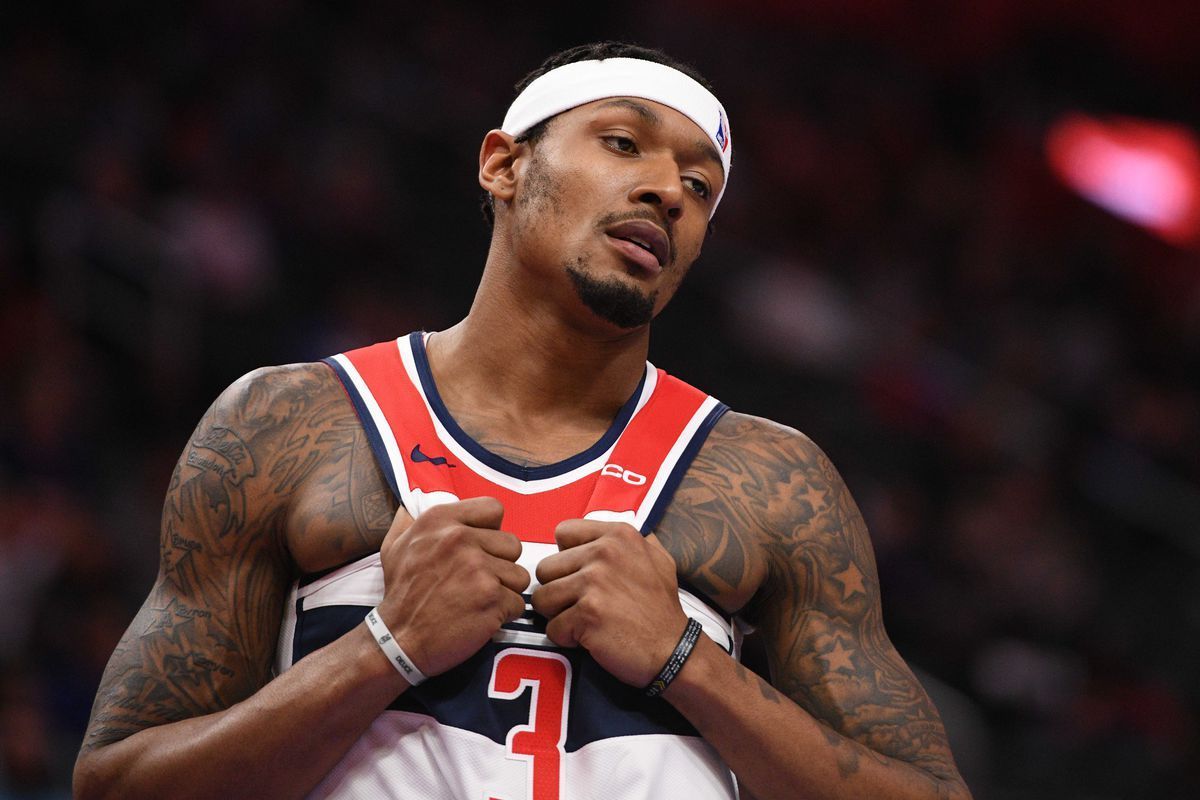 Following four consecutive double-digit losses over a span of a week, a stretch in which Bradley Beal averaged 34.2 points, 4.2 assists, and 4.5 rebounds, rumors surfaced of Bradley Beal potentially requesting a trade out of Washington. Pictures and videos of a dejected Beal on the bench covered the internet, rumors exploded from just about every team in the league being interested in exploring a deal for the star shooting guard, and Beal himself told reporters, "…it's been tough."
After one of the most exciting games of the season that included two huge shots from Beal and new teammate Russell Westbrook, a breakdown from the Brooklyn Nets, and a missed game-winning layup, Shams Charania and Fred Katz, of The Athletic, reported that Beal was in fact not interested in a trade from Washington, and was frustrated with the way he was being portrayed.
These events have left General Manager Tommy Sheppard with an interesting decision. New rumors surface nearly every day of whether or not Bradley Beal truly wants out of Washington, and with the Wizards inability to create a legitimately competitive team around Beal, they are left with the decision to keep or trade him. Let's take a look at potential deals from teams with strong reported interest in Beal.
Trade #1: Denver Nuggets
Package: Michael Porter Jr., Gary Harris, Bol Bol, 2021 first-round pick
Trade Grade: B+
This trade package is highlighted by two young and talented players in Michael Porter Jr. and Bol Bol, Gary Harris is mostly included for salary-matching purposes. This trade pushes the Wizards into a full rebuild with a plethora of very young players, Porter Jr., Bol Bol, the No. 4 pick in this years draft Deni Avidja, and sophomore player Rui Hachimura. These players could develop into one of the premier young cores in the NBA and could propel the Wizards into contention in future seasons.
Trade #2: Philadelphia 76ers
Package: Ben Simmons, 2021 first-round pick, and 2023 first-round pick
Trade Grade: C+
The centerpiece of this trade is obviously two-time All-Star Ben Simmons. Simmons is one of the most elite two-way point guards in the NBA and has played well this season on the East-leading 76ers. This package doesn't seem particularly appealing for Washington, Simmons is only 3 years younger than Beal, is paid $5 million more than Beal, and while is certainly a better defender than Beal, is not an elite of scorer. This deal ultimately doesn't set the Wizards up as well for the future as other deals or simply keeping Beal.
Trade #3: New Orleans Pelicans
Package: Lonzo Ball, JJ Redick, 2021 first-round pick, 2022 first-round pick swap, 2023 first-round pick, and a 2024 first-round pick swap
Trade Grade: B
This trade is the one that gives the Wizards the most draft capital, the Pelicans have an abundance of draft picks from both the Anthony Davis and Jrue Holiday deals. The Pelicans would be willing to part with some of those picks for a perennial talent like Bradley Beal. The picks Washington receives in this deal may keep them from entering contention for several years, but certainly, give them the option to continue to add to their pool of young talent.
While nearly every team in the NBA would likely contact the Wizards with a potential package, these teams are the most likely to seriously seek out a trade and the ones with the most capital to finalize a deal. None of these deals are particularly overwhelming, and therefore barring any additions or changes to these deals, it doesn't seem beneficial for the Wizards to trade Bradley Beal.
At this point it seems like the Wizards are just as committed to their star as he is to them. Beal has expressed interest to remain in Washington and signed an extension this offseason to stay for at least two additional years. The Wizards will eventually have to again weigh the options as Beal's free agency nears, but for the time being, it seems beneficial for both sides to stay put.
All stats taken from ESPN.com, NBA.com, or Basketball Reference unless otherwise stated.

Check out our new podcast episode!
Got Hoops Podcast
A new up and coming basketball podcast by 4 dedicated NBA and basketball fans. It's for fans, by the fans.
Got Hoops Podcast (Ep. 15): Nuggets in the Conference Finals? Monty for COTY? CRAZY PLAY-IN GAMES!
This episode talks about the craziness that's about to occur in the playoffs, what a wonderful time to be alive.
Search Results placeholder
Must See
There's been a lot of changes in the coaching departments at some of the...

Don't let Kevin Durant's incredible performance distract you from Mike Budenholzer's terrible coaching display....

The Washington Wizards had an unlikely road to the playoffs. There was a point...