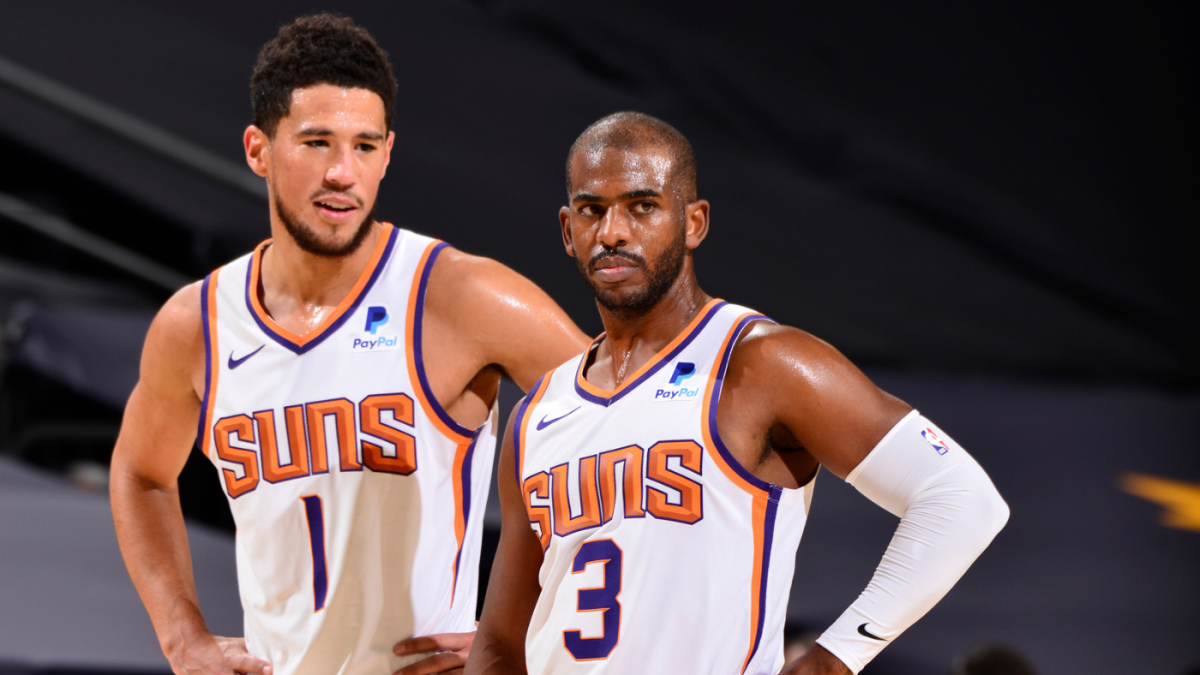 The Phoenix Suns are having a season above .500 for the first time since the 2013-2014 NBA season being led by Goran Dragic and Eric Bledsoe. This year we have Devin Booker and Chris Paul leading the charge. With the Suns currently being 1st in the Western Conference, it leaves you to wonder are they real contenders or are they just having a good season?
Normally you wouldn't question a team that is 45-18 with less than 10 games left in the season but because of the Suns' past, that is exactly what people are doing, and rightfully so. Devin Booker has never played in the playoffs, Chris Paul is aging and DeAndre Ayton hasn't been completely what you expected him to be at times but as of late, he is showing that he is deserving of his top 3 selection.
For the most part, however, this team is not star-studded like some other teams in the NBA (…the Nets). If you watch this team play, you can see that they are ready for the playoffs. They are 5th in defensive rating and 7th in offensive rating which is a good mixture for a team looking to compete for a title. One key stat that jumps off the basketball reference page is that the Suns are 24th in pace. In today's NBA, most teams want to run up and down the court but the Suns are doing the opposite by slowing down the pace. The reason this is significant is because every avid basketball fan knows that the game of basketball slows down in the playoffs.
For those of you who are wondering what that means, it basically means that the pace isn't as fast/quick in the playoffs due to the pressures of the playoffs and the uptick in defense being played during that time. If the Phoenix Suns can dramatically force teams to slow down, they will have teams in an uncomfortable position by having them play half-court basketball. With Chris Paul leading the charge, a big that is recently showing he can be a force in DeAndre Ayton, an all around scorer in Devin Booker along with a deep bench of two-way players, the Suns can easily be a team that no one wants to see.
Even though the Suns have a big 3 in Paul, Booker, and Ayton, the real x-factors are the surrounding players. To be successful in the playoffs, the Suns need Jae Crowder. He doesn't have to hit all his shots but they need him to not get frustrated and play his game. We have seen a few times this season, if he is not hitting shots, he can lose his cool and lack on the defensive end. His definitive presence will be important more so than his shooting.
They need Cameron Johnson to be efficient on the offensive end. His current shooting splits are 44/38/84. Those aren't the best splits but they are the worst either. The key here is that we've seen the second-year player out of North Carolina heat up when the team needed him the most, similar to last year in the bubble where he had some big games especially for a rookie.
Lastly, the biggest X-Factor may be Mikal Bridges. I would assume that Mikal Bridges would be put on the other team's best offensive player in late-game situations to preserve Chris Paul's energy. With that being said, he will play a big role in the Sun's playoff run since he is probably the team's best perimeter defender.
Unlike Jae Crowder, however, it will be important that Bridges is hitting his shots. In pick and roll opportunities, Bridges will have plenty of open three-point opportunities since Ayton might get doubled rolling to the paint and the opposing team's main focus will be trying to prevent Chris Paul from scoring or dishing it to Booker. Mikal could really make a name for himself in these playoffs if he plays like he is capable of.
Conclusion
Do you think the Phoenix Suns can win it all? Probably not and understandably so. This team however will not be an easy out and I wouldn't be surprised if we see them in the conference finals against one of the LA teams. The Lakers may be this team's biggest threat (just like old times), but Monty Williams will definitely have his team ready and I am sure the NBA fans are eager to see what this team can do in the playoffs.

Check out our new podcast episode!
Got Hoops Podcast
A new up and coming basketball podcast by 4 dedicated NBA and basketball fans. It's for fans, by the fans.
Got Hoops Podcast (Ep. 15): Nuggets in the Conference Finals? Monty for COTY? CRAZY PLAY-IN GAMES!
This episode talks about the craziness that's about to occur in the playoffs, what a wonderful time to be alive.
Search Results placeholder
Must See
There's been a lot of changes in the coaching departments at some of the...

Don't let Kevin Durant's incredible performance distract you from Mike Budenholzer's terrible coaching display....

The Washington Wizards had an unlikely road to the playoffs. There was a point...