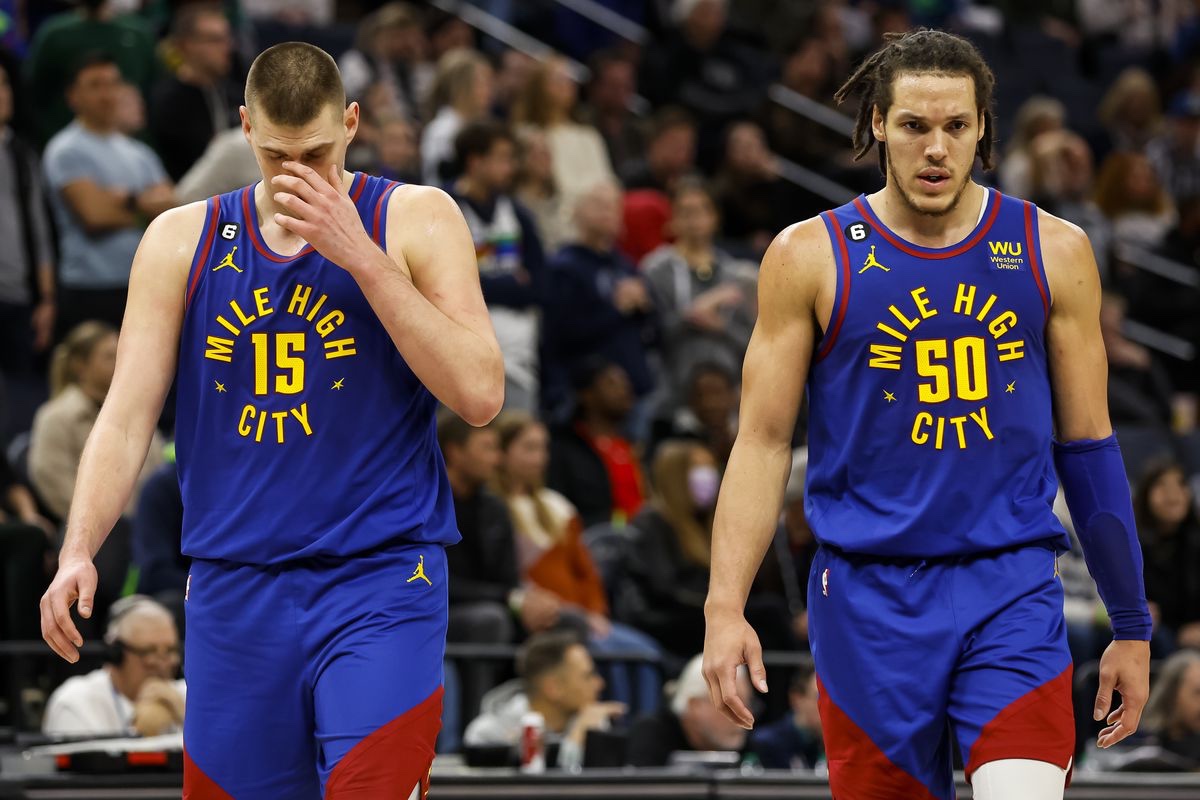 With a short break in regular season NBA action, fans are beginning to shift their heads towards what looks to be a very interesting rest of the season, and obviously, the playoffs. The level of competition this year has been truly unmatched, so let's take a look at some of the NBA teams and their positions regarding the end of their regular season.
1. Denver Nuggets
Sitting pretty at the 1 seed going into the break is the Denver Nuggets, led by the two time MVP, Nikola Jokic. 5 games in front of the second seed, that being the Memphis Grizzlies, the Nuggets have shown little to no flaws. Even with the injury prone Jamal Murray, Aaron Gordon, and also some key role players, the Nuggets have found a way to keep their losses under 20, with an impressive record of 41-18. The rest of this regular season will be a breeze for Denver, the question is will the Nuggets fall short of a title run yet again, or will they finally play as well in the playoffs as they have in the regular season.
2. Memphis Grizzlies
The Memphis Grizzlies have been an extremely fun team to watch. Although the competition has increased in the Western Conference this season, the Grizzlies' star point guard, Ja Morant's confidence in his team's success against any team in the west has withstood so far. Led by Morant, his duo has been another major reason of this team's success. This duo has looked as if they have played with each other for several years. Adding key pieces such as Desmond Bane, who has gone extremely underrated this season, averagin 21.5 points on 46.5% from the field. The Grizzlies look extremely promising, but with the amount of competition this season, will this fairly new look team be able to work with each other to be a true threat to teams in the playoffs.
3. Sacramento Kings
The cinderella story continues, as the third seed Sacramento Kings are just a few games away from finally making the playoffs, and breaking the NBA's longest playoff drought of 16 seasons, dating back to 2007. Led by 3 time All star Domantas Sabonis, and long time Sacramento Kings PG, De'Aaron Fox, this team has surprised the majority of the NBA. This team has been well built, with floor spacers such as Kevin Huerter, and defensive machines such as Davion Mitchell. This young Sacramento team is going to be a tough team to beat come playoff time, especially if they can hold on to a top 3 seed.
4. Los Angeles Clippers
With all of the constant drama regarding health between the strong duo of Kawhi Leonard, and Paul George, this team has found themselves in a pretty good spot coming into the break. With the two forwards finally looking to be fully healthy, this team has a huge momentum boost coming in and out of this break. The struggle of a true point guard had been somewhat solved with the short term trade for John Wall, but now as he has moved to the Rockets, Russell Westbrook has found a new team in Los Angeles. The big 3 of Leonard, Westbrook, and George is going to be a defensive nightmare for any team facing them.
5. Phoenix Suns
Although there are not many games left to catch up to the current No. 1 seed in the west, if there is any new-look team to do it, it is Phoenix. The Suns key role players such as Cam Johnson and Mikal Bridges, and a lot of first round draft picks were traded for Kevin Durant, and TJ Warren, putting this team into win-now mode. The potential starting 5 of Chris Paul, Devin Booker, TJ Warren, Kevin Durant, and De'Andre Ayton is arguably the best starting 5 in the league right now, topped off by the brilliant coaching of Monty Williams. There is no limit for this team's potential, but will the minimal chemistry between the new faces in Phoenix be a problem for this team?
6. Dallas Mavericks
In addition to a blockbuster trade involving the Brooklyn Nets superstar, Kevin Durant, Brooklyn also faced the decision of trading Kyrie Irving to the Dallas Mavericks, making this team a true contender, already at the 6 seed. Luka Doncic, the Maverick's star point guard, has finally received some true help, and not only is it showing on the court, but off the court this team looks perfect regarding the relationships between players. Although this team is looking extremely strong, they are in the danger zone, being only about 2.5 games ahead of the 11th seed Utah Jazz. The Mavericks need to be in tip top shape coming out of the All Star Break, or they could be put into trouble in the Play-in tournament.
7. New Orleans Pelicans
This New Orleans team has been through it all regarding health the past few seasons. Zion Williamson's persistent injuries have been an absolute misfortune for this team, but players such as Brandon Ingram and CJ McCollum have been what has kept this team alive. Brandon Ingram, although not fully healthy, coming into the All Star Break, Ingram has been performing above average, averaging 29.8 PPG in his last 5 games. If Williamson is healthy enough to return by playoff time, this team will be looking real scary, but the injury issues may have a factor on this team's chances on how far they can make it into the playoffs, and if they can even clinch the playoffs.
8. Minnesota Timberwolves
This team has gone through multiple big trades this season, and are looking for a playoff clinch, despite losing arguably every trade made this season. The Timberwolves recently traded their best point guard, D'Angelo Russell, and a key role player in Malik Beasley. Along with these trades, the big 3 of Anthony Edwards, Rudy Gobert, and Karl Anthony Towns, and the rest of Minnesota took a massive blow November 28th against the Washington Wizards. Towns suffered a calf strain, and is doubtful to return anytime soon. Because of this, the Wolves will definitely not be in the title run, but can they stay stable enough to make the playoffs?
9. Golden State Warriors
The NBA finals hangover has really hit the Warriors hard. After winning the finals last year, the Warriors find themselves in the 9th seed coming into the All Star Break, with an even .500 record of 29-29. In a win against Dallas on February 4, Stephen Curry suffered a leg injury, causing the Warriors to be significantly worse and drop down in standings right before All Star weekend. The loss will most likely extend past the All Star Break as Curry is not close to full recovery. Warriors players and fans will be keeping their fingers crossed, as their going to need some top notch coaching out of Steve Kerr, and above average play from Jordan Poole and Klay Thompson if they want to keep their playoff hopes alive.
10. Oklahoma City Thunder
Oklahoma City's rebuild is obviously still underway, but this season has been better than expected, as they are currently in the running for making the Play-In tournament. Led by first time All Star Shai Gilgeous Alexander, and Rising Star Josh Giddey, this team is a team to look out for, not this year, but in the coming years, this team will be a true contender. Can this team be enough to make the play in tournament?
11. Utah Jazz
After a magnificent start to the season, the Jazz's downfall has been one to watch. Lauri Markannen looked as if he was going to lead this team extremely far into the playoffs, but now, Utah sits anxiously at the 11 seed, led by Markannen and Collin Sexton. The concern for Utah the past few seasons was how far they can make it, heartbreak after heartbreak, but now the real question is can this new, young team even clinch the Play-In Tournament?
12. Portland Trail Blazers
The Trail Blazers find themselves in a hole once again, despite Damian Lillard's magnificent performances. Although in the 12 seed coming into the All Star Break, Portland is not out yet, being about 3 games behind the 8 seed. If the Blazers want to make the Play-In, it's going to take a lot more than just Lillard to complete the comeback. Do the Blazers have it in them?
13. Los Angeles Lakers
Somehow, the Los Angeles Lakers are currently the 13th seed. On pen and paper, this roster should be a playoff team, but as of this season, this team has done nothing but struggle. The Lakers decision to trade for D'Angelo Russell, Malik Beasley, and other useful players may have just been the resolution, as the Lakers are looking much better than they did a few months ago. Although this team is in a bit of a rut, they should be optimistic to make the playoffs, being just 5 games from the 3 seed. Although they are close to making the play-in, this team has no margin for error for the rest of the regular season if they want to make a meaningful playoff run.
14. San Antonio Spurs
The Spurs, as good as done for this season, look to rebuild, with not much to look forward to coming out of the All Star Break. Currently on a L14 streak, the Spurs young core under Greg Popovich is promising, just not right now.
15. Houston Rockets
Although the last seed in the Western Conference, this team is in no way in a bad position. With a few young guys like Jalen Green and Alperen Sengun to look up to, this team also has a freakish amount of picks. To add on, the Rockets have full control over the Brooklyn Nets' first round picks, which is now extremely beneficial due to the recent Kevin Durant trade.
The Western Conference teams have no margin for error coming to the end of the regular season. The amount of games between the 3rd and 13th seed is extremely small, leaving little to no knowledge of who will and won't make this year's playoffs.

Must See
We're near the end of the electric NFL free agency that we were blessed...

So it's been about a week since free agency has started and boy, has...

The 2023 NFL Draft is upon is within the next month and it's time...