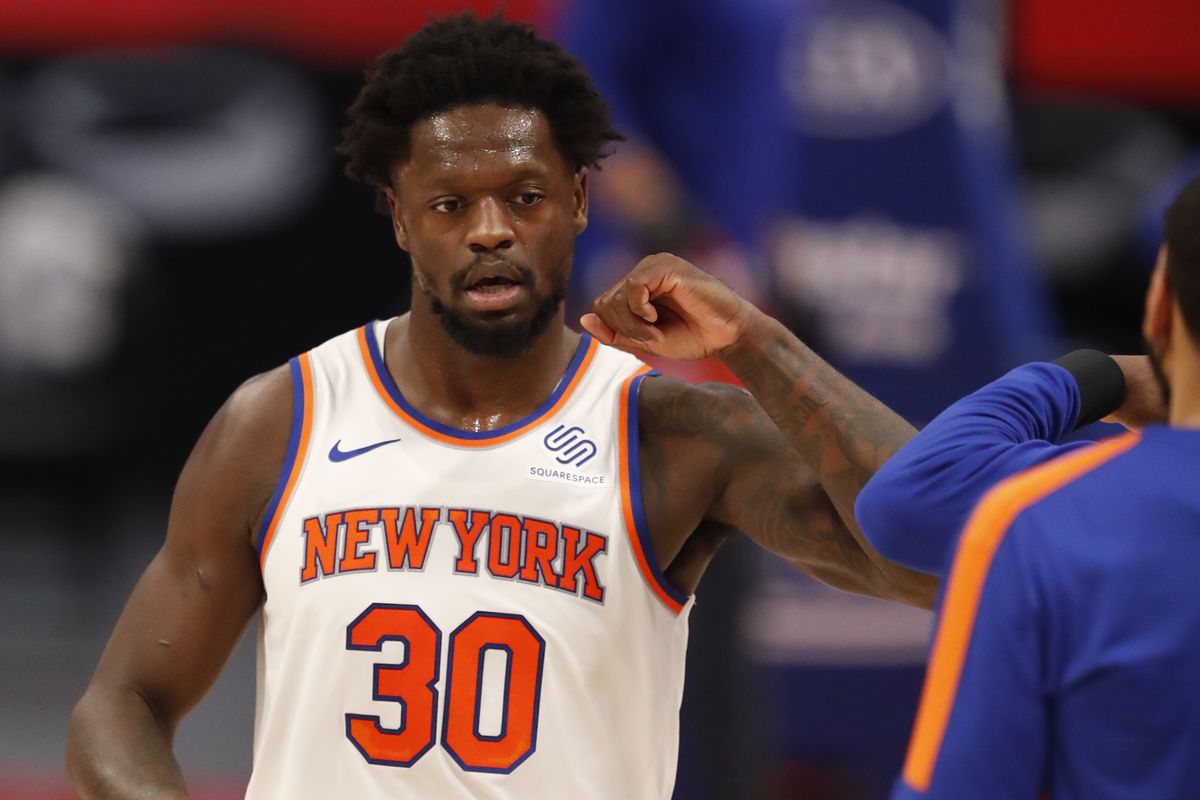 After a very exciting offseason, the NBA looks vastly different than last season. Free agent signings and trades will provide several players an interesting opportunity to each receive more minutes or play a larger role with their team. Let's take a look at a candidate for the Most Improved Player award for each team.
Atlanta Hawks: Cam Reddish
Cam Reddish was a highly touted prospect coming out of college, he formed part of a "Big 3" at Duke alongside R.J. Barrett and Zion Williamson. While he hasn't quite hit his stride in the NBA yet, only playing 84 games in his two seasons and missing part of last season with an Achilles injury, Reddish could play a significant role off the bench for the Hawks this season. Should his productivity increase, he could see more minutes and become a candidate for Most Improved Player.

Boston Celtics: Robert Williams
Robert Williams recently agreed to a 4 yr/$54 million dollar contract extension with the Boston Celtics, this deal may end up being one of the steals of this offseason. Williams has exceptional talent on both ends of the floor and an incredible drive and work ethic. Coming off career highs of 8 points, 6.9 rebounds, and 1.8 blocks, he could excel even more this coming season with the chance to enter the starting lineup.

Brooklyn Nets: Nicolas Claxton
Nicolas Claxton is an extremely underrated player in my opinion. While he may not be one of the elite bigs in the league, he always gives enormous effort on both ends of the floor. As the Nets' primary bench big man, he has the chance to make a jump this season.

Charlotte Hornets: Kelly Oubre Jr.
The Hornets do not have many players that could be candidates for MIP, Terry Rozier had an excellent season last year and it would be hard for him to improve enough to be considered. Recently acquired Kelly Oubre Jr. should be the primary scorer/spark off the bench for Charlotte. This should give him an opportunity to increase his numbers and efficiency.
Chicago Bulls: Patrick Williams
Plenty of things point to Patrick Williams being a strong candidate for the Most Improved Player Award. He is fresh off a summer of training with the Gold-Medal USA Men's Olympic Basketball Team, he had an excellent summer league, and with an improved Bulls roster, he could emerge as a strong candidate for this award.
Cleveland Cavaliers: Darius Garland
The Cavaliers are still in the midst of a rebuild and therefore fans shouldn't expect much from this team, but there are some bright young spots among this roster. With rumors of Cleveland potentially willing to part ways with Collin Sexton, Darius Garland would be left as the primary guard of the team. Some of his candidacy for MIP is dependent on the Cavs plan with Sexton but either way, he should see more touches and be able to improve.
Dallas Mavericks: Dwight Powell
The Mavericks have stuck with mostly the same roster as last season, other than the loss of Josh Richardson and the acquisition of Reggie Bullock. While the Mavs may still make some moves, those of which could include Powell, should he remain with the team he has the potential to improve greatly off a subpar 2020-2021 season.
Denver Nuggets: Jeff Green
The Nuggets really don't have any players that I consider potential candidates for MIP. Jeff Green could be a stretched possibility solely due to the fact that he may have a larger role with Denver, especially if they are unable to retain Paul Millsap.
Detroit Pistons: Saddiq Bey
Saddiq Bey finished among the all-time leaders in 3 pointers last season, shooting 38% on 6.6 attempts from deep last season. He had a stellar rookie season and with No. 1 overall pick Cade Cunningham facilitating alongside Killian Hayes, Bey could see a jump in open shots. He, like Patrick Williams, was able to train with Team USA this summer, providing a unique chance to receive input from NBA superstars and long-time coaches.
Golden State Warriors: James Wiseman
Last year's No. 2 overall pick James Wiseman had what most would consider a disappointing NBA debut season with averages of 11.5 points and 5.8 rebounds per game. He essentially has nowhere to go but up. I expect more from Wiseman this season, and the return of Klay Thompson could help his game.
Houston Rockets: Kevin Porter Jr.
Kevin Porter Jr. arrived in Houston and was basically given the reigns to the team. Alongside the Rockets young core of Christian Wood, and rookies Alperen Sengun and Jalen Green, Porter Jr. could give the league some fireworks this year. He has shown flashes of being an elite scorer and with the freedom to attack in a rebuilding year, he could make a large jump this season.
Indiana Pacers: Caris Levert
After some health scares the past few seasons, Caris Levert is poised to return and remind the league how good of a player he is. He has 4 seasons of 18+ points per game and will have a large role with the Pacers this year. Look for Levert to be a force this season and a strong candidate for MIP.
Los Angeles Clippers: Terance Mann
This pick should come as no surprise to most, Terance Mann had an excellent playoffs, particularly against the Utah Jazz. Mann could see an increase in minutes due to Kawhi Leonard's injury, and therefore also see an improvement in his numbers.
Los Angeles Lakers: Malik Monk
The Lakers made a flurry of moves this offseason, giving essentially an entire overhaul of the roster. One of their signings was former Charlotte Hornets guard Malik Monk. While there remain several questions about the Lakers rotation, Malik Monk could potentially see quite a few bench minutes and provide Los Angeles with a scoring punch.
Memphis Grizzlies: Desmond Bane
Desmond Bane was an All-NBA Rookie Second Team selection last year and shot a blistering 43.2% from beyond the arc. He averaged 9.2 points and should see an increase in his role as a second-year player while the Grizzlies continue to build their young core.
Miami Heat: Victor Oladipo
Victor Oladipo has only played 33 games in the past three seasons combined, and only played in 4 games last year averaging his lowest points per game in his career. Oladipo looks to have a bounce-back season with the new look Heat following the acquisition of Kyle Lowry.
Milwaukee Bucks: Rodney Hood
Rodney Hood only played in 17 games last season and averaged a career low 3.9 points per game last season. After joining the reigning NBA champion Milwaukee Bucks, Hood definitely should improve those numbers off the bench.
Minnesota Timberwolves: Jaden McDaniels
Jaden McDaniels quietly had a pretty decent rookie year, he averaged 6.8 points and 3.7 rebounds per game. He should continue to see an uptick in minutes and production on this young Timberwolves team. While the Most Improved Player Award is generally based on offense, watch for McDaniels to be one of the premier defenders in the coming years.
New Orleans Pelicans: Nickeil Alexander-Walker
Nickeil Alexander-Walker should see an increase in minutes this season. While the Pelicans acquired Devonte Graham following the loss of Lonzo Ball, Alexander-Walker should still have an increased role even if he doesn't start. This should lead to increased production and numbers.
New York Knicks: R.J. Barrett
The Knicks had the winner of the Most Improved Player Award last season in Julius Randle and honestly could have another winner this season. R.J. Barrett has underperformed according to most critics' standards, but he still has been a decent NBA player. I expect him to continue to improve in his third season in New York, the acquisition of Kemba Walker should help take some of the playmaking load off of Barrett and allow him to play more freely.
Oklahoma City Thunder: Darius Bazley
The Thunder have an interesting model of a rebuild, Sam Presti continues to stockpile draft picks and young players. One of my favorite players on the Thunder is young forward Darius Bazley. He alongside Shai Gilgeous-Alexander and other young players have free reign to develop their game and ball.
Orlando Magic: Jonathan Isaac
Jonathan Isaac has the potential to be one of the best two-way players in the league when healthy. Unfortunately, that has been his biggest issue, he only played in 34 games last season. The Magic are committed to their young core of Cole Anthony, Markelle Fultz, Jalen Suggs, and Isaac. All these young players should shine this season, but Isaac may be one of the strongest candidates for MIP.
Philadelphia 76ers: Tyrese Maxey
A giant rift has become evident between the 76ers and star point guard Ben Simmons. Should they move on from Simmons, a door would be open for Tyrese Maxey to receive more playing time. In the time he has been given, Maxey has played very well, showing impressive spurts of scoring and playmaking.
Phoenix Suns: Cameron Payne
Cameron Payne proved to be a vital piece in the Phoenix Suns Finals run last season. He was a star in his role off the bench and looks to do the same this season. I expect him to get more minutes as he has proven to be a valuable bench guard. He averaged 8.4 points per game last season and I believe he will make a jump in that aspect.
Portland Trail Blazers: Derrick Jones Jr.
Derrick Jones Jr. has shown a lot of flash during his time in the NBA, but little productivity. If there were a season for him to make a jump, this would be the one. He will likely get more playing time following the departure of Carmelo Anthony and should be able to improve his 6.8 points per game from last season.
Sacramento Kings: Richaun Holmes
Richaun Holmes should be the starting center for the Kings, he has proven that he has the ability to be productive on the offensive end of the floor and a competent rim protector. He has increased his points, rebounds, and blocks during the past three seasons, and should that trend continue, he may become a candidate for Most Improved Player.
San Antonio Spurs: Dejounte Murray
The team basically belongs to Dejounte Murray now following the loss of DeMar DeRozan and Rudy Gay. Murray should excel with the ball in his hands, even if the team around his may not be great. Don't expect to see San Antonio in the playoffs, but Dejounte should have a great season.
Toronto Raptors: Chris Boucher
Chris Boucher started last season as one of the leading candidates for Most Improved Player, there is no reason to believe that this season will be any different. Hopefully, he can carry that success further into the season rather than teetering off like last year. He has shown ability on both ends of the floor, and I anticipate that ability to become more evident this season.
Utah Jazz: Royce O'Neale
This was a hard pick. Basically, every player on the Jazz outperformed expectations last season and therefore it would be hard for any of them to have a big enough jump to become a candidate for MIP. Royce O'Neale is one of the most underrated players in the NBA in my opinion as he does the little things to win games. If he can improve his offensive game a little bit he may become a potential candidate.
Washington Wizards: Kyle Kuzma
This was an easy pick. Kyle Kuzma, although the center of many jokes around the NBA community, is a fairly good NBA player. He has shown improvement in defense and rebounding during every season of his career and may be able to highlight some of his offensive scoring ability in Washington. The Wizards provide an opportunity for Kuzma to have more of the spotlight and showcase his potential without being under the shadows of LeBron James and Anthony Davis.
All stats taken from NBA.com, ESPN.com, or Basketball Reference unless otherwise stated.

Check out our new podcast episode!
Got Hoops Podcast
A new up and coming basketball podcast by 4 dedicated NBA and basketball fans. It's for fans, by the fans.
Got Hoops Podcast (Ep. 19): Summer League? Beverley Trade? Westbrook/LeBron/AD Trio?
In this episode we discussed the summer league, the Clippers and Grizzlies trade, and the fit of Westbrook with LeBron and Anthony Davis, and other topics as well.
Search Results placeholder
Must See
The NBA season is coming up very soon and it's time we start talking...

The NBA season is just about a month away, with the regular season set...

The first week of the NFL regular season has concluded and it's time for...