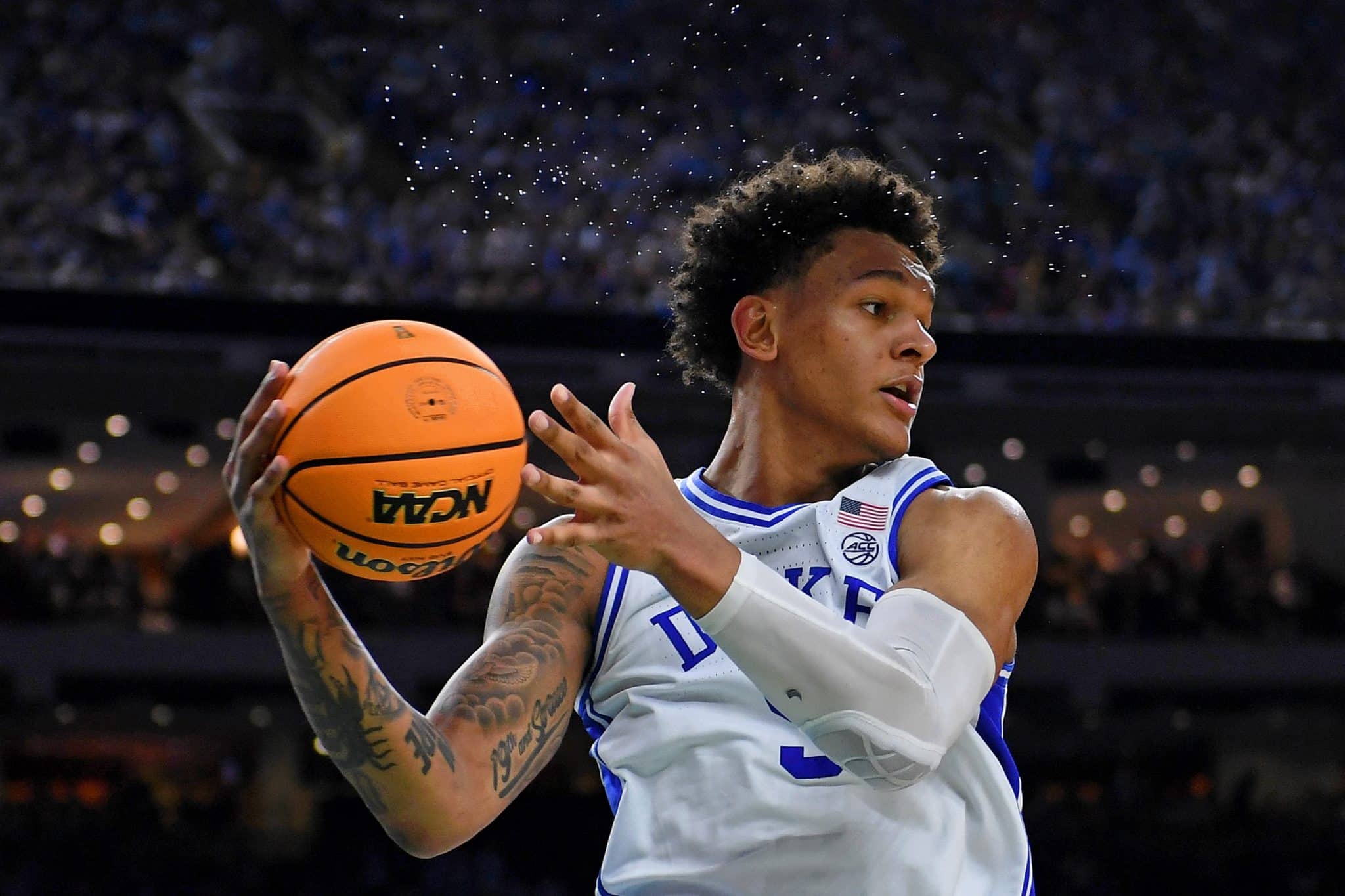 The NBA draft order is finally set. I refuse to do mock draft's all season long because until you see the draft order it is pretty irrelevant. Now that the order is set I am ready for my mock draft 1.0. Couple of things to keep in mind first.
At the time of creating this, the lottery is still fresh so I am limited on intel for what teams plan to do
These are my PREDICTIONS on what teams will do NOT what I think they will do
Because I am trying to get this out fast I am only providing thoughts for the picks in the lottery (1-14)
With each player I leave what they were ranked in my newest Big Board for reference
1. Orlando Magic: Chet Holmgren
My Big Board Ranking: 3
John Hammond, the Magic GM, has a history for taking long athletic players who are highly mobile including Giannis Antetokounmpo, Jonathon Isaac, Mo Bamba, Chuma Okeke, and Franz Wagner. With that being said are we really expecting him to pass on Chet? I do not have Chet as my number one prospect but a front court of Chet Holmgren, Franz Wagner, Jonathon Isaac, and Wendell Carter is very interesting, especially on the defensive end. Also let's not forget Chet and Jalen Suggs went to high school together and this pick reunites the duo.
2. Oklahoma City Thunder: Paolo Banchero
My Big Board Ranking: 2
Anything Sam Presti does with this pick, I will trust. Sam Presti has arguably the best drafting track record in the league and has a knack for finding talent that others do not see. With that being said, for the first time since the James Harden selection, Sam Presti has a top 4 pick. The Thunder have Shai Gilgeous-Alexander but need more star power and Paolo Banchero absolutely helps that. Banchero projects to be a 20 point per game scorer one day and fits perfectly into a wide open Thunder front court. SGA, Giddey, Dort, Mann, and Banchero could be the foundation of something special in Oklahoma.
3. Houston Rockets: Jabari Smith
My Big Board Ranking: 1
I would LOVE this pick for Houston. I have Jabari as my #1 overall prospect because I believe he is a winning player and he has a big impact on winning. The Rockets can go almost anywhere with this pick as the only players who are for sure keepers are Jalen Green and Alperan Sengun. Jabari Smith will instantly make the Rockets defense better while also providing a deadly shooting threat for a team that finished in the bottom half of the league in three point field goal percentage. This may not be the dream scenario for some fans…but it should.
4. Sacramento Kings: Jaden Ivey
My Big Board Ranking: 4
Listen the Kings will always do something dumb so who knows but this pick seems the most likely. First thought that comes to mind is that De'Aaron Fox and Jaden Ivey would create the fastest backcourt in NBA history (have not done any research, that is just off the top of my head). The Kings (and GM, Monte McNair who's contract has one year left on it) are under a lot of pressure to make the playoffs after missing it for 16 straight seasons. Although Ivey is the right pick, I would not be surprised if the Kings attempt to make a big splash in order to get into next year's playoffs.
5. Detroit Pistons: Shaedon Sharpe
My Big Board Ranking: 5
The Detroit Pistons have few if any building blocks outside of Cade Cunningham so why not take the home run swing. Sharpe played zero total college basketball minutes which makes him the ultimate mystery man of this year's draft. Best case scenario you give Cade a Tracy McGrady like player to play with and worst case scenario the Pistons draft a microwave bench player with a coveted 5th overall pick. It is a big risk but Detroit is in a position to swing for the fences with little to lose.
6. Indiana Pacers: Keegan Murray
My Big Board Ranking: 6
To me this seems like an almost perfect fit. The Pacers are in an akward stage of their rebuild with both win now players and young player. Keegan Murray fits into whatever timeline the Pacers wish to pursue opperating as both a rookie and 22 year old plug and play player. Keegan is not a sexy pick and most likely will never be an all-star but he will be able to do so many things on the court at an above average level. The Pacers have never been big into rebuilds and taking Keegan Murray will allow them to instantly win more games.
7. Trail Blazers: Bennedict Mathurin
My Big Board Ranking: 8
The Trail Blazers are especially hard to pick for because I have no idea what direction Portland is going. Damian Lillard is on the roster and Anfernee Simons is a restricted free agent but after that, the roster is fairly bleak. Portland could elect to take Jalen Duren but I am not a believer in his impact right away in the league so instead I believe Portland would take Bennedict Mathurin. Mathurin will add shooting to the Blazers immediately and has long term potential as a defender and initiator. In all likely hood this pick will be traded as no one taken with this will be able to help Damian Lillard reach his much desired championship.
8. Pelicans: Johnny Davis
My Big Board Ranking: 7
The Pelicans could be ready to compete as soon as next year and if they nail this pick then the Pelicans will be true contendors. Johnny Davis would be the perfect pick here playing next to Zion, Brandon Ingram, CJ McCollum, and Herb Jones (I had to mention him). Davis provides scoring when needed but more importantly he provides defense to a team that needs it.
9. San Antonio Spurs: Jalen Duren
My Big Board Ranking: 9
Duren does not quite seem like a Spurs type pick but San Antonio has to be getting tired from picking guards and wings. Jakob Poeltl is an underated and good center but he should not get in the way of the Spurs finding their center of the future. As long as Gregg Popovich is there, the Spurs will compete with teams every night, which is exactly the environment Duren needs. Along with DeJounte Murray, Duren serves as a foundation piece for a very strange and unorthorox rebuild.
10. Washington Wizards: AJ Griffin
My Big Board Ranking: 11
Talent wise AJ Griffin could be a top 6 player in this draft but there are some major concerns. The biggest concern of Griffin is his body and if he has lingering problems with his body that could impact his career. If the Wizards recieve Griffin's medical and truly believe that he is going to be okay in the NBA then they could get a steal by taking the wing with the tenth pick. Between Kyle Kuzma, Deni Avdija, and Griffin the Wizards should be able to find a wing rotation that works.
11. New York Knicks: Malaki Branham
My Big Board Ranking: 10
Knick fans are dissapointed they did not jump into the top 4 of this year's draft but they can still get a very good player here at 11. The Knicks should operate with a best player avaliable mindset because no position on their roster is filled for the future. With that being said Branham is both the best player avaliable and a good fit in New York. Branham has high scoring potential and plays a Khris Middleton like offensive game. It isn't the dream but the Knicks get a good foundational piece here at 11 with Branham.
12. Oklahoma City Thunder: Mark Williams
My Big Board Ranking: 17
Knowing Sam Presti he will probably take a swing here on a prospect he knows will be a superstar and no one else does but I do not know who that guy is yet so I Williams seems right. Walking away from the lottery with Paolo Banchero and Mark Williams gives the Oklahoma City Thunder their front court of their future. If this scenario happens I would bet that next season the Thunder are in the play in and competing for a playoff spot.
13. Charlotte Hornets: Jeremy Sochan
My Big Board Ranking: 12
The Hornets have a lot of intriguing option at 13 but their dream of having one of Duren or Williams does not come to fruition. With the two centers off the board the Hornets should prioritize defense and they get exactly that drafting Sochan. Early in his career Sochan projects to be a good wing defender but as he devolops there is some real potential that he becomes an initiator and potentially even a scorer. Jeremy Sochan would offer a near perfect yin to Miles Bridges yang.
14. Cleveland Cavaliers: Ochai Agbaji
My Big Board Ranking: 16
The right pick here would probably be to add more upside talent but the Cavaliers had a taste at real success this season and will not want to let go of it. Agbaji will offer Cleveland instant help on the wing both on defense and shooting. Watching Agbaji play at Kansas it is clear that he will be a high end role player for many years in the NBA and will be able to help push the Cavaliers into the playoffs next season.
15. Charlotte Hornets: Dyson Daniels
My Big Board Ranking: 15
16. Atlanta Hawks: Jaden Hardy
My Big Board Ranking: 24
17. Houston Rockets: Ousmane Dieng
My Big Board Ranking: 13
18. Chicago Bulls: EJ Liddell
My Big Board Ranking: 20
19. Minnesota Timberwolves: Tari Eason
My Big Board Ranking: 18
20. San Antonio Spurs: Patrick Baldwin Jr.
My Big Board Ranking: 21
21. Denver Nuggets: Kendall Brown
My Big Board Ranking: 31
22. Memphis Grizzlies: TyTy Washington
My Big Board Ranking: 23
23. Brooklyn Nets: Christian Braun
My Big Board Ranking: 32
24. Milwaukee Bucks: Kennedy Chandler
My Big Board Ranking: 22
25. San Antonion Spurs: Nikola Jovic
My Big Board Ranking: 19
26. Dallas Mavericks: Bryce McGowens
My Big Board Ranking: 15
27. Miami Heat: Blake Wesley
My Big Board Ranking: 27
28. Golden State Warriors: Jake LaRavia
My Big Board Ranking: 30
29. Memphis Grizzlies: Ismael Kamagate
My Big Board Ranking: 29
30. Oklahoma City Thunder: Leonard Miller
My Big Board Ranking: 40