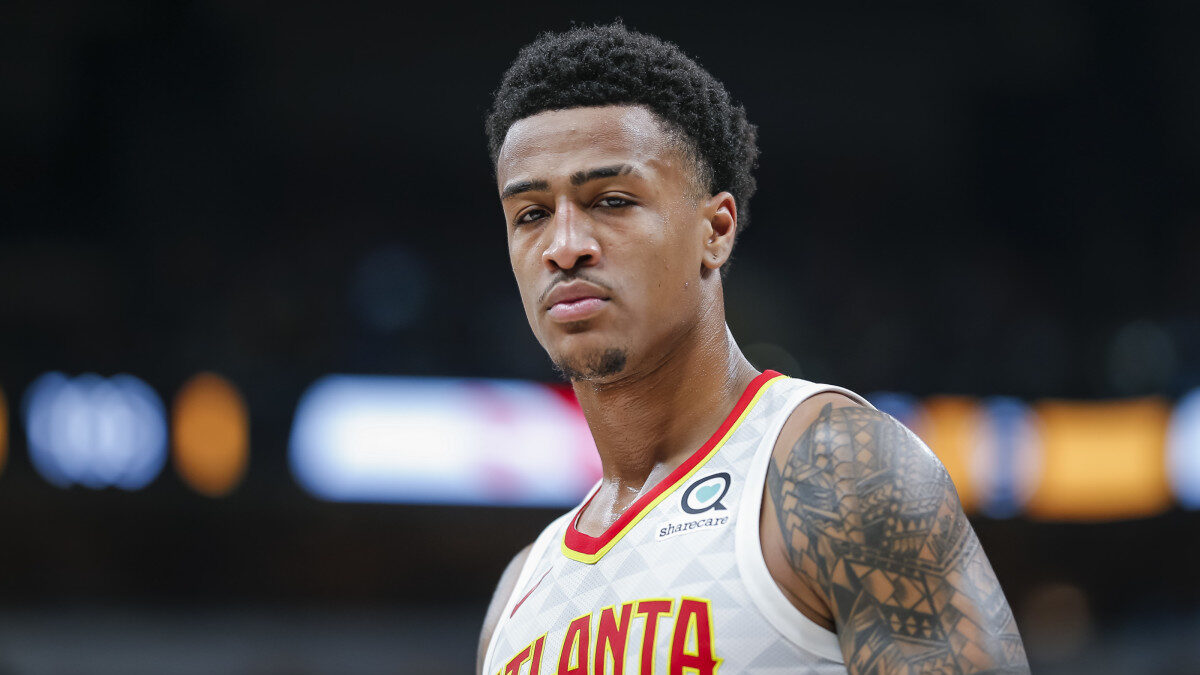 The draft is over, so now it's time for the teams to start improving their rosters with all the trades and moves that we are waiting for. So, let's see what I think each NBA team should do during this offseason.
This article will be divided in two parts: here are the first 15 teams.
ATLANTA HAWKS
Trade John Collins and Keep Clint Capela
This summer is a perfect moment for the Hawks to trade Collins: he's still 24 and has a tone of potential, so they should receive a big return for him. As much as I like the Young-Collins duo, I think that they could find someone better in return for him. On the other side, recent rumors say that many teams are interested in Capela and that the Hawks are exploring trades for the center. If I were them, I wouldn't trade him: he's an elite rim protection and has a great connection with Trae, two things that make him a big part of the Hawks' success.
Update: after the Dejounte Murray trade I still believe they should trade Collins for a better forward.
BOSTON CELTICS
One of the main reasons the Celtics lost to the Warriors in the finals was the depth differential: when Tatum and Brown stepped off the court the Celtics' bench really struggled to keep up with the Warriors' second unit, which had players like Poole, Porter Jr, Bjelica and Payton II, who all had a huge impact in the finals. In my opinion, they should look for a better backup center than Daniel Theis and a backup point guard who can handle the ball and create when the starters are on the bench.
BROOKLYN NETS
After Kyrie Irving decided to opt-in his player option it's time for the Nets to focus on completing the team by adding the last cards to the puzzle: first of all, as much as Claxton is showing good improvements, they are in desperate need of a good big-man who can rebound the ball and protect the rim. Then, I would bring back Bruce Brown because I think he was a key player last season and maybe try to steal Carmelo Anthony from the Lakers to add some scoring off the bench. Finally, I think that they should extend Irving to secure the big 3 and avoid situations like this one to repeat the next year as well.
Update: Kevin Durant has just requested a trade, I guess they have to find the right one. The Suns seems to be the preferred destination, and I think that they could offer a good return for the multiple all-star.
CHARLOTTE HORNETS
Extend Miles Bridges and find a trade for Gordon Hayward
The Hornets' season could have ended in a far better way: after last season's blowout loss against the Pacers in the play-in game, this year the story repeated itself with another loss in the play-in game, this time against the Atlanta Hawks. The Hornets surely need to change something, but not the dynamic duo of Lamelo Ball and Miles Bridges, that carried them to nearly make the playoffs again. So, first of all, they need to extend Miles, and then I would focus on finding the right trade to both dump Hayward's contract and add some more defense to the team.
CHICAGO BULLS
Add a defensive big-man to the team
One of the main problems the Bulls had this season, other than the injuries, was the underperforming of Nikola Vucevic: the former all-star was inefficient on the offensive side of the court and didn't provide much rim protection on the defensive end. With both Lonzo Ball and Alex Caruso coming back, I think that they already have the playmaking and scoring ability they need on the team, so they should aim for a more defensive-minded big man who can provide more rim protection and be a lob threat. Some names that come to mind are Mitchell Robinson and Mo Bamba, both would be a great fit for the team. And of course, they have to extend Zach Lavine.
CLEVELAND CAVALIERS
Trade Sexton and focus on the details
I absolutely love the current Cavaliers roster and for that, they shouldn't be doing big trades or making big changes to the team. Although, I think that exploring trades for Sexton isn't that wrong: as much as I recognize his potential, after trading for Caris Levert I think it's time for them to move him elsewhere. After that, they should start focusing on the details to become a real contender for the title: maybe they could look for a cheap-good 3&D wing who can provide defense and shooting off the bench. Other than that, they have just to wait for their young players to reach their ceiling.
DALLAS MAVERICKS
Extend Jalen Brunson, look for a center, and add some depth
It's probably going to be a busy summer for the Mavericks' front office: they have to make the right moves to finally reach the status of contenders. The should be to bring back Jalen Brunson, who currently is an unrestricted free agent: he was a key player for Dallas this season and was crucial in the playoffs. After they've done that, I would look to add a good big man, trying to not give up too much, and maybe another shooter off the bench. Some players that come to mind are Goran Dragic(UFA), Gary Harris(UFA), Javale McGee(UFA), and Derrick Jones Jr.(UFA).
DENVER NUGGETS
Just like the Bulls, the Nuggets were killed by injuries this season, but still manage to grab the sixth seed. Their roster, when fully healthy, is definitely a championship-level one, for that, I think that they should keep everybody from last season without making any serious changes, hoping that they can stay healthy. The only thing that they were missing was a 3&D wing who could come off the bench and be consistent on both ends of the floor, and they found it in KCP. They had to give up Monte Morris as well, showing that they are trusting Bones Hyland to be their back-up point guard, and I love it.
DETROIT PISTONS
Continue adding young players and go after a veteran
It finally seems to be a light at the end of the tunnel for the Detroit Pistons, that came out of the draft as absolute winners. After drafting Ivey and completely stealing Duren from the Hornets, the Pistons' fans can finally hope for a good season. Although that doesn't mean that they already have to go all-in: they have to be patient and wait for the young players to complete their development. Meanwhile, they should keep adding young pieces to the roster, to create an even more elite young core. Of course, they should go after some veterans as well, and a player that I consider would be perfect for them is Gary Harris, a very good defender who is a perfect young veteran for them.
GOLDEN STATE WARRIORS
Run it back (with James Wiseman)
The Warriors are entering the 2022-2023 season as the favorite to win the title, again. For that, nobody expects them to make any major moves, and they shouldn't. The team looks great, and the bench is perfect: I would just resign everybody and run it back, who can stop you. Other than that, even if they wanted to change something, how could they do that: they don't have the cap space to sign anybody and I think that they aren't willing to give up on anybody in a possible trade. Many people instead consider the right thing to trade the young center Wiseman to add another star to the team, but I wouldn't consider that a good move. As much as they are in total win-now mode, they have to keep a young core on the team, and giving up on a second overall pick after one season is too extreme in my opinion.
HOUSTON ROCKETS
Continue the rebuild and find a trade for Gordon
The Rockets were surely one of the winners of the draft, having selected Jabari Smith, Tari Eason, and Tyty Washington. Now that they have added new young players to the team, the main focus for them next season should be to let them develop, and find a way to give everyone some playing time. For that, they shouldn't be trying to go after big names either in free agency or via trades but should focus on the young pieces they have. A way to do that is to find a trade for the veteran guard Eric Gordon, who will make $19.57MM next season and a non-guaranteed $20.92MM in 2023/24. Although a player that they could go after in free agency could be Mo Bamba, that is an unrestricted free agent and could be the backup center behind Sengun.
INDIANA PACERS
Search for future assets by trading Brogdon and Hield
After failing to become a true contender with the Brogdon-Sabonis-Turner trio, the Pacers decided to trade Sabonis mid-season, and basically start a rebuild. So this offseason they should continue on that path by keep adding young pieces and more picks. A way to do that could be by trading away 29-year-old Malcolm Brogdon, who would be a very valuable player for a contender, that should be willing to give up either picks or a young player. Another potential sacrificable player for them should be Buddy Hield: he averaged 18 ppg shooting 36% from three, so a player that would be great for many contending teams.
LOS ANGELES CLIPPERS
After finding the so-needed point guard in John Wall and having the two stars coming back from injuries, the Clippers can hope for a run for the championship. When everybody is healthy, the roster is really deep and every position seems to be covered. The only need they have right now is a backup center: I assume Zubac is still going to be the starting one, but right now the closest thing to a center they have on the bench is Robert Covington, and that has to change. There are some options in free agency like Javale Mcgee, Demarcus Cousins, Dwight Howard, and Andre Drummond, all unrestricted free agents who shouldn't be asking for too much money.
LOS ANGELES LAKERS
Give up on trying to trade Westbrook and focus on free agency
Dear Lakers fans, I'm sorry, but nobody wants Westbrook, and the only teams that would take him can't really give you anything interesting. So, the Lakers should stop focusing on trying to move him and start focusing on finding a way to make this team look like a contender. They should mainly look for players in free agency since they don't have many assets that they could throw in a potential trade. Here are some unrestricted free agents that might be interesting for the Lakers: Gary Harris, Otto Porter Jr., Victor Oladipo, Javale Mcgee, Mo Bamba, and TJ Warren. The only trade target that might be reasonable for them is Buddy Hield because I feel like the Pacers shouldn't be asking for too much and the fit would be perfect.
MEMPHIS GRIZZLIES
The Grizzlies were last season's main surprise, by finishing 2nd in the west even tho Morant only played 57 games. As much as I like this team I still believe they need something more to become a true contender, and the missing piece could be to pair a good veteran with Ja. The dream target is Pascal Siakam: he would be a perfect fit for them, would bring championship experience to a very young roster, and would be a 3 both a 3-level threat on the offense and a very good versatile defender on the other end. If they don't want to give up so much this offseason they can still find some good names in free agency like Javale Mcgee or Joe Ingles. They should also go after a backup point guard since Tyus Jones seems to be gone.