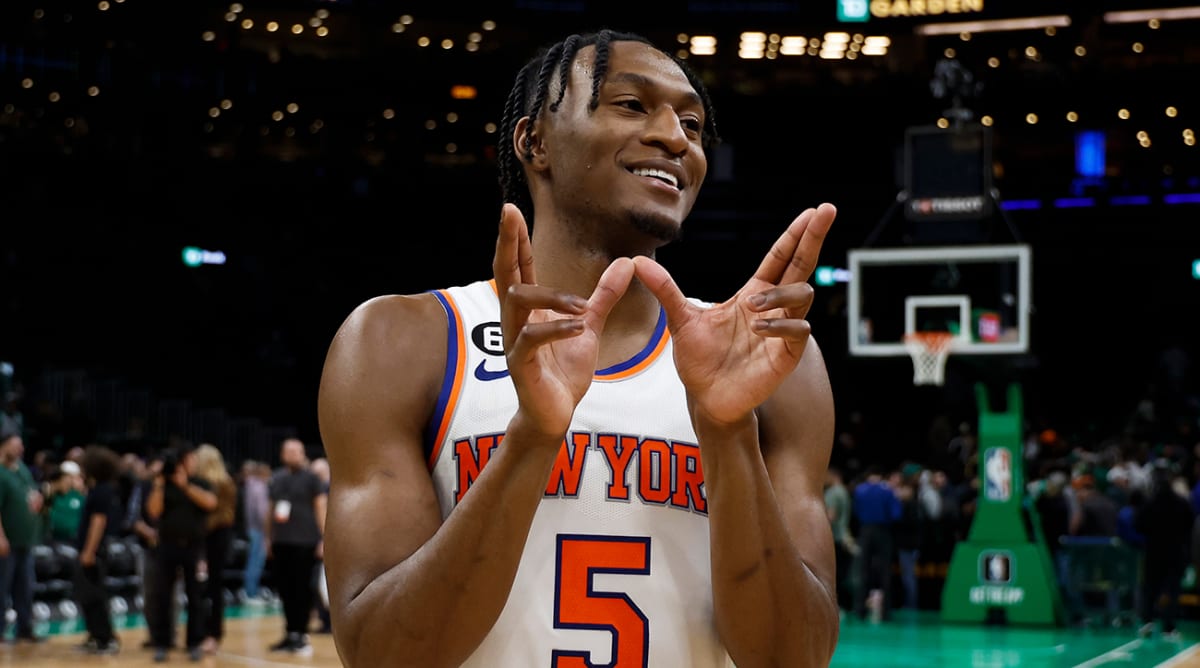 One of the more underrated players on a team is the 6th man. The player that comes in for the starters to be the go-to scorer or holder of a torch to relieve the starting offense. The last two 6th man of the year candidates were a player on a #1 seed in their conferences. That shows you the importance of such player.
Let's get into some of the top candidates of this season…
Immanuel Quickley, SG, New York Knicks
Quickley has quickly (pun intended) become one of my favorite consistent players that come off the bench. He is a microwave scorer that can score from the perimeter and also facilitate a bit. I don't think he'll ever be a star or anything, but he can provide that Jordan Clarkson/Lou Williams type of role for a top-contending team.
The Knicks are a top 5 seed in the East and Quickley has been one of the premiere young players on the team. He's averaging a decent 14.2 PPG and has the best assist-to-turnover ratio on the team, providing to be a solid secondary playmaker off the bench.
Odds: -450 (#1 to win)
Malcolm Brogdon, PG, Boston Celtics
When the Celtics acquired Brogdon in the offseason, many thought Brogdon was going to come in and be the starting PG. The Celtics had other plans and honestly… it's worked out great for them. Bringing Brogdon off the bench has been stellar for the Celtics as he's been at times their 3rd best player. Brogdon is capable of scoring 20 and 7 any night and providing solid defense.
He doesn't have to be the main facilitator like he was on the Pacers and can play more off the ball on the Celtics or even handle the ball if needed. Don't be surprised if Brogdon wins the 6th man of the year, wouldn't shock me at all.
Odds: +350 (#2 to win)
Bobby Portis, PF, Milwaukee Bucks
It really sucks for Portis cause I feel like he's always one of the top candidates to win the award but just never does. He's the enforcer off the bench that provides energy for the Bucks and also scoring. He can shoulder-check you and post up into a dunk or even shoot it from the corner.
Portis is aggressive crashing the boards, averaging 2nd most on the team, nearly 10 boards a game. I don't think Portis will win the award, but he still deserves some mention for sure.
Odds: +4600 (#3 to win)
Honorable Mentions: Austin Reaves (Lakers), Bennedict Mathurin (Pacers), Malik Monk (Kings),