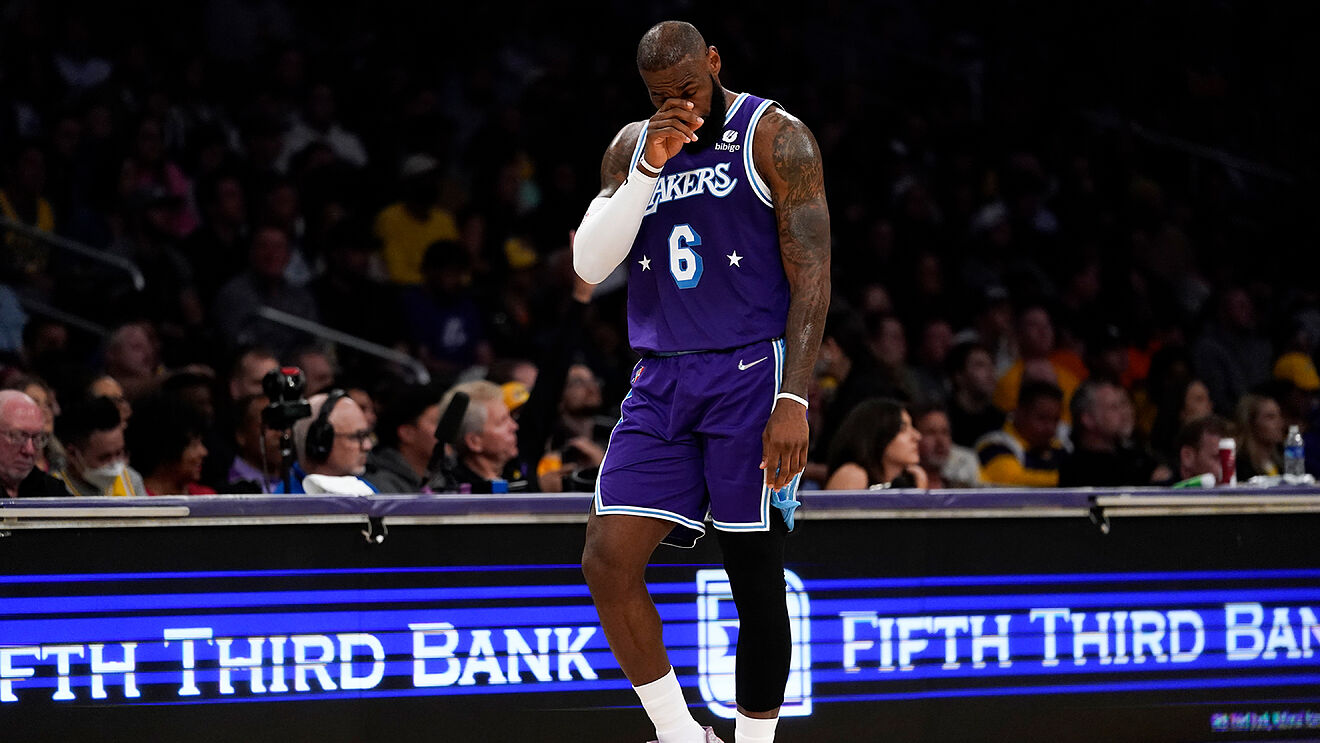 So, the Lakers just had an extremely disappointing season, they got eliminated with LeBron James, Anthony Davis and Russell Westbrook on their roster…
How do they proceed this off season? The Lakers could easily point the finger at Westbrook and scapegoat him, which I would not be surprised if it occurs. But this would just bode with their seasons overall theme of no one on the team taking accountability.
This starts with LeBron James, he seemed to be disengaged the entire season. Sure, he went on a scoring tear since the start of the year, but he just had probably his worst defensive year ever. He didn't even try to play defense. On top of this every player added to this roster was signed off by him. Every player signed had LeBron written all over it. This poor roster construction could be blamed on Pelinka, but any experienced NBA fan knows that is not the case. LeGM should be at the forefront for scrutiny on this one.
They then need to decide if they want to keep Westbrook or not. I believe they have no option but to keep him. In order to trade him, they would have to part ways with one of their few draft picks left. Which isn't worth it for a player with an expiring contract.
The Lakers need to address a core issue with this team, everyone lacked accountability. Every opportunity the Lakers had, they would point fingers at Westbrook. Or a specific player would go use their media company to put out info that the coach isn't good enough, LeBron never wanted Westbrook or narratives to try and deflect blame through "internal sources."
When LeBron went to Miami, every press conference Dwyane Wade was sitting next to him. He wanted LeBron to know he could trust him and that his friend had his back. When Westbrook needed someone next to him to support him, he didn't have anyone. He was attacked by the fans and didn't have enough support from his teammates early on when he needed it.
So, with the Lakers bringing back the core 3 of LeBron James, Anthony Davis and Russell Westbrook what do they do next?
Coaching Change
They should and will remove Frank Vogel from their head coach position. I do not like the word fire, because he was given a roster that does not suit his coaching profile whatsoever. Vogel has historically been a coach that has thrived with decent perimeter defenders and players that know how to box out with a big man holding down the paint. He didn't have any of that this year since AD was injured all year leaving an aging Dwight Howard as his only option. The Lakers had better interior defense last season with Marc Gasol as their big man, that should speak enough on it own.
He deserves another job somewhere else and should get another job. Most coaches would have a tough time if they were given a roster that doesn't suit their strengths.
If the Quin Snyder rumors are true, that would be the best addition that Lakers could make over the summer by far. He is a culture builder and he holds his players accountable. He brings a college coach's mindset to the NBA and his players love him.
Next step is get rid of Phil Handy as well. How are you a player development coach and can't get a player on your team to understand what boxing out is. Middle school basketball players have better rebounding instincts than the Lakers did. Whatever coach the Lakers bring in should have complete control of coaching staff and offense ran by the Lakers.
The days of LeGM should be over, the play style should suit and promote LeBron's style, but the organization should stop catering to him. He is getting older and cannot play with the same intensity he used to be able to. If the players know LeBron is really controlling everything from behind the scenes, it will be really hard for everyone to buy into the organization.
Roster Additions and Subtractions
For role players, aside from Austin Reaves, Stanley Johnson and Malik Monk, no player should even receive communication from the Lakers once the season ends. Dwight Howard is a maybe to me, since he is still very good in a limited capacity. Carmelo Anthony, Avery Bradley, Wayne Ellington, Kendrick Nunn, Trevor Ariza, Kent Bazemore and D.J. Augustin should all be let go. They are too old, too inconsistent and can't defend or box out.
Their first step in filling out this roster should be signing a competent center. The Lakers played better last season with Marc Gasol, who physically could not move laterally anymore. Bringing back JaVale McGee would be a great option, since he still has plenty of great basketball left in him, but a player like Mitchell Robinson would be great as well. They need a force in the paint outside of Anthony Davis, someone who can box out and block shots. They lacked that all season this year.
Victor Oladipo is slated to hit the market as well, it has been close to 5 years since he has played more the 40 games in a season, but no matter what capacity he is brought on with the Lakers, he can play defense and facilitate the ball as well. And I doubt he would mind moving from Miami to L.A. I imagine the Lakers would be able to pay him more than what Miami is currently giving him and $2.4 million.
If they Lakers have the opportunity to, they should splurge on Robert Covington. Don't give him bad contact money but give him something a little under that. He would be worth every penny they pay him. He shoots 3s, plays phenomenal defense and rebounds. I am still shocked how the Clippers were able to acquire him and Normal Powell for basically nothing.
Thaddeus Young is expected to hit the market as well, with his $14.5M contract expiring. No way he is getting that much money again, but if he is willing to leave Toronto, he would be a great fit with the Lakers as well, more specifically Quin Snyder. He is the type of player that thrives in his system, can spread the floor, can guard 1-5 with above average success and rebound.
To fill out the roster, the Lakers need to chase youth and speed. Players like Gary Harris, Tyus Jones, or Jalen Smith, would be great additions to this team. I imagine if Quin Snyder actually happens, Joe Ingles would be in the conversation to get reunited with his former coach.
The Lakers have options this off-season, instead of keeping Westbrook, they could trade him. They would also be parting ways with their first-round pick in that case and getting barely anything in return. They would be getting rid of him, just to get rid of him, which wouldn't be the best move. There is not a player that they could trade him for that would makes this team better. On top of that, if they off load him for cap reasons, there are not enough stars in this free agency period for it to be considered worth it.
This roster was a horrible fit together, they tried to get Westbrook to play a style of basketball that doesn't suit him at all. Every time him and Anthony Davis or Dwight Howard play more than 20 mins together, he looks and plays significantly better. He had neither for most season along with a LeBron James who pretty much only played when he felt like it.
After Next Season?
With LeBron's free agency coming up after next season or the season after, whenever he decides it to be, it makes no sense to part with draft capital. Westbrook's contract expires next offseason as well, so it would be a better option to just let him walk rather than trade him at a loss.
And all these rumors that the Lakers should trade Anthony Davis are nonsense. Anthony Davis has displayed time and time again, when healthy he can dominate anyone. Getting AD right in the off season starts with building a better culture. Build a supportive system, where everyone is held accountable including him and LeBron. They are not above the scrutiny from the media or the coaching staff. Then worry about his conditioning and health, maybe he could start wearing high tops and that would solve most of the issue.
This off-season is not a dead end, they do have a path, but the Lakers would have to go all in on free agency. If they are going to be unwilling to part with draft capital, they have to spend big. Going into the luxury tax for a season or two would be worth it if they have a real championship window.
It will be interesting to see how Jeanie Buss wants to proceed with this team. The organization is in danger of losing serious credibility with many former players and staff members exposing internal issues. This would damage the teams reputation going forward when trying to bring in big stars.

Must See
We're near the end of the electric NFL free agency that we were blessed...

So it's been about a week since free agency has started and boy, has...

The 2023 NFL Draft is upon is within the next month and it's time...