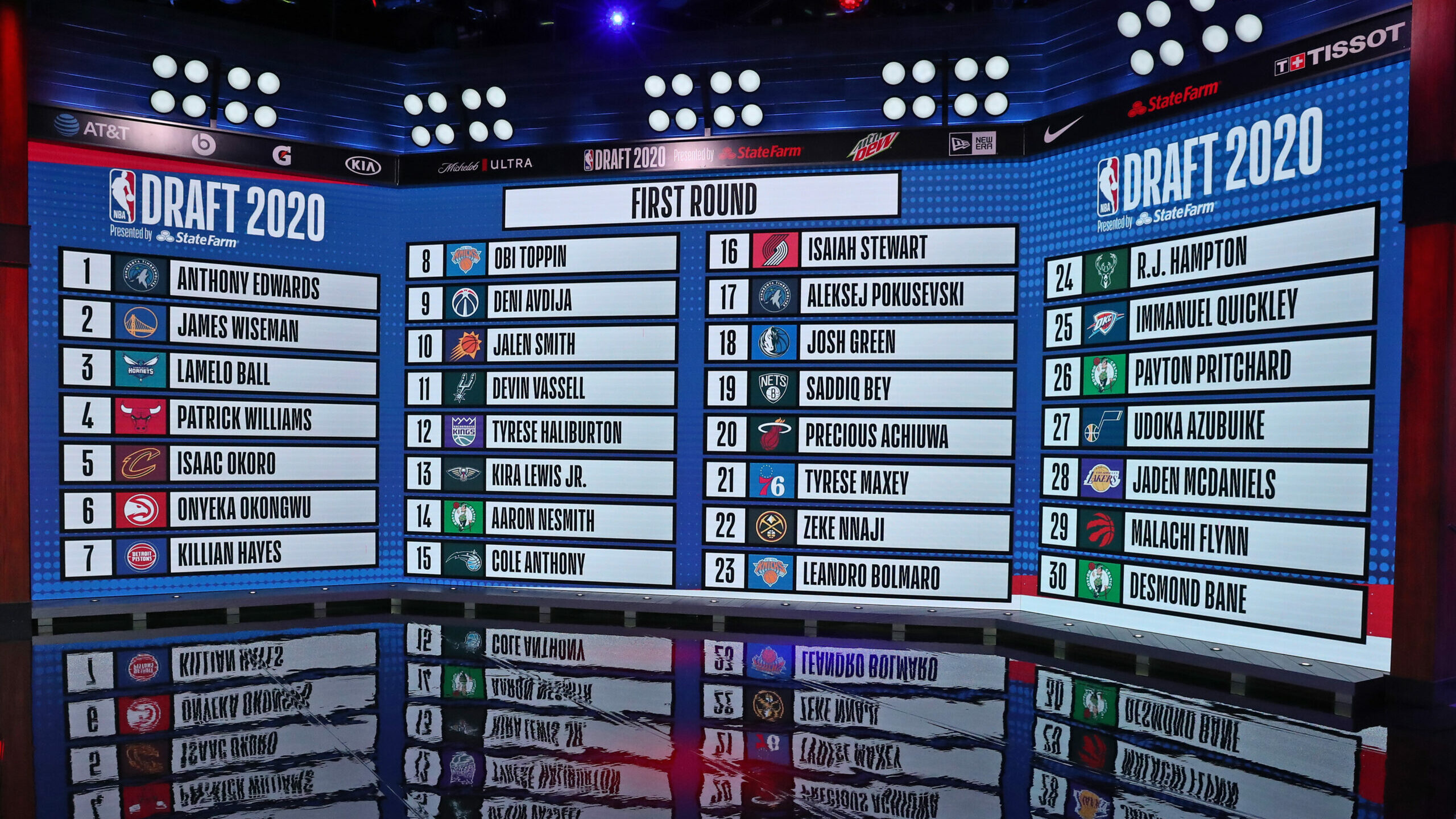 Since Lonzo Ball came into the league and the Ball family became a household name amongst the basketball community, everyone has been talking about the 2020 NBA draft class but not in a good way. Due to LaVar Ball's hype of his youngest son LaMelo, more people were interested in this draft class than most years despite years of scrutiny of the NBA draft experts saying this draft class is one of the worst in recent years.
As most teams are reaching the 30 game mark of the 72 game season, we have gotten a decent look at most rookies and if you are watching the same NBA I am watching, you quickly realize that this draft class is not as bad as most people were saying.
It goes without saying but when people look back at NBA Draft classes, they usually pay the most attention to the top 3 or 5 picks to recall if a draft class is good or not so let's look at how the top 5 picks of the 2020 draft class are doing.
1. Anthony Edwards SG Minnesota Timberwolves
PPG: 14.8 APG: 2.5 RPG:4.0 SPG: 0.8 BPG: 0.4 FG%: 37.2 3FG%: 31.2 FT%: 80
Analysis:
Coming into this draft, Anthony Edwards was deemed as one of the few "sure" prospects in this class and even not all draft experts were sold on him. Edwards has shown us he is a personality on and off the court which can be good for a young player to have an identity early. He is not afraid to take and miss shots which can be seen as a good sign in terms of confidence considering we have seen young players in the past deal with confidence issues (Lonzo Ball, Markelle Fultz, Kendrick Nunn etc.).
Edwards is on a bad team that desperately needs some offensive firepower since D'Angelo Russell is injured and KAT has been in and out of the lineup at times. Most people will look at his shooting splits and say he isn't efficient but being on the Timberwolves and being a rookie, those are things you can look past. He is shooting 80% from the free-throw line so you can take that as a small sign that he can be a better shooter than his splits show.
Overall, what is most important about going into this season is that Edwards is having fun because there were many people who questioned his love for the game. Right now, he is enjoying himself on a bad team and I would consider that as a plus. What will happen when we are years down the line and the team still is bad? There is no telling. But right now you can only worry about the present and but right now his future is bright if he continues to improve and is allowed to be himself as long as it's not causing a distraction to the team.
2. James Wiseman C Golden State Warriors
PPG: 12.0 APG: 0.6 RPG: 5.9 SPG: 0.4 BPG: 1.1 FG%: 51.5 3FG%: 40 FT%: 63
Analysis:
Everyone was curious to see what James Wiseman would become due to him only playing 3 games at Memphis. I think Wiseman has landed in a perfect situation for him by being drafted by the Golden State Warriors. He has started 16 out of the 24 games he has played and he has been the rim running big that I'm sure the Warriors hoped for.
He is able to switch onto guards and hold his own enough to where you can see him becoming an even better perimeter defender and he has defended well in the paint as well. While his stats may not be the best, he has been on and off the court this year due to health and safety protocols but he has shown promise. He can score down low and stretch the floor by hitting the three at times. He is being everything the Warriors wanted and needed.
For this team right now, he does not need to be a star so I feel as though until the Warriors include him more in the offense it is not fair to judge him as the #2 pick in the draft. As long as he is playing his role on the team for now, eventually down the line the Warriors will rely on him more, and based on his play right now, I believe he will be up to the challenge.
3. LaMelo Ball PG Charlotte Hornets
PPG: 15.7 APG: 6.4 RPG: 6.0 SPG: 1.6 BPG: 0.4 FG%: 44.6 3FG%: 36.7 FT%: 80.8
Analysis:
It is very possible I may be the only Charlotte Hornets fan that is willing to admit that I am a fan publicly but LaMelo Ball is making all of us have faith in this team once again. LaMelo since the start of the season has shown that he is a special player. While James Borego had Ball coming off the bench, you could see the night and day from when he was and was not on the court. He added some energy and flair to a team that needed it desperately.
Now that he is in the starting lineup, that same energy is there throughout the game and it shows because the Hornets are in the playoff hunt. LaMelo makes those around him better and while he is a great facilitator, he knows when he needs to take over and put the game on his shoulders and I feel like that is a tough thing to learn as a young point guard. He makes difficult shots look easy.
On the defensive end, he does need work but it's not because of a lack of trying. He is a pesky defender that gives 110% every possession. He is a clear favorite for the ROTY award right now and the Hornets are going to have a tough choice to make when Devante Graham is back from his injury. LaMelo looks like a natural at a young age at one of the toughest positions in the sport. All of his teammates see how special he is and are willing to do whatever it takes to help him succeed.
4. Patrick Williams PF/SF Chicago Bulls
PPG: 10.1 APG: 1.2 RPG: 4.8 SPG: 0.7 BPG: 0.7 FG%: 46.4 3FG%: 38.7 FT%: 78.8
Analysis:
The Paw! Great nickname and it goes with his Kawhi Leonard-like frame aka The Klaw. Coming out of Florida State, a lot of people did not expect him to be the fourth overall pick especially because of his college stats. For those of you who are unaware, I would never take a player out of Florida State stats too seriously.
For years, Florida State players do not play many minutes in college so therefore not many are able to stuff the stat sheet. One thing is for sure is that you will get a good defender and that is exactly what Patrick Williams is. Williams can guard at least 4 out of 5 positions and you shouldn't be too worried if he is guarding a true center at times because he can hold his own. He's what the Bulls were hoping Otto Porter Jr. would be. He is shooting basically 39% from three while attempting two a game.
He can get to the basket and looks comfortable on the court. Here is another example of a team not needing their rookie to be a star, but for now just play a role, and right now he is playing that role well enough to justify being drafted 4th overall. With Lauri Markkanen, Zach Lavine, and Coby White being in your starting lineup, you need someone to defend multiple positions well and he does that.
I would like for him to get more rebounds but he is averaging 4.8 a game right now so I definitely see that number increasing maybe as the season continues but definitely in the future.
5. Isaac Okoro SF Cleveland Cavaliers
PPG: 8.1 APG: 1.9 RPG: 2.7 SPG: 1.2 BPG: 0.5 FG%: 41.3 3FG%: 30.1 FT%: 67.9
Analysis:
Issac Okoro may be the only "disappointment" out of the top five and I use that term loosely. He is what the Cavs needed at the wing position considering they are starting two undersize, score-heavy guards. Okoro is a good defender who shows at times that he can make plays and score off the dribble. The issue is that he is not too efficient on the offensive end. Not yet at least. He is shooting 41% from the field and you would like to see that go up for the 5th overall pick but considering he got drafted this high for his athleticism and defense, he is playing his role.
He is a player that you cannot rely on to get their own shot often and it doesn't help that Colin Sexon or Darius Garland are traditional point guards. I look for Okoro to improve but I will admit it will not be easy for him due to his playstyle and the playstyle of those players around him.
He does show the skills of someone that can be in the league for a long time similar to Trevor Ariza when he was with the Lakers but it will take time for him to get there on the offensive end. 5th pick may have been high for him but I wouldn't be surprised at all if in 7-8 years, Okoro is starting on a playoff team because of his defensive abilities and his offensive skill set to be able to act as a glue guy on a good team.
Overview:
The 2-3 years, the incoming draft classes has been dragged through the mud before they even touch the court and every year there are many good players coming out of these "weak" draft classes. We should let these young athletes get drafted and onto the court before we start to judge them too harshly. These players will always be under a microscope but more and more we are seeing players struggle in college and blossom in the NBA. That can be for many reasons.
It can be because of the scheme (Coby White at the University of North Carolina) or it can be because of the talent around them (Bam Adebayo at University of Kentucky). These things should be taken into consideration because in the future there are going to be more and more players who could make the jump from high school to the NBA skills-wise if it was allowed by the NBA. And for those players who don't project as NBA Stars in their Junior year of high school, let's cut them a break.

Check out our new podcast episode!
Got Hoops Podcast
A new up and coming basketball podcast by 4 dedicated NBA and basketball fans. It's for fans, by the fans.
Got Hoops Podcast (Ep. 15): Nuggets in the Conference Finals? Monty for COTY? CRAZY PLAY-IN GAMES!
This episode talks about the craziness that's about to occur in the playoffs, what a wonderful time to be alive.
Search Results placeholder
Must See
There's been a lot of changes in the coaching departments at some of the...

Don't let Kevin Durant's incredible performance distract you from Mike Budenholzer's terrible coaching display....

The Washington Wizards had an unlikely road to the playoffs. There was a point...