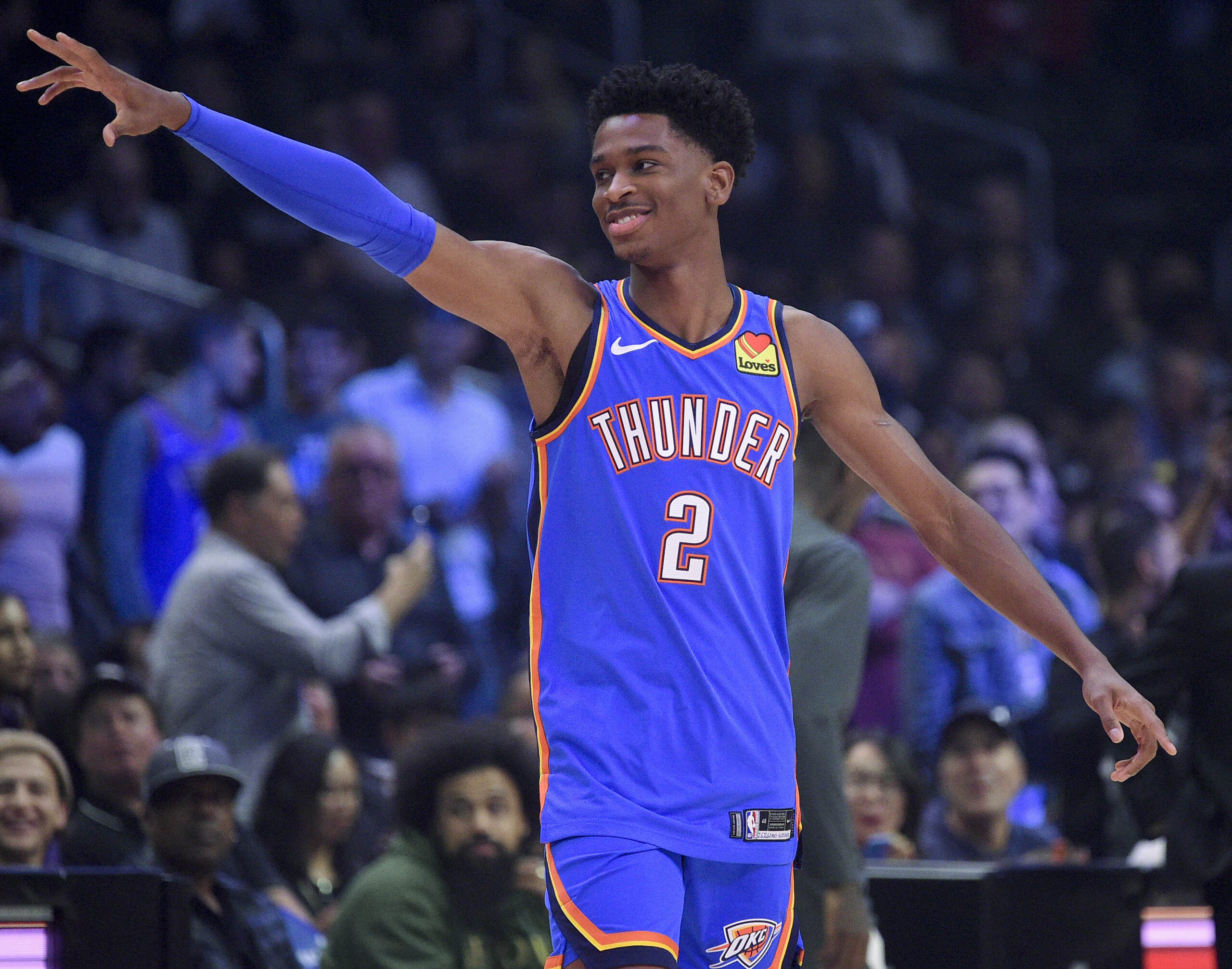 The Oklahoma City Thunder have entered a full rebuild, having moved on from stars such as Russell Westbrook, Paul George, and Chris Paul. The Thunder now boast an impressive 19 first round draft picks between now and 2027. They also have several talented young players such as Luguentz Dort, Darius Bazley, and rookie Theo Maledon. The Thunder also have one of the best young combo-guards in the NBA, Shai Gilgeous-Alexander. This season has generally been disappointing for Oklahoma City, and likely will finish that way, but one very bright spot that not many people have noticed is the play of Gilgeous Alexander.
The Toronto-born guard is in his 3rd NBA season and is averaging career highs in points per game, assists per game, shooting percentage, and 3-point shooting percentage. Shai is averaging 22.6 points per game on 50.6/38.2/77.1 shooting splits. While this increase in scoring was to be expected, as Shai has been handed almost fully the reins of the team, his boost in performance has still been impressive.
Gilgeous-Alexander has also taken a leap in playmaking ability, nearly doubling his assists per game average from last season from 3.3 to 6.5 this season. While he may not be surrounded by immense talent, he has led his team to a 10-14 record, which currently is still only 2.5 games out of 8th place in the Western Conference. This jump in playmaking ability has brought out an aspect of his game that we previously had only seen glimpses of. The Thunder's most common starters alongside Gilgeous-Alexander of George Hill, Luguentz Dort, Darius Bazley, and Al Horford are shooting a combined 40.9% from the field on shots after receiving a pass from Shai. This translates to Gilgeous-Alexander giving his teammates open, quality shots that they are oftentimes able to make.
Comparison
Let's look at Shai Gilgeous-Alexander's stats alongside some other prominent guards in the NBA. This is no claim that Shai is more talented than these players, simply a comparison of stats this season among other guards, some of whom are considered to be All-Stars this season.
Shai Gilgeous-Alexander: 22.6 points, 5.5 rebounds, 6.5 assists on 50/38/77 splits
Donovan Mitchell: 24 points, 4.3 rebounds, 5.1 assists on 44/41/83 splits
Devin Booker: 23.8 points, 3.7 rebounds, 4.2 assists on 48/35/82 splits
Jaylen Brown: 26.7 points, 5.6 rebounds, 3.4 assists on 52/43/76 splits
De'Aaron Fox: 23.4 points, 3.4 rebounds, 6.7 assists on 48/36/68 splits
These other guards are being talked about as potential All-Stars this season, and De'Aaron Fox won Western Conference Player of the Week last week. Gilgeous-Alexander has similar baseline stats to each of these players, with slight differences. By no means am I stating that Shai should be an All-Star this year, but rather bringing some attention to the season he is having in comparison to other stars.
As previously noted, the chances this season ends up being considered a success as far as making the playoffs, it certainly can be considered a success in the realm of development of their young star Shai Gilgeous-Alexander.
All stats taken from ESPN.com, NBA.com or Basketball Reference unless otherwise stated.