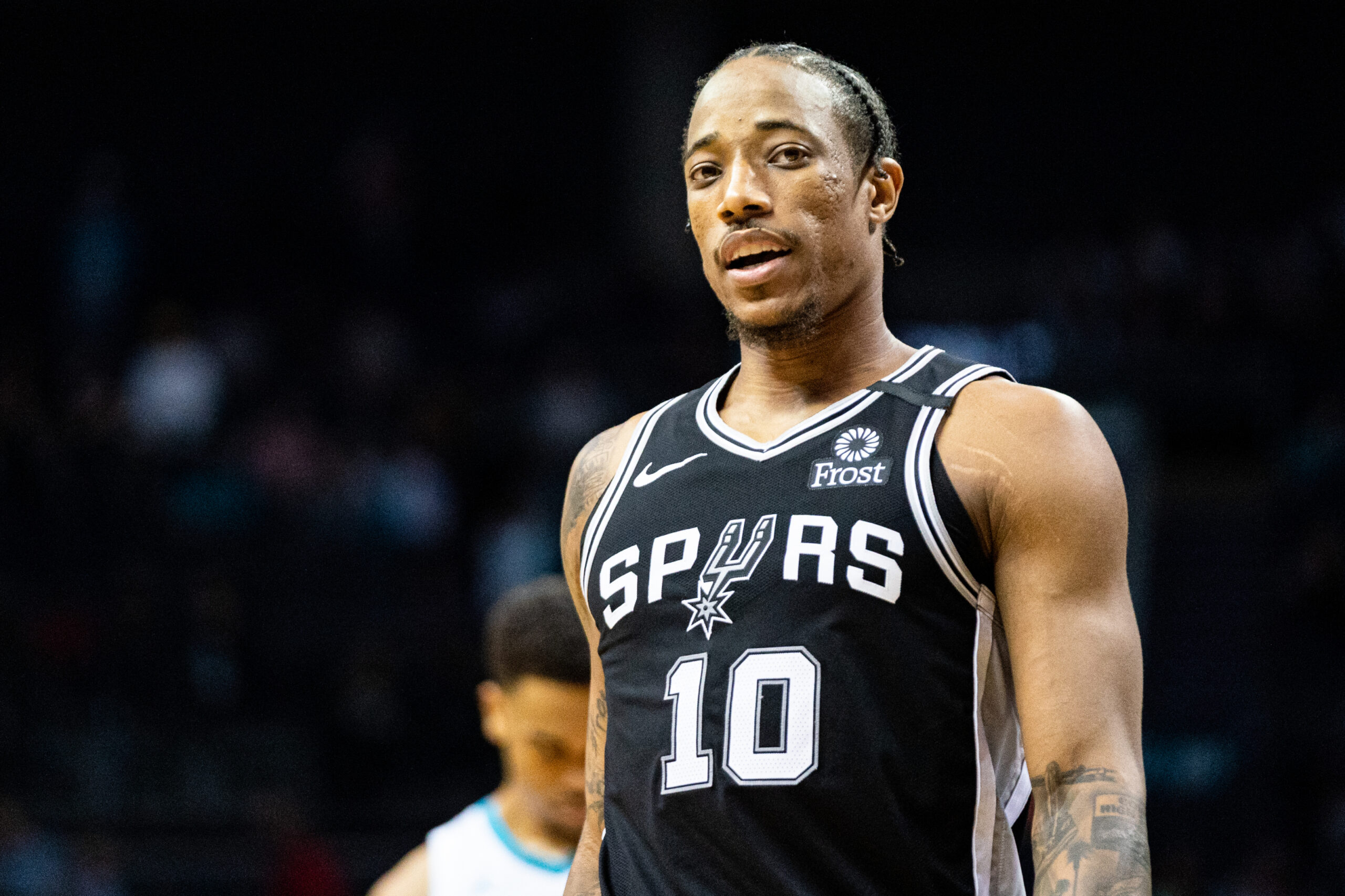 For some reason or another, for every fan, there's a certain player or team that you just can't help but watch and be a fan of. For me, one of those players has always been DeMar DeRozan. Ever since I've been young, I found myself paying attention to him and rooting for him. I'd draft him in 2k fantasy drafts and take teams to the Finals and hit buzzer-beaters and things like that you know…
Anyways, I was upset when I heard he was traded for Kawhi because I thought DeMar would've helped the Raptors win a championship. Fans of DeMar sadly found out however that Toronto didn't need DeMar, DeMar needed Toronto. After two wasted seasons in San Antonio, DeMar needs out and everyone knows it.
DeRozan and LaMarcus Aldridge should be focused on chasing a ring and not rebuilding with the Spurs. The Spurs are young and trading these two aging stars along while getting rid of Rudy Gay's contract would be the perfect start to that rebuild. Both stars would demand young pieces or draft compensation from a contender because both are still producing at high levels. We could see them get sent in a package deal, but I'm not too sure there's a reasonable team that can afford that.
So here's a list of a few likely landing spots for DeMar alone:
Denver Nuggets
Getting rid of Garry Harris wouldn't do too much in terms of helping their 24th ranked defense but that's about all they lose in this scenario. Where DeMar lacks in defense he makes up for in offense. An offense featuring Jokic, Murray, DeRozan, and MPJ would be unstoppable. A package centered around Garry Harris, R.J Hampton, and P.J. Dozier would be perfect. I believe this only happens if they miss out on Beal or Lavine since I'd expect those younger stars to be more of a priority.
Miami Heat
The biggest question is will Miami part ways with Tyler Herro. They showed how stingy they were in the James Harden sweepstakes to trade Tyler Herro and even Duncan Robinson. Could they afford to keep Herro and acquire DeRozan in the same trade? This deal would be hard to pull off not only in terms of return for San Antonio but financially as well. But it's still possible, it would have to look something like Nunn, Precious Achiuwa, IGOUDALA *Kellerman voice*, and Kelly Olynyk for DeRozan. Doesn't make too much sense, but if Miami could somehow pull it off without losing Herro it'd be huge.
Philadelphia 76ers
This could likely be a scenario if they miss out on Beal or Lavine like in the case of the Nuggets. This deal would be an intriguing one because Ben Simmons finally leaves Philly. This one is centered around Derozan and Patty Mills to Philly, for Simmons and Thybulle, potentially alongside a second-rounder. This would hurt Philly's defense but they'd surely ascend to a top offensive team in the league with DeMar and Patty bringing their scoring and play-making abilities over. The 76ers can afford to trade for DeRozan's lack of a three-point shot since they'll also be adding Mills, a career 39% shooter from behind the arc. The main problem that arises from the loss of Simmons aside from his outstanding defense is the elite playmaking. Will Doc and Morey be willing to trade that for more jump shooting is what it comes down to.
New York Knicks
With Julius Randle and R.J Barret making waves in the Big Apple under Thibodeau, the Knicks could be in the midst of a serious culture change. The team from New York has been exceeding everyone's expectations so far this year and have enough money and assets to acquire Derozan and then some. With Immanuel Quickley bursting onto the scene they have enough depth at the guard position to move on from DSJ and/or Nitlkina in order to acquire DeMar. Do the Spurs ask for Randle or Barrett in return? Do the Knicks part ways with either to acquire an aging star? Or is NY waiting for the free-agent classes in the ensuing years to make their big move? The Knicks have options and if they play their cards right they could bring the Queens City back to relevance.




Must See
I swear I was writing a fun Kyrie to the Laker trade when the...

With the news that Kyrie Irving is being traded to Dallas, fans are already...

No matter what opinion you have of Aaron Rodgers off the field, on the...