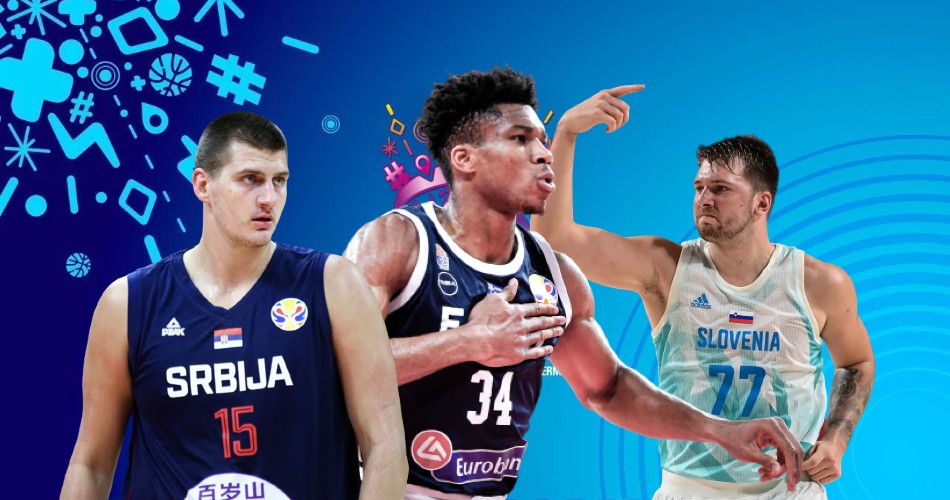 In America, the NBA grabs most of the professional basketball attention but it is not all that is out there. In the basketball dog days of August/September the EuroBasket tournament gives us some great basketball.
Every 4 years (it has been 5 because Covid) the nations of Europe compete in a three-week international basketball tournament.
24 teams are divided into 4 groups in which they play a round-robin style pool play (play everyone else in your group). The top 4 teams in each group advance to a single elimination knockout bracket.
Since it's creation, the tournament has gotten better every time because of the growing global game. If you do not believe me about how talent-filled this tournament is here are the NBA players by country.
Belguim: None
Bosnia: Jusuf Nurkic
Bulgaria: None
Croatia: Bojan Bodganovic, Dario Saric, Ivica Zubac, Mario Hezonja
Czech Republic: Tomas Satoransky
Estonia: None
Finland: Lauri Markkanen
France: Rudy Gobert, Evan Fournier, Frank Ntilikina, Timothe Lawuwu-Cabarrot, Theo Maledon
Georgia: Goga Bitadze
Germany: Franz Wagner, Dennis Schroder, Daniel Theis
Great Britain: None
Greece: Giannis Antetokounmpo, Thanasis Antetokounmpo, Kostas Antetokounmpo, Tyler Dorsey
Hungary: None
Israel: Deni Avdija
Italy: Danillo Gallinari (Injured)
Lithuania: Domantas Sabonis, Jonas Valanciunas, Rokas Jokubatis
Montenegro: None
Netherlands: None
Poland: None
Serbia: Nikola Jokic, Nikola Jovic, Aleksej Pokusevski
Slovenia: Luka Doncic, Goran Dragic, Vlatko Cancar
Spain: Juancho Hernangomez, Willy Hernangomez
Turkey: Alperan Sengun, Cedi Osman, Furkan Korkmaz
Ukraine: Sviatoslav Mikhailiuk
For anyone counting that is three top 6ish players in the NBA and multiple all star or near all star level players.
Groups
Group A
Belguim
Bulgaria
Georgia
Montenegro
Spain
Turkey
Group B
Bosnia
France
Germany
Hungary
Lithuania
Slovenia
Group C
Croatia
Estonia
Great Britain
Greece
Italy
Ukraine
Group D
Czech Republic
Finland
Israel
Netherlands
Poland
Serbia
Take a second to admire how stacked group B is. One of Bosnia (Nurkic), Slovenia (Doncic), France (Gobert), Germany (Wagner), and Lithuania (Sabonis and Valanciunas) won't make the knock out round.
Games to Watch (Times in EST)
Thursday, September 1st
11:15 AM- Slovenia vs Lithuania (Slovenia won 92-85)
2:30 PM- Germany vs France
Friday, September 2nd
8:00 AM- Israel vs Finland
11:00 AM- Croatia vs Greece
3:00 PM- Serbia vs Netherlands
Saturday, September 3rd
8:30 AM- Germany vs Bosnia
11:45 AM- France vs Lithuania
2:30 PM- Slovenia vs Hungary
3:00 PM- Greece vs Italy
Sunday, September 4th
8:30 AM- Germany vs Lithuania
11:45 AM- Slovenia vs Bosnia
Monday, September 5th
3:00 PM- Serbia vs Finland
Tuesday, September 6th
8:30 AM- Bosnia vs France
11:00 AM- Greece vs Ukraine
2:30 PM- Germany vs Ukraine
3:00 PM- Serbia vs Israel
Wednsday, September 7th
8:30 AM- Bosnia vs Lithuania
11:15 AM- France vs Slovenia
Thursday, September 8th
11:00 AM- Greece vs Estonia
3:00 PM- Serbia vs Poland
All games are in Eastern and are on ESPN+ (which I highly reccomend getting if you havent already).
My Predictions/Thoughts
Group Stage
Group A
Spain
Turkey
Georgia
Bulgaria
Belguim
Montenegro
Group B
Slovenia
France
Lithuania
Germany
Bosnia
Hungary
Group C
Greece
Croatia
Italy
Ukraine
Great Britain
Estonia
Group D
Serbia
Czech Republic
Finland
Israel
Poland
Netherlands
My biggest takeaway from the group stage is how Bosnia gets screwed with their group. They have one of the 16 best rosters but their group causes them to miss the knockout stage.
First Knockout Round
France beats Georgia
Germany beats Spain
Slovenia beats Bulgaria
Lithuania beats Turkey
Greece beats Israel
Italy beats Czech Republic
Croatia beats Finland
Serbia beats Ukraine
Thoughts
Spain used to be the powerhouse of Europe, but now they struggle to put together a contendor and they fall to a decent German team.
Quaterfinals
Greece beats France
Germany beats Italy
Slovenia beats Croatia
Serbia beats Lithuania
Thoughts
This is where the games get incredible. Slovenia vs Croatia could go either way but Doncic is just too much. Gobert gives France a punchers chance but the best player in the world is just too much.
The two worst teams left somehow get paired in Germany and Italy. Jokic vs Sabonis/Valanciunas provides an incredible frontcourt clash but Jokic wins the duel.
Semi-Finals
Greece beats Germany
Serbia beats Slovenia
Thoughts
Theis and Wagner are no match for the Greek freak. Slovenia's lack of competent big men results in a big Jokic game and a Serbian win.
Finals
Greece beats Serbia
Thoughts
The finals I WANTTT. Giannis vs Jokic! The two teams played in a world cup qualifier earlier this a couple of weeks ago where Jokic and Serbia got the best of Giannis and Greece.
I think the game would be close but the best player in the world steps up and Greece wins EuroBasket 2022 and Giannis wins player of the tournament.

Must See
Three weeks have passed so far in the NFL regular season, and we can...

Less than a month away from NBA tip-off, our expectations of teams and players...

We are inching closer and closer to the start of the season. But to...