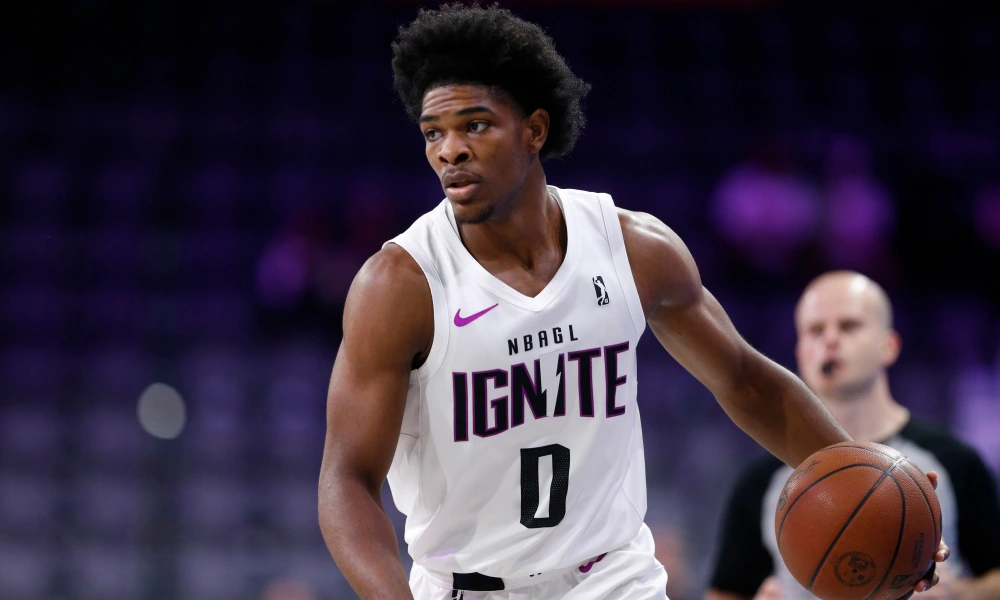 Some rank prospects off of production while others rank on potential but the bottom line is who they become in the NBA is determined by the developments they make after they are drafted.
Today we look at the consensus top 15 players in this draft and determine the biggest swing skill they need to improve upon or maintain that will lead to their NBA outcome.
For some players, these are things they need to improve on, and for others, these are simply skills they need to translate to the NBA for them to become who they will become.
Anthony Black: 3 Point Shooting
The defense and playmaking look reliable and translatable to the NBA game. This means Black's floor as a player will be pretty high but the shooting is what will determine his ultimate NBA outcome. Black's creation is good but NBA defenses will sag off Black if they can. If Black can become a competent shooter, attacking closeouts will bring a whole nother dimension to his offensive game. I view Black as a Lonzo Ball type of player but some see him as a potential all-star. If this is to happen the shot coming around is a must.
Gradey Dick: Ball Handling/Creativity
I am higher on Gradey Dick than most. The shooting is obvious, I believe he is a good positional defender, and is a good quick decision-maker. Most view Gradey Dick as a Kyle Korver, Kevin Huerter-level player but I am not ready to put a ceiling on him. If Gradey can improve as a ball handler I think he is smart and athletic enough to be able to create in the half-court.
Dick is fantastic in the pick and roll. When Gradey Dick is the ball handler in PnR he scores 1.081 points per possession (98th percentile). And when you include his passes in PnR or when defenses commit on him Kansas scored 1.209 (97th percentile) and 1.281 (98th percentile) respectively. It is a small sample size of only 99 but this shows Dick can be an initiating player if his handle can match his high basketball IQ.
Keyonte George: Lead Guard Characteristics
George has the creativity, ball handling, and great-looking shot that most great NBA guards have but he lacks consistency. What separates George from other one-dimensional guards is the flashes he has shown with creation for others. He was inconsistent all season but if George can be a good playmaker for others in the NBA, stardom is not out of the question. Another possible swing skill could be his defense. Like his playmaking, George has shown flashes of being a good point-of-attack defender but is not consistent in his play.
Jordan Hawkins: Playmaking
Jordan Hawkins will be 21 when he plays his first NBA game and will be expected to bring more to the table right away than the average rookie. Hawkins is a great shooter and the way he moves off the ball is as if he is a veteran NBA specialist. What scares me is Hawkins bad 1.3 APG as a guard. Hawkins has a high floor as long as the shot comes with him to the NBA, but his ceiling is not very high unless he brings something else to the league.
Scoot Henderson: 3 Point Shooting
I believe Scoot Henderson is the easy #2 guy in this draft but his swing skill is easily his shooting. Scoot is very well-rounded but this season he shot an underwhelming 32.4% from 3. Henderson's shot looks really good so I am not too worried about him becoming at least a solid 3-point shooter. With that being said it is how great of a 3-point shooter he becomes that will determine if he is a good NBA player or perennial NBA all-star.
Taylor Hendricks: Defensive Impact
This might sound funny because he is already such a good defender but let me explain. Hendricks will be a good three-point shooter but his offensive ceiling is not that high. So with that being said, his defense will be his calling card in the league. If he is simply a good perimeter defender he could be a role player similar to Robert Covington, but if he can be an all-defensive team candidate he could be an incredibly impactful player similar to that of Jaren Jackson.
Jett Howard: Defense
Jett Howard's finishing at the rim will also need to improve but I think defense is more glaring an issue. Jett will never be a great defender but can he at least be serviceable with his big 6'8 frame? On offense, Jett will have a role as an off-ball shooter coming off screens and attacking closeouts but he is not dynamic enough on that side of the ball for his defense to "not matter". 6'8 players with plus wingspans that move well tend to figure out defense in the NBA but it will be Howard's swing skill nonetheless.
Brandon Miller: Offensive Ceiling
I know this is very broad but there are a couple of offensive categories that will determine if Brandon Miller is an all-star or a really good starter. Miller was a star in college and at worst he will be a sharp-shooting 6'9 wing (which is very valuable) but can he become the two-way wing that teams desire so much? My first concern would be Miller's finishing at the rim. Miller shot a disappointing 41.7% at the rim in the half-court. Star NBA wings can score at all three levels so it will be necessary for Miller to improve there.
My other worry about Miller's offense is his playmaking. Miller had a negative AST-TO ratio and a 0.49 AST/Usage ratio. His numbers aren't terrible for NBA starters but stars (which you want your top 4 pick to be) need to be better playmakers from the wing. I don't worry about this all too much because it becomes much easier to play make when you draw the attention I anticipate he will on offense.
Nick Smith Jr.: Shooting Consistency
In high school, Nick Smith was a sniper both off the catch and off the dribble but that did not translate to college basketball this season as he shot only 33.8% from 3. That number goes up strictly off the catch but it was a disappointing shooting season either way. If Smith isn't a good shooter in the league then honestly there isn't a role for him. Playmaking and defense are also swing skills for NSJ but neither of those matter if he can't shoot well.
Amen/Ausar Thompson: Shooting
This one is obvious but true. Amen, and Ausar are great athletes, defenders, and good playmakers. Both brothers get to the hoop well and although there are differences between the two both are horrendous shooters both in percentages and form. Both players will have a role in the league no matter what but Amen specifically could be a top-ten player in the NBA with just a respectable jump shot. It will be a long road but it is a must that whoever selects the Thompsons put resources into their shot development.
Jarace Walker: Offensive Role
It is not a hot take that Jarace Walker is going to be a good defensive player as a switchable hard-nosed defender. Offensively he does not look nearly as polished or fluid. Walker is a respectable shooter and strong enough to finish through anyone at the rim. But what is the self-creation or in-between game like? Walker has shown flashes of creation but that is the biggest area of development for Walker in the NBA.
Cason Wallace: Pick and Roll Navigation
Cason Wallace's best skill is also his swing skill. Only three players in the NBA navigate the PnR the way Cason Wallace: Jrue Holiday, Marcus Smart, and Chris Paul (considered DeJounte Murray and Jalen Brunson). That is a great category to be in and almost guarantees to be an NBA starter for years. Cason was an incredible defender in college but there is a big difference between being a good defender and a great defender in the NBA. Reaching the defensive levels of the guards listed above is in the cards for Cason in the league.
On offense, Cason is a methodical player with underrated athleticism. I do not have many worries about the defense but the PnR offense needs to translate and improve for Cason to fully become the player that he can.
Victor Wembanyama: Health
This seems like a dumb swing skill for a player that really hasn't gotten hurt all season but history says this is his swing skill. 7'5 basketball players are rare and even the ones that are uber-talented normally are derailed by injuries. Wembanyama is the best prospect I have ever seen and I have very little fear about him becoming an incredible player. If Vic can stay healthy and stay on the court a hall-of-fame career is ahead of him (not an exaggeration in the slightest).
Cam Whitmore: 3-Point Shooting
An incredible athlete with a jump shot that is improving, Cam Whitmore has the potential to be seriously special in the NBA. This year Whitmore shot 34.3% from 3 but he is very young and shot in the high 30s last year at the FIBA event. If Whitmore is a 37-38% percent shooter from 3 in the NBA he could be a multiple-time all-star. What he is capable of doing in transition and on defense is jaw-dropping so his half-court game needs to match that.