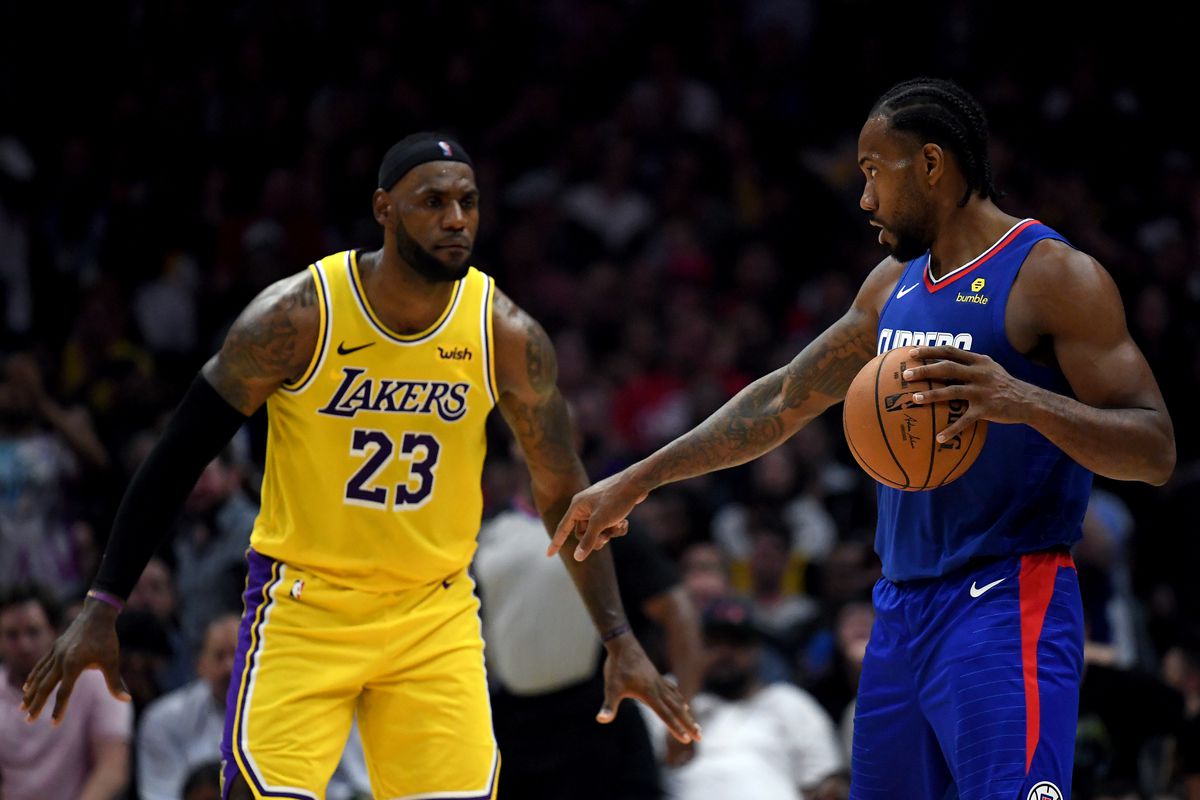 There's going to be a lot of exciting games this upcoming season in the NBA. A lot of revenge games and enticing matchups that are going to occur in the first half of the season. Although the season will be kind of weird with not as many fans, basketball is still basketball regardless.
Let's get into the top enticing games this first half of the season…
Warriors vs Nets (12/22)
Warriors and Stephen Curry will be facing off against Brooklyn Nets and Kevin Durant in the first matchup of the season. Definitely a game to watch as Kevin Durant used to be on the Warriors. The Nets are going to be a top team in the Eastern Conference with all the talent they have. With Kevin Durant, Kyrie Irving, Caris Levert, Spencer Dinwidde, Joe Harris, etc., the Nets will be a team to watch.
Although the Warriors aren't full power as they don't have Klay Thompson, it'll still be exciting to watch them. Warriors have added players like Kelly Oubre Jr. and James Wiseman to the team to still make a good run in the playoffs.
This game will be fun to watch as Kevin Durant plays against his old team in the Warriors.
Clippers vs Lakers (12/22)
I mean is there much of an explanation to this. One of the biggest rivalries in the league right now if not the biggest rivalry in the league with the Clippers vs Lakers. Montrezl Harrell decided to leave the Clippers this offseason and join the rivals Lakers and it's definitely made it more interesting this season.
The Clippers are looking to prove to everyone that the last season was a fluke and they're better than they showed to be in the playoffs. With additions to both teams, this game will be very interesting to watch.
Clippers vs Nuggets (12/25)
After Marcus Morris said "They weren't better than us" to the Nuggets after they gave up a 3-1 this past week… this game gets more enticing for sure. The Clippers made some new additions to the team and it'll be interesting to see how those additions add up against the Nuggets. The Nuggets lost one of their best players in Jerami Grant but will look to prove that the playoff series win last season was not a fluke.
Both teams will have something to prove and it will definitely be a game to watch. Not to mention, it's also a Christmas game.
Hornets vs Pelicans (1/8)
This game will be interesting and fun to watch for well two reasons. The Ball brothers and of course… Zion. The Ball brothers will be facing off against each other in the NBA for the first time in this game. Lonzo vs LaMelo will be an enticing matchup to watch for sure. Will LaMelo win or will Lonzo and his defense lock his little brother up?
This game will definitely be fun to watch as the brothers are going to be playing each other for the first time and of course Zion is always a fun player to watch with his crazy dunks.
Wizards vs Rockets (1/26)
This game will be very interesting in my opinion due to the Westbrook/Wall swap. Although I don't think there's much beef or really beef at all for these players against their old teams… it's still definitely going to be fun to watch. John Wall was caught by surprise by the Wizards front office when they decided they wanted to build around Bradley Beal now instead of John Wall and he was shipped shortly after to Houston.
After being in Washington for 10 years, Wall playing his old team will definitely be something to watch. I don't think Russell Westbrook cares too much playing against Houston but still something to watch to see which player plays better.

Check out our new podcast episode!
Got Hoops Podcast
A new up and coming basketball podcast by 4 dedicated NBA and basketball fans. It's for fans, by the fans.
Got Hoops Podcast (Ep. 18) : Lakers Retirement Home? Bulls new Big 3? Best moves of FA!
In our newest episode we talk about the Lakers potentially being a retirement home, the Bulls new Big 3, and the best moves of FA so far!
Search Results placeholder
Must See
With days 1 and 2 of Free Agency in the books, it is common...

Time to give out some report card grades for each selection in the draft...

In the offseason, especially the last segment, there are often victims of the hype...