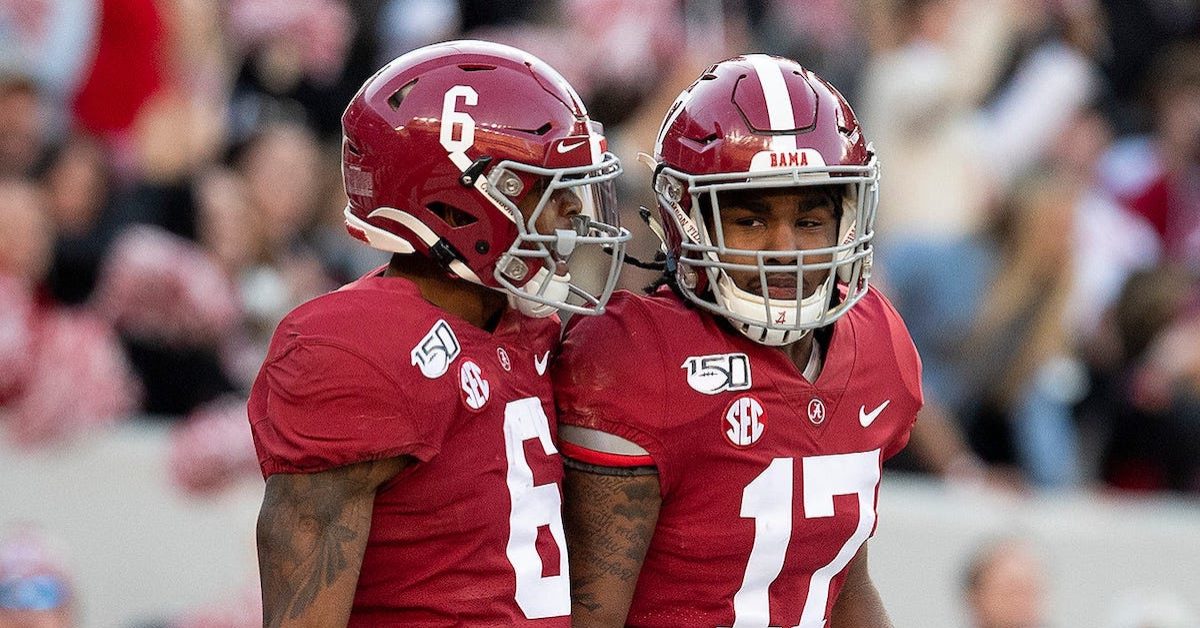 The NFL draft is coming up this month and it's time we discuss some prospects. There's a lot of talk about the quarterbacks in this draft, but it's time we put some spotlight on the receivers that play a huge part in a QB's success as well.
1. Ja'Marr Chase, LSU
If there was any doubt about Chase being the #1 WR in the draft, his pro day ended that debate really fast. Ja'Marr Chase posted a 4.38 unofficial 40 yard dash and a 41″ vertical which is just crazy insane. He doesn't have crazy height at 6'0, but he makes it up with his insane vertical ability. Chase dominated when he was on the field and put up crazy numbers in his last season, putting up 1,780 receiving yards and 20 touchdowns.
I can see the Cincinnati Bengals grabbing Chase and pairing him with his college QB in Joe Burrow and them getting right back to work with their chemistry. There's no way he goes past the Bengals at #5, but if he does… the latest I see him being drafted is the Lions at #7.
2. DeVonta Smith, Alabama
Smith was the Heisman winner this past season and well… for good reason. He put up an insane 1,856 receiving yards and 23 touchdowns and was extremely important to the passing game of Alabama. The biggest issue I have with Smith is his thin frame. He comes in at around 170ish pounds and that kind of thin frame can force the bigger defensive-backs in the league to shut you down pretty easily. Nonetheless, Smith should be considered as the #2 WR off the board with his speed and abilities to run after the catch.
He's a big play waiting to happen and I wouldn't mind seeing him on the Dolphins reuniting with his former QB in Tua Tagovailoa. I think he doesn't go lower than a top 10 pick.
3. Jaylen Waddle, Alabama
If you look at Waddle's stats, you'd wonder… how is he considered the #3 WR in the whole draft? Well, Waddle suffered an injury 5 games into this past season but dominated when he was on the field. He is another fast WR from Alabama that can stretch the field and make plays after the catch. He was rare explosiveness that he uses to his advantage after the catch and is a great deep threat.
If he can refine his route running, he could have a really nice career in the league as a dangerous speedy receiver. I don't see him getting picked lower than a top 20 pick in this year's draft.
Honorable Mention: Terrace Marshall Jr.