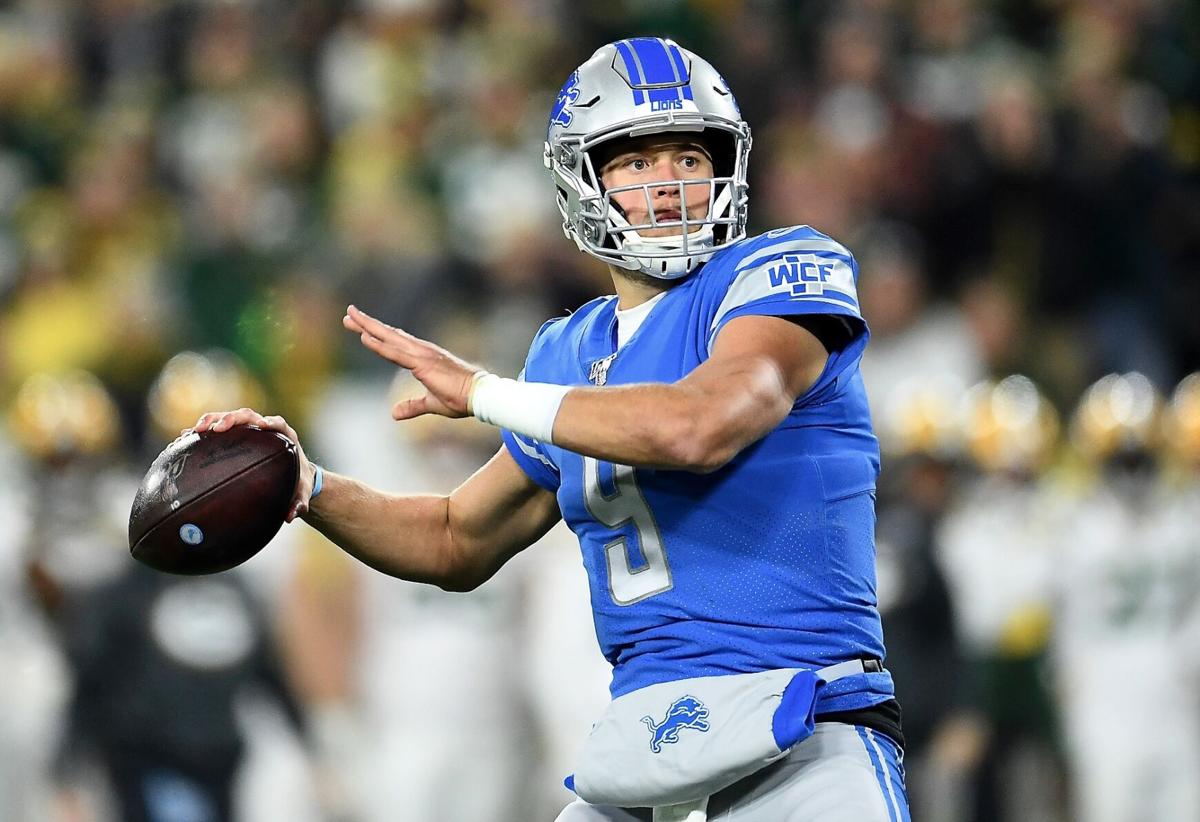 The Detroit Lions… Oh where to begin. Thanks to the Cleveland Browns and the Jacksonville Jaguars, they've set the benchmark of losing so we didn't need to (at least I hope we didn't, pretty hard to forget about that 2006 season though). If it weren't for all time greats like Dick "Night Train" Lane, Barry Sanders, and Calvin Johnson, the name of the Lions would be as good as dirt. Unmentioned and often left out on that list of all time great players is Matthew Stafford, the QB drafted from Georgia by the Lions with the first overall pick of the 2009 draft.
Unfortunately, if you aren't from Detroit or any of the other cities occupying the NFC North you'd probably have no clue that Stafford is statistically one of the best player in history to toss the pigskin, and that is a damn shame. In my 10 years of NFL fandom, I've had the pleasure of watching Stafford grow and evolve from an injury prone, sidearm gunslinger into an NFL great. At the time of his drafting, Stafford was the highest-paid draftee in NFL history (surpassed by Bradford two years later). In an up and down rookie year Stafford proved two things: one, he wasn't afraid to chuck the ball wherever he pleased, and two, he was tough as nails. In a game against the Cleveland Browns, Stafford would go on to break Dan Marino's record of youngest player to throw for five touchdowns in a game. In that game, Stafford would ignore team doctors after separating his shoulder on the second to last play to go back in and throw that fifth and final touchdown as time expired, to win the game.
This one game would ultimately be a snapshot of his career, minus the win, of course. An incredible talent being wasted on an incompetent franchise. All of Stafford's success could be put on the shoulders of Calvin Johnson, but to be honest you could say the same for Megatron. Megatron wouldn't have had the career he had without Stafford. It's the old did Malone need Stockton and vise versa argument.
In 2011 Stafford would become the fourth player in NFL history and third in that season to throw over 5,000 yards in an epic season highlighted by a plethora of comeback wins which would end in a wildcard blow out by the New Orleans Saints. That was the first of three postseason appearances that Stafford would make, none resulting in a win.
Here's a list of some of the magnificent feats Stafford has accomplished over his 11-year career:
-First player in NFL history to complete 60% or more of all passes in each game in a season (2015)
-Most games with at least one touchdown pass in a season: 16 (2011)
-Most consecutive 350+ yards passing games: 4 (2011–2012)
-Most passing attempts in a season: 727 (2012)
-Most pass attempts per game, season: 45.44, (2012)
-Fastest player to reach 15,000 career passing yards (53)
-Fastest player to reach 20,000 career passing yards (71)
-Fastest player to reach 25,000 career passing yards (90)
-Fastest player to reach 30,000 career passing yards (109)
-Fastest player to reach 40,000 career passing yards (147)
-Fastest player to reach 3,000 completions (125)
-Most passing yards in first 100 games (27,890)
-Most fourth-quarter comebacks in a season: 8 (2016)
-Most game-winning drives in a single season: 8 (2016)
The only current player who has a legit shot at breaking some of these records is the transcendent Patrick Mahomes, the heir apparent to Aaron Rodgers as the must watch QB. In contrast, Stafford has quietly accumulated one of the most successful careers in NFL history with only one Pro Bowl to show for it. Mahomes on the other hand can't throw a ball without the media worshiping the turf under his cleats. Despite these fantastic records, they're empty stats for the most part. The career of Matthew Stafford deserves praise and critical acclaim, I strongly believe that if he were on literally any other team that made the playoffs since he's been in the leagues, Stafford would be known more for his team success instead of personal accomplishments.
Being a Detroit native and lifelong Lions fan, as Stafford's monster franchise contract winds down to an end, I beg the Ford family to find a new GM that will send Matthew Stafford to a franchise that actually deserves him. A place where he'll be able to do the one thing Detroit has prevented him from doing: win. There are plenty of teams in the market for a veteran stud such as Stafford, but the teams I believe he'd thrive on and bring to championship contention are the LA Rams and 49ers. However, in my eyes, if he were the man under center in Indianapolis, they'd be the biggest threat to Mahomes and the Chiefs.

Check out our new podcast episode!
Got Hoops Podcast
A new up and coming basketball podcast by 4 dedicated NBA and basketball fans. It's for fans, by the fans.
Got Hoops Podcast (Ep. 15): Nuggets in the Conference Finals? Monty for COTY? CRAZY PLAY-IN GAMES!
This episode talks about the craziness that's about to occur in the playoffs, what a wonderful time to be alive.
Search Results placeholder
Must See
Now that the NBA regular season is over. We can start looking at the...

The play-in tournament will be starting this Tuesday on May 18th and will finish...

The most exciting time of the year for NBA fans is coming up in...