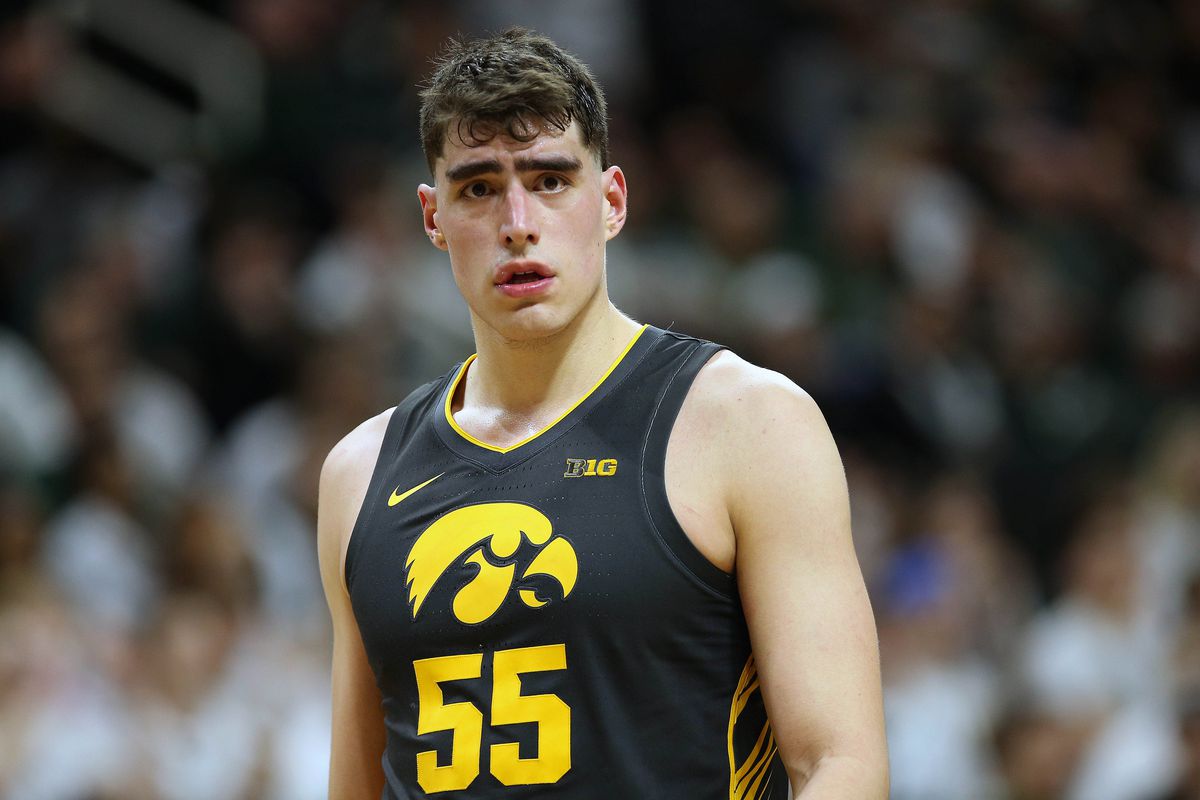 Growing up in the Midwest, you're either born a fan of college sports or become one. There's no way around it no matter who you are. Whether it's your loud uncle who thinks he's all that because he went to Michigan while Tom Brady was there or the guy in your PE class who wears the same Hoosiers basketball sweater every day. College sports is the left ventricle in the heart of America. In the state of cornfields, located at the University of Iowa, lies one of college basketball's most electrifying and surprising stars, Luka Garza, who embodies the spirit of the Midwest.

Over his four seasons, Garza has compiled quite the career, starting in 93 of the 103 games he's participated in, averaging an impressive stat line of 17.1 ppg on 55% shooting, including 35% from the three, while racking up 7 boards a game and denying 1.2 shots per. In his Junior season, Garza really separated himself from the pack, earning himself the title of Big Ten Player of the Year, as well as being named the countries best big while joining the coveted list of first-team All-America.

Hailing from the nation's capitol in D.C., the half-Bosnian Garza grew up in a family of ballers. His father, the outspoken Frank Garza, played collegiately at the University of Idaho while his mother Šejla competed professionally in Europe. Even Garza's extended family could hoop. Frank's father and Luka's grandpa, James Halm, played at the University of Hawaii, while his mother's brother, Teoman Alibegović, is the all-time leading scorer for the Slovenia national basketball team. So, it's safe to say success for the Garza's on the hardwood is nothing new. However, nobody ever said that Luka's road to success was an easy one by any means.

After earning a scholarship to hoop for the Hawkeyes, Garza hit the gates running his Freshman season. Starting in 26 of 33 games played, Garza joined Jess Settles as the only freshmen in school history to score 400 points and grab 200 rebounds. However, in the summer following that fantastic Freshman season, Garza underwent an unimaginable surgery. Under the surface of Garza's abdomen, doctors found a benign cyst that would need to be removed. No big deal right? Just a little cyst under the skin. Well, that's where you're wrong. The cyst in Garza's abdomen was 9lbs. No, not ounces, nine whole pounds. Although there currently are no pictures of Luka's cyst lurking on the internet, I'm sure it looked somewhat reminiscent of Will Farrell's back during the giant mosquito scene in the movie "Land of the Lost". Jokes aside though, rehabbing from that surgery must have been hell on the mind and body. However, Garza shrugged it off, merely claiming it as just "a little adversity".

That quote says all you need to know. That mindset, alongside his play, is exactly why Garza personifies the Midwest. Garza is a grinder who makes no excuses. That toughness and adaptation to change are what the Midwest is all about. Living in four seasons a year, believe it or not, does things to one's mental and physical being. This requires a certain level of toughness needed to persevere through the harder months of the winter while accepting that change is inevitable and even though things may seem hard at the moment, summer, the best of the bunch, is just two seasons away. For Garza, two seasons after the removal of the cyst, he's entered his best season of the four.





Check out our new podcast episode!
Got Hoops Podcast
A new up and coming basketball podcast by 4 dedicated NBA and basketball fans. It's for fans, by the fans.
Got Hoops Podcast (Ep.20): The Return
Search Results placeholder
Must See
The NBA season is in full swing, and teams have already begun to switch...

If I were to tell you that on an NBA team, a player who...

Regardless of our initial expectations, the NBA is always full of surprises. Whether we...