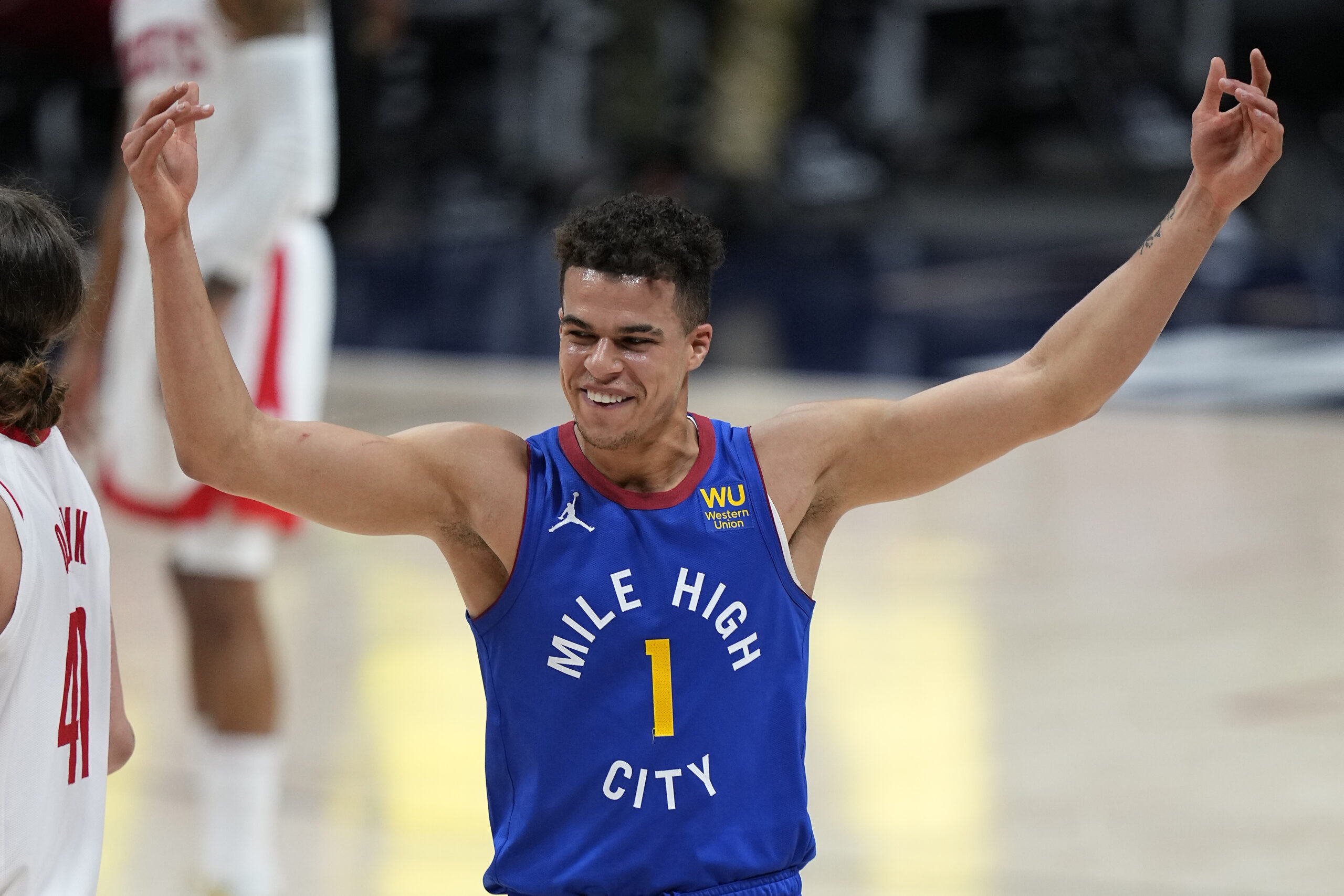 Breakout seasons can be extremely unpredictable and often are very hard to predict. For this reason, all the predictions I am about to make could be completely wrong and make me look stupid. The 2021-22 NBA Season is looking to be an exciting one with both powerful teams at the top and parity around the rest of the league. All players on my team are relatively young so nothing is too crazy but players over 26 are nearly impossible to predict breakout years for. Finally, my stat predictions will surely be incredibly off but I am not afraid.
Note: I really want to put RJ Barrett on here but just can not because I refuse to believe that Tom Thibodeau will use him like he should be used, one day he will be a star.
Point Guard: Darius Garland
Not only is Garland the point guard that will breakout the most but he is my pick for Most Improved Player of the Year. That is right Darius Garland will take a bigger leap this season than any other player in the league. Only two seasons ago I ranked Garland as the 4th best player in the draft and I still believe he will live up to my ranking. Garland is extremely well respected around the league by veterans and has worked out with LeBron James, Kevin Durant, and Stephen Curry on different occasions. According to Jackie McMillan, Stephen Curry believes that Darius Garland will not only be good, but will become a multi-time All-star in his career. I think that trajectory starts this season as Garland establishes himself as the clear best player on the Cavaliers. If the Cavaliers can win slightly more games than expected I believe there is a chance Darius Garland is an All-star this season.
2021-22 Stat Prediction: 23.4 PPG, 3.0 RPG, 7.1 APG, 46.1 FG%, 38.7 3FG%, 85.2 FT%
Also Considered: D'Angelo Russell, Kevin Porter Jr., Killian Hayes, Kendrick Nunn, Monte Morris, Frank Ntilikina
Shooting Guard: Tyler Herro
Herro has been one of the breakout players of the preseason and will be the best breakout shooting guard next season. In the first three pre-season games, Herro averaged 25.3 PPG and shot 56% from the field. He followed those performances with an underwhelming performance scoring only seven points. Herro is bound to be fairly inconsistent as he still is only 21 years old and getting better. With that being said Herro's first three pre-season games should excite Heat fans because it seems he may be back on the trajectory that we once saw him on. After acquiring Lowry via sign and trade, Herro will see himself as the 3rd and probably the 4th scoring option when he is on the court. This role should relieve some pressure off of his shoulders and allow him to focus on getting better and doing what he does best, getting buckets.
2021-22 Stat Predictions: 18.1 PPG, 5.1 RPG, 3.3 APG, 44.7 FG%, 38.2 3FG%, 84.9 FT%
Also Considered: RJ Barrett, Jordan Poole, Malik Monk, Terance Mann, Tyrese Haliburton, Dillon Brooks
Small Forward: Keldon Johnson
Keldon Johnson showed a lot of improvement last season but the biggest reason I have him here is because of the Olympics. The is a long-running history in the NBA of players breaking out following seasons where they played on the Olympic team: James Harden in 2012, Chris Paul in 2008, and LeBron, Stoudemire, and Wade in 2004. The reason for this is because these young players get to play around and see the work ethic of the best players in the league. All summer Keldon Johnson got to work with Kevin Durant, Devin Booker, Jayson Tatum, and others and is surely going to pick up tips and skills from all of them. Another reason Keldon could make a leap is that the Spurs do not have many more options. Someone on the Spurs is bound to step up and when you look at the roster there are not many other candidates than Keldon Johnson.
2021-22 Stat Predictions: 18.3 PPG, 6.7 RPG, 3.1 APG, 46.4 FG%, 35.0 3FG%, 78.1 FT%
Also Considered: OG Anunoby, Aaron Nesmith, Cam Reddish, Anthony Edwards, Mikal Bridges, Lugentz Dort
Power Forward: Michael Porter Jr.
Yes I am cheating a little bit because Porter is mostly a small forward but he spent 24% of his minutes at power forward last season and is 6'10 so I believe he meets the criteria. Michael Porter is in store for a massive season and is currently the favorite to win the Most Improved Player of the Year award. With Murray out until at least All-star break, Porter is the number two scoring option on a very good Nuggets team. Not only that but he is playing next to the best passing big man of all time that will make him a lot better every time they play together. Porter was incredibly efficient last year shooting 54% from the field and 44% from three. Expect those shooting clips to drop slightly but the rest of his stats to jump as he is given more of an opportunity with the ball in his hands. Porter's potential as a big shot creator is clear but it is up to him and his health if he will live up to those expectations.
2021-22 Stat Predictions: 24.9 PPG, 7.8 RPG, 2.1 APG, 49.4 FG%, 42.1 3FG%, 83.2 FT%
Also Considered: Miles Bridges, Rui Hachimura, Patrick Williams, Aaron Gordon, Domantas Sabonis, Jonathon Isaac
Center: Daniel Gafford
Possibly the boldest pick of mine for this list. Right before the deadline, Gafford was dealt from the Bulls to the Wizards as an almost throw-in type player that no one thought too much of. On the Wizards, Gafford excelled as a rim runner next to Westbrook and Beal averaging 10 points, 6 rebounds, and shooting 68% a game. Gafford offers a two-way rim running impact that will fit well next to Beal and Dinwiddie next season. The biggest possible obstacle for Gafford this season is finding playing time in a stacked frontcourt rotation. Currently, on the Wizards front court they have: Daniel Gafford, Rui Hachimura, Montrezl Harrell, Kyle Kuzma, Davis Bertans, Thomas Bryant, and Deni Avdija. I believe Gafford will outplay Bryant and Harrell this season for the bulk of the center minutes and when he is given minutes he will thrive.
2021-22 Stat Predictions: 14.8 PPG, 7.2 RPG, 0.9 APG, 67.2 FG%, 0.0 3FG%, 70.1 FT%
Also Considered: Nicolas Batum, Robert Williams, Moses Brown, Bol Bol, Isaiah Stewart, Karl Anthony-Towns

Check out our new podcast episode!
Got Hoops Podcast
A new up and coming basketball podcast by 4 dedicated NBA and basketball fans. It's for fans, by the fans.
Got Hoops Podcast (Ep.20): The Return
Search Results placeholder
Must See
Many going into this season had doubts about the Phoenix Suns and their ability...

It's that time of the football season where we eat turkey and enjoy some...

Two nights ago, the Lakers traveled down to Detroit to play the Pistons, and...