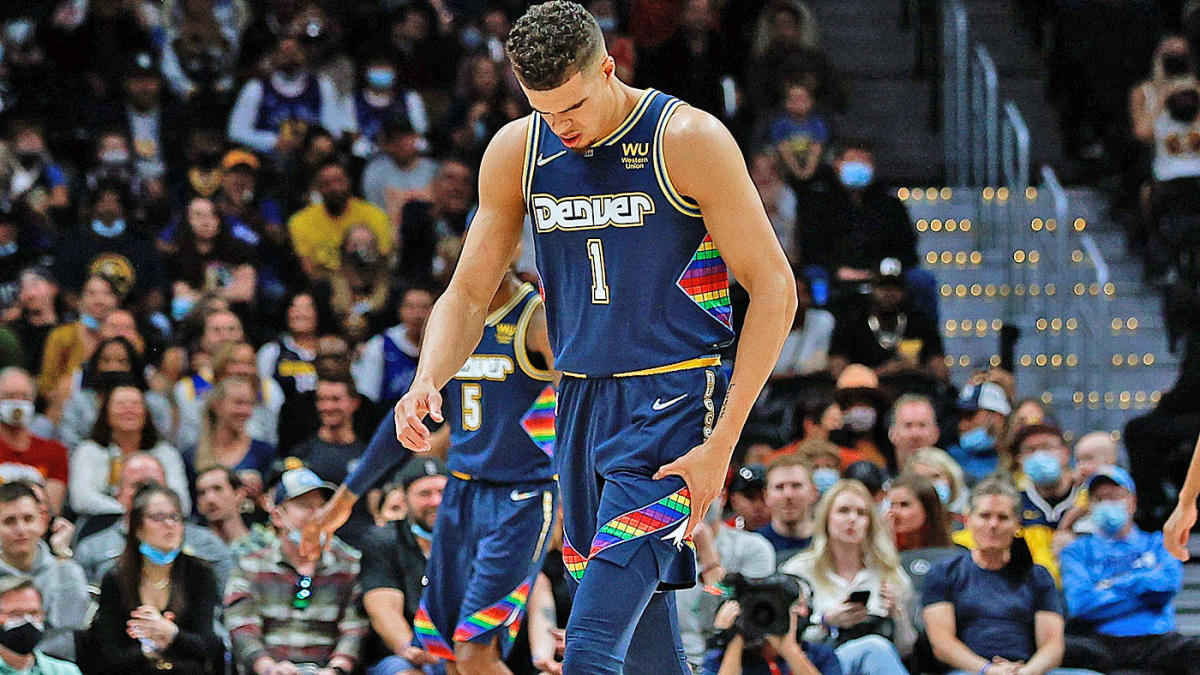 With the NBA regular season in full swing, fans have had their expectations met or even exceeded by many players throughout the league. Players like Jaylen Brown and Paul George have been playing to the best of their abilities and surprising fans all over the league. While this is fun to watch, there are also players who have yet to meet the expectations that fans, coaches, and themselves have set.
1. Michael Porter Jr.
Last season Michael Porter Jr. showed the world his potential. Porter Jr. was the 14th pick in the 2018 NBA draft by the Denver Nuggets. He went on to sit out his entire rookie season due to a back injury he had suffered in college. His next season in Denver he played 55 games and averaged around 9 points with about 1 assist and 5 rebounds per game. Later that season when the NBA was moved to The Bubble in Orlando Porter Jr shined. He was a huge part of the Nuggets' success in the bubble alongside Nikola Jokić and Jamal Murray.
That was just a glimpse of what he was capable of. In the 2020-2021 season Porter Jr. stepped up in a big way. He averaged 19 points, around 1 assist, and 7 rebounds per game. He also showed out in the playoffs despite the Nuggets' season being cut short by the Phoenix Suns. This season was supposed to be a continuation of Michael Port Jr's outstanding play but, that is not the case. Almost ten games into the season Porter Jr. is averaging around 10 points per game while shooting a career worst, 36% from the field. With a lot of basketball left to play this season the Nuggets and Nuggets fans alike hope that Michael Porter Jr. can get back to his best form.
2. Zion Williamson
I am sure everyone reading this knows who Zion Williamson is. The former Duke athlete was drafted first overall by the New Orleans Pelicans in 2019. Since then he has played on par with expectations despite injuries. In his rookie season, Zion only played in 24 games due to surgery on his torn right lateral meniscus. He averaged 22.5 points per game with 2 assists and about 6 rebounds. In his sophomore season, Zion played 61 games. He improved his averages, scoring 27 points per game with just under 4 assists and 7 rebounds. Pelicans fans were excited to see the young star finally show what he can do.
The excitement faded at the start of this season. Photos of Zion were circling around the internet and it appeared he had gained weight. This has been a common theme since Williamson entered the NBA. Executives and fans have been worried about his weight and how it will impact his injury recovery. Zion has been out for the beginning of this season after suffering an injury to his foot at a summer practice. Recent photos of Zion are not promising as he is looking even bigger than he has in the past. At this time the most current update on Zion is very foggy. He still has no timetable for returning. This leads fans to wonder if Zion Williamsons' future is not as bright as they had hoped.
3. Damian Lillard (and the Trail Blazers Front Office)
Damian Lillard is one of, if not, the best point guard in the league today. Lillard is known for his ability to shoot the ball from practically any spot on the court. Lillard and his team, the Portland Trailblazers, are starting to have a streak of disappointing post-season performances. Portland has been booted out of the first round for two years in a row now and fans have been vocal about getting Lillard some help before he wants out of Portland. This summer Lillard did say that he wasn't going anywhere.
That gave Blazers fans some hope but, that hope was followed up with disappointment. The Blazers' free agency left much to be desired by fans. The team's goal for free agency was to bring in some help for Lillard. The team didn't do very well on that front. The most notable moves by Portland were bringing back Normal Powell and signing Cody Zeller. With the season starting it looked like Lillard would have to carry the team on his back once again only, he has been having a hard time with that this season. The Blazers are currently sitting with a record of 5-5 with Lillard underperforming. Lillard is shooting a career-worst 35% from the field and 24% from beyond the arc. This is concerning because of the lack of a solid second unit. Blazers' fans are eager to see what the team does this season and hope to see Lillard back to his regular self.

Must See
The NBA regular season has been over for some time and we got our...

The NBA draft order is finally set. I refuse to do mock draft's all...

With the 2021-2022 NBA season coming to a close, let's rank the 4 remaining...